Here's my favourite photo from this year's conference of the Society of Children's Book Writers & Illustrators in Winchester: debut author Kathryn Evans modeling her Seawig in front of seafaring costume judges Philip Reeve and Jonny Duddle.



Photo by Teri Terry

And check out the party costumes of organisers Dom Conlon (fish bones in the beard!) and George Kirk (giant squid, with Seawig!).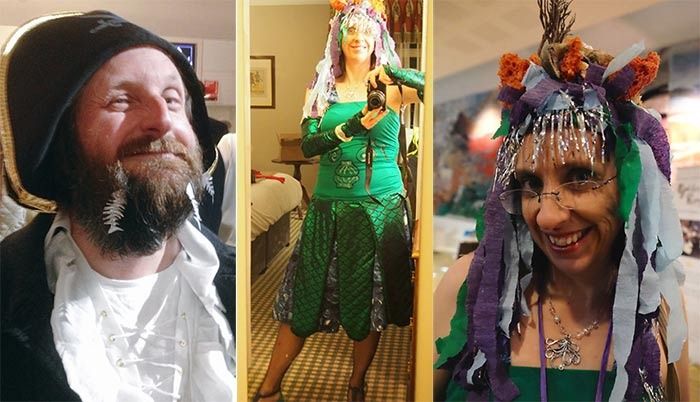 Photos by Philip Reeve, George Kirk & Candy Gourlay

The SCBWI Conference is a great chance for long-time friends and total newbies to meet up, celebrate their books, learn how to make and pitch new ones and generally muck about.




Photos by Candy Gourlay

I've been to the conference before, but this was the first time I had a few hours to wander around Winchester, which looks sparkly and gorgeous in the run up to Christmas. Philip and I bought mulled wine at the Christmas market and I bought earmuffs; it was all very cosy.





Obligatory lovely Winchester Cathedral pics:




Actually, this was the view of the cathedral from my hotel room!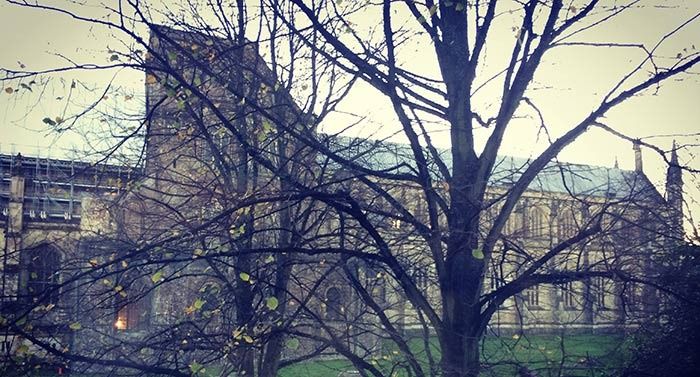 The cool thing about Winchester is that anyone who sleeps within a stone's throw of the cathedral gets two little elf-priests to sit at their feet all night. (Well, perhaps historically.)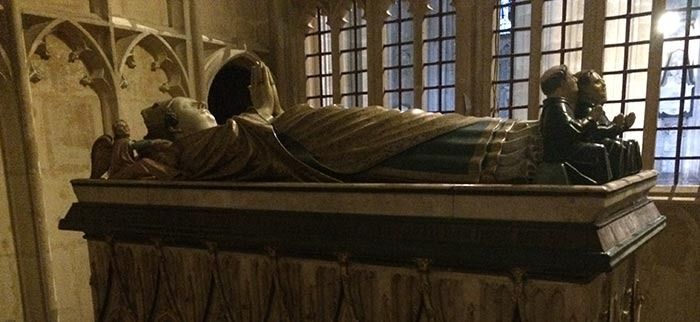 SCBWI treated us to a nice dinner on the first night (and I wore my new Esther Marfo dress, love it love it).



Photo by George Kirk

We found out it was illustrator Clare Tovey's birthday so a bunch of us rallied to make her a cake.



Photo on left by George Kirk

Philip and I gave the opening keynote speech and George Kirk did an amazing job introducing us by playing a song she'd written for us on the ukulele. Wow!


Direct YouTube link

Thanks, George! Philip and I led everyone through a few of the activities we do with kids, to engage them in our books, including drawing, singing and creating and playing a giant board game.



Tweet (and pug) by @JoolsAWilson, photo by George Kirk

Then we got to listen to a talk by illustrator-write Jonny Duddle, who has a background in designing characters for computer games and who designed the pirates for the recent Aardman animated film. I loved hearing about his year at sea, when he got to crew an actual old-style pirate ship, which is sort of my dream; and how photos he took from that year became such valuable reference images for his later pirate picture books.




Despite posting those costume photos, I didn't actually get to go to the evening's fancy dress party. Philip was the Reeve & McIntyre ambassador while I kept a long-standing date with my husband Stuart back in London to go see the play Farinelli and the King. (Here's a picture of the glowing candle-lit Duke of York's Theatre.)




But it was great to see people being so creative! Well done on those costumes, guys, and it was fun popping in to see the conference illustrator exhibition!



Tweet by @SwapnaHaddow

A couple more photos of Kathy's Seawig; isn't she glorious? :D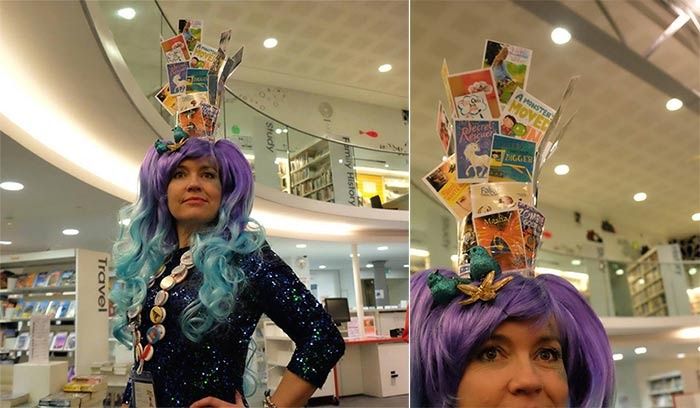 Photos by Candy Gourlay

Huge thanks to George Kirk (here's her blog), Jan Carr, Dom Conlon, Candy Gourlay, Mo O'Hara, Suzie Wilde, Natascha Biebow, local P&G Wells booksellers and everyone on the team who helped to make the conference run so smoothly!