This year's been a busy one! I thought I'd do a roundup of the books I've worked on this year, and a little peek behind the scenes, and who made them happen!

Here's my second solo picture book with Scholastic UK, Dinosaur Police: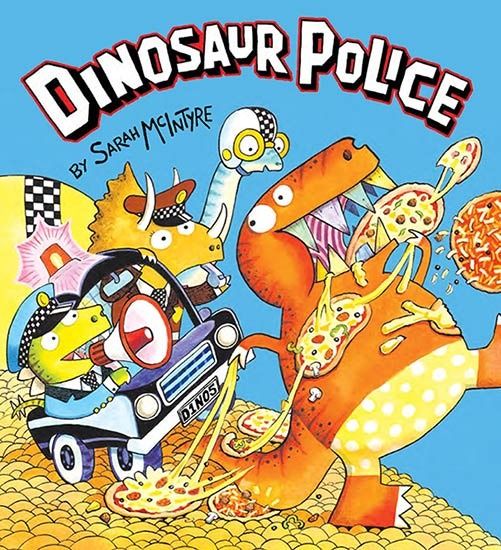 I'd had such fun drawing sharks with BIG TEETH for There's a Shark in the Bath that I thought it would be fun to do something else with BIG TEETH. And dinosaurs were the obvious choice because I was dinosaur-crazy as a kid. And I also liked to build little worlds out of LEGO. So I got to build a dinosaur world! Here's some of the original artwork on my desk, painted in liquid coloured inks:




Combining dinosaurs with police was my editor Pauliina's idea. Her son was really into cops and robbers stories, but she hadn't seen a lot of recent books on the subject. And we were getting so much bad press about cops from US news stories, that I thought it would be great for kids to see cops in a good light, doing what they should be doing, so we get good sorts of people going into the police force, not people who as kids learned that it is a free place to be a bully. Here's how a page happens, from a 'thumbnail' doodle, to a pencil rough, to a finished painted page.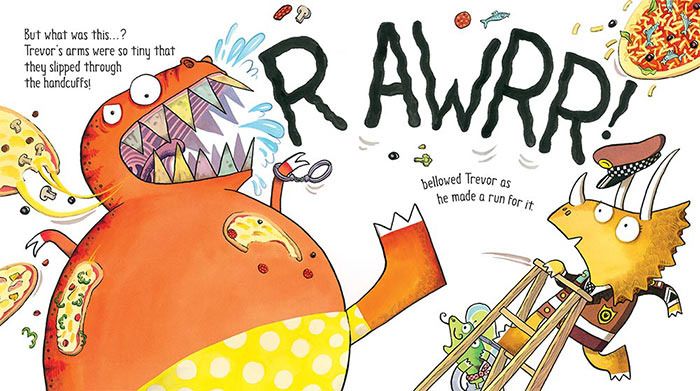 And here's just a small part of my Scholastic team! But these are the people I worked with most often: designer Rebecca Essilifie, editor Pauliina Malinen, and publicist David Sanger, who was wonderful on stage at festivals in Hay and Bath as DINOSAUR DAVE. (Click here if you want some free Dinosaur Police activities from my website.)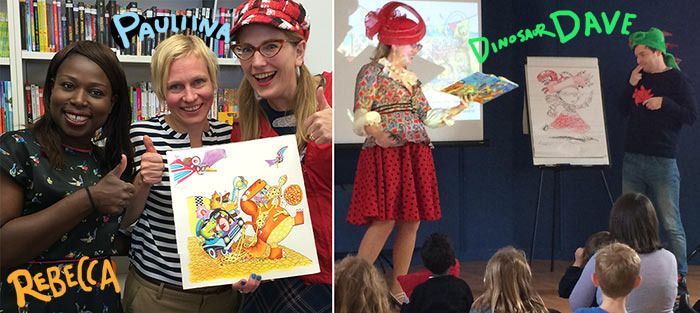 My friend and former studio mate Lauren O'Farrell (aka Deadly Knitshade) is always great with the extra fun stuff! Not only did she make an awesome dinosaur fascinator for the launch of Dinosaur Police, but she designed, knitted, and wrote the pattern for our Pugs of the Frozen North pug! (You can download the pattern from my website here.)




My artist friend Eddie Smith was a big help with costumes, designing my Dinosaur Police hat! (Full costume photo by Jay Williams for The Telegraph.) And here's tailor Esther Marfo sewing my costumes!




Which leads us on to... PUGS OF THE FROZEN NORTH! Everything to do with this book has been pretty epic.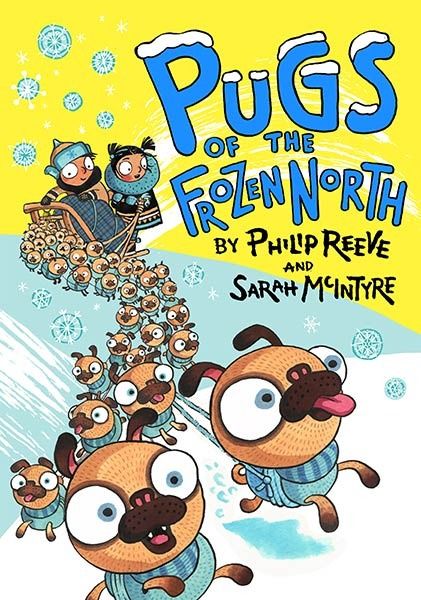 There was a crane. There was a stage show. There was a Pugs Roadshow tour.



2nd photo by Jody Lawson, third photo by Anna Gordon for The Guardian.


And the Oxford Children's Books team was massive. Together with the foreign rights team and the sales reps and the printers, there must have been well over 100 people working on this book, very possibly more. Here's our designer Jo Cameron, publisher Liz Cross and editor Clare Whitston. And I have NO IDEA who these masked people are but they tweeted a very eerie photo(!) ...and let's just call them the rights team. Because I don't have a picture of them, but they worked SO HARD to get us published in a zillion languages. (They include Valentina Fazio and Anne-Marie Hansen, among others!)




Publicists Elaine McQuade, Keo Baxendine, Harriet Bayly, Sarah Howells:




Alesha Bonser, Liz Scott and, of course, my fab co-author PHILIP REEVE (and a team of excellent pugs).




And the final book I worked on this year was quite a small job, because so many people were working on it! I only drew two pages, but it's a lovely book.




Confession time: I actually drew these pages for the Puffin Post magazine... just before it was discontinued! So I had these pages, and when Macmillan asked if I could contribute something, I was pleased as punch that they fit the format. Hurrah!




Two other people have been very involved in all these books: my amazing agent Jodie Hodges, and my lovely and supportive husband (who's soldiered on through some crazy work schedules), Stuart. Thank you so much, guys!