House of Illustration
. It's so exciting to see the place open and grow, and show off the work of colleagues. Do pop by to see their exhibitions and lovely gift shop if you're ever near Kings Cross or St Pancras stations! (Right now they're running a show on Winnie-the-Pooh-illustrator EH Shepherd.) My studio mate
Elissa Elwick
was super-chuffed to meet actor
Joanna Lumley
, who's a huge supporter of illustration and the House of Illustration. (We're looking forward to her
Absolutely Fabulous
film coming out next year.)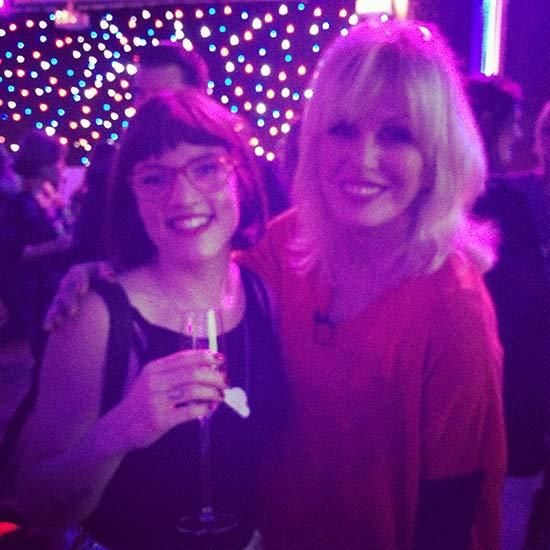 The lady on the left is
Ann Howeson
, one of my Camberwell lecturers, whom I hadn't seen since art college days! She was quite severe, but she had a really good eye and some of her constructive criticisms have really helped me think more about my illustration. In the middle is
Posy Simmonds
, who's one of the reasons I got back into comics, after reading her warm and approachable book
Gemma Bovery
. And on the right is excellent actor and novelist
Celia Imrie
, whom I'd met once before at the Wigtown Book Festival in Scotland (when I was dressed as a pirate).
We got to see four very brave illustrators do live drawing while actors read passages from
Alice in Wonderland
. Here's Posy drawing while
Tamsin Grieg
read the 'Drink Me' moment.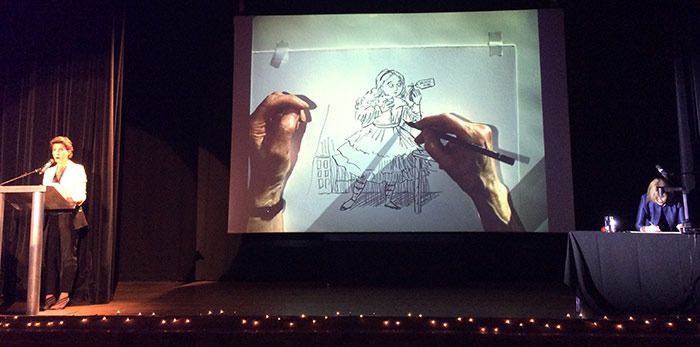 Tamsin once played Beth Hardiment, the woman who runs the writer's retreat in
Tamara Drewe
, the film adaptation of Posy's book.
I think
Paul Cox
had the hardest bit to illustrate fast, that big crowd scene in the rose garden where the Queen shouts 'Off with her head!'. He worked his way down a long piece of paper, and after the reading, spent some time adding extra watercolour so it could really zing for being auctioned off, half an hour later. (So nerve-wracking! I was biting my nails for him.)
Another art college lecturer! Here's
Chris Brown
, who creates the most wonderful lino-cut prints.
Tamsin read the Tweedle Dum & Tweedle Dee scene for Children's Laureate
Chris Riddell
to illustrate. At the auction, the auctioneer offered a family portrait by Chris, which went for over £10,000. Hooray!
And here's Joanna reading for
Quentin Blake
, who founded the House of Illustration, and whose work will feature in a soon-to-open Quentin Blake Gallery inside it. He illustrated three beats of scene, '
A Wasp in a Wig
', that got edited out of the book. Apparently Tenniel told him it wasn't inspiring any illustration ideas and if he wanted to shorten the book at all,
that
was the place. (I think Tenniel was right, to be honest. But it was great to see Quentin draw it anyway.)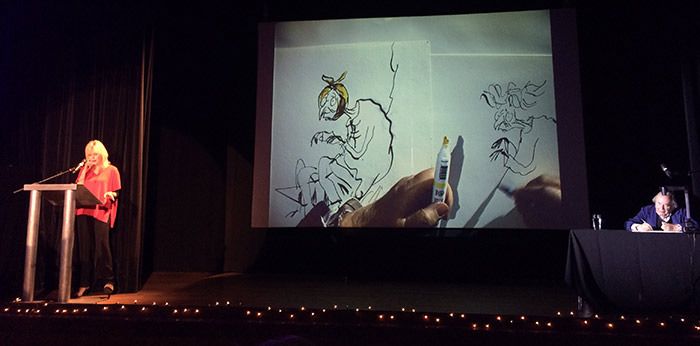 And illustrators
Joel Stewart
and
Axel Sheffler
.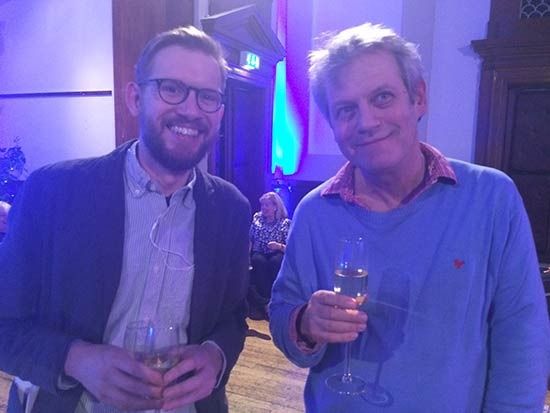 It was great to see so many funds being raised for the House of Illustration, everything from bids over £10K to 'Angel' offerings of £280. (Do get in touch if you have the money to help them:
here's the web link
.) Thanks so much for the invitation, House of Illustration!
Here are a few pics from last night's fundraising auction for the