It's been a bit crazy here! I turned in almost all my final artwork to Scholastic UK for an as-of-yet-secret picture book (I still have to do the covers) and some artwork for reworked covers for a re-issue of the Princess Spaghetti books. And then I started properly on Reeve & McIntyre Book 4 for Oxford University Press. (The title's also secret but I just got a happy e-mail from our publisher-editor Liz Cross, and I think they'll be going with our fave title!) I really should have started drawing this book months ago.

But I had this awful thing of finishing one book and being so much in that frame of mind that I was really having a hard time getting my head in the right place for the next book. It has so much packed into it that I really wanted to do an awesome job, so I kind of went into scared brain-freeze. I was scrabbling around answering e-mails and doing small jobs and spent a couple days not really making any good progress.

So... my awesome friend and co-author Philip Reeve came to London and we spend two days both sitting at my desk, talking back and forth, reading through the book and making pencil roughs together as we went. It was SO helpful, having him right there forced me to focus and bantering back and forth, we came up with loads more visual gags than we would have otherwise. Instead of it feeling like grinding hard work - and probably taking me an anxious two weeks - it was really enjoyable.




Thank you, lovely co-author! Philip did help with about seven thumbnail roughs for Pugs of the Frozen North when I had my time-crunch last winter, but we did that all over e-mail. Having him right here in the studio made it go even faster and injected even more fun into the pictures, and we're hoping we'll get to work like this on all our books in the future.

This week is INSANE for people working in books: booksellers (so many shoppers!) but also designers, who are working their tails off to meet pre-Christmas print deadlines for spring, before everything shuts down for a few weeks. Despite this, our fab OUP designer Jo Cameron send me some pugs she'd based on my drawing and printed by cutting a printing block out of linoleum. Aren't they amazing? I love lino cuts. Thank you, Jo!!!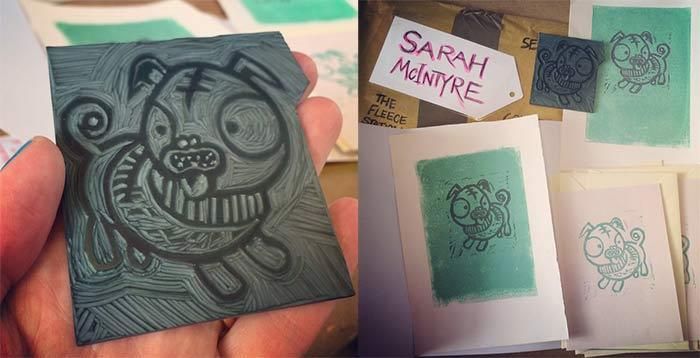 If you're looking for a charity to give to this Christmas, one great option is this crowdfunding drive</> to get comics to kids who are in hospital. They're great comics, and our friend Jamie Smart is working with an excellent charity I'm patron of, called Readathon UK. Please do consider giving some money if you can manage it, so they can meet their £5K stretch goal! Even small amounts really add up. (Here's an article about it by Matt Kamen on WIRED website.) My parents overseas are asking to donate money instead of spending lots on posting prezzie parcels, and this is the one I asked them to give to.