Last night was amazing. The House of Illustration in London launched the UK's largest-ever exhibition of the work of pioneering female comics artists, in Comix Creatrix: 100 Women Making Comics.




Here's the striking poster by Laura Callaghan:




Do pop over to see the show, running until 15 May, just across from St Pancras stations (the one where you catch the Eurostar to France) and next to the glowing fountains of Central Saint Martins art college.




Speaking of France, this show couldn't be more perfectly timed. Curators Olivia Ahmad and Paul Gravett had been working with the House of Illustration to prepare the show for a long time, but it came right on the heels of a shocking announcement by France's top comics prize committee of an all-male shortlist of 30 international comics creators. What made it even worse was the board's surprise at public indignation and their follow-up explanations that there wasn't any strong female talent in comics, and general lack of supportiveness for women in the field. (You can read my article about that here.)




I only make comics occasionally and focus more on other kinds of children's book illustration, and go along to lots of social events dominated by women. But when I first started going along to comics events, very often I was the only woman in the room. Over the past ten years, this has changed so much, partly I think because of the coming-together of an arts & crafts movement with comics (look at comics by Philippa Rice and Isabel Greenberg to see what I mean), and comics moving away from being so entirely dominated by superheroes.


But there have always been women making comics, and the women who've made them have had to fight against all the odds that male comics makers struggle with (mostly do to with not getting paid enough), and also being marginalised by comics lovers who didn't care to look outside of their own very focused spheres of interest (Marvel, DC, 2000 AD, etc). But to pretend talented female comics creators don't exist makes some people VERY angry, such as comics expert Stephen Holland at Nottingham's Page 45 bookshop, retweeted here by comics legend Kate Charlesworth (who for a long time drew the comics for New Scientist magazine):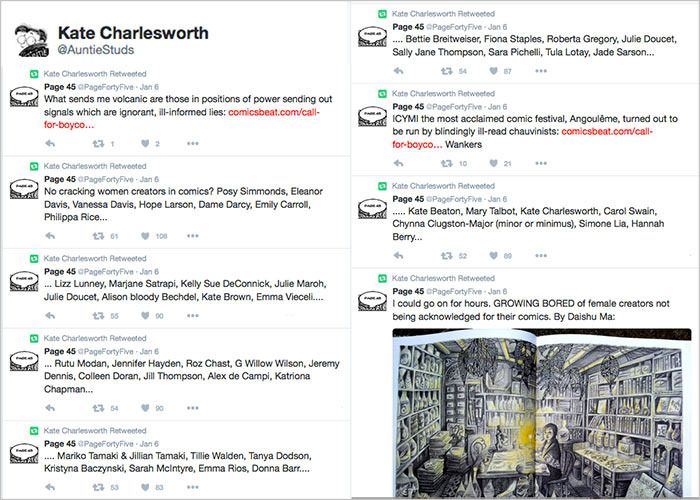 (Here's the Comics Beat article Stephen's referring to.)

So the best way to counter the Angoulême assertions would have been to set up a comics exhibition, just on the other side of the channel tunnel, rebutting that notion entirely. I can't even say how thrilled I am that this was already in the works, and here it is! I hope lots of men and women will go along to it; anyone interested in comics, drawing, illustration, storytelling, graphic design, history, typography, etc will find it fascinating.




Patrice Aggs was making comics long before I even moved to England, she makes comics with her son (John Aggs), and she's attended the Angoulême comics festival more times than I can keep track of. If they don't know who she is by now, they haven't been trying. It was great to meet her husband, Chris Aggs, who's a painter; I always see her zooming around on her own! She was always the last one to bed at Angoulême; the rest of us were dropping with tiredness and she'd still be up having intense conversations with comics people at 4am.




Here's Patrice's comics on display:




A lot of people know more about women in comics through Nicola Streeten, co-founded with Sarah Lightman of Laydeez Do Comics, an excellent series of talks (by anyone creative, not just women, but with a focus on women). Here's Nicola looking very fine with legend Suzy Varty in their matching lime greens.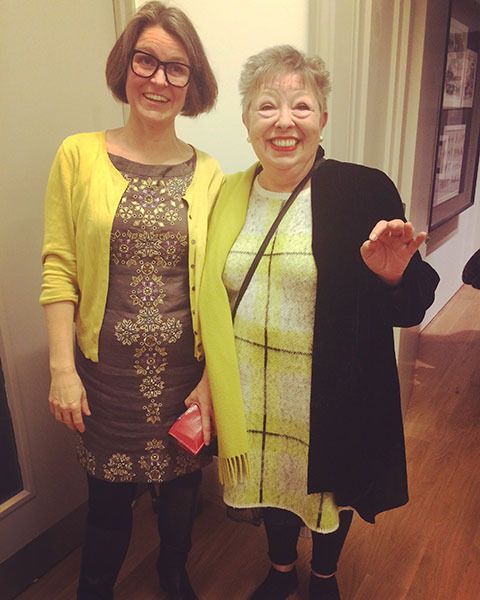 Kripa Joshi goes back and forth between England and Nepal, and was in Nepal during the earthquake. The evening was great to get the chance to have a look at the anthology she and Elena Vitagliano have compiled to raise money for the earthquake victims.




(You can find out more about their anthology project together here.)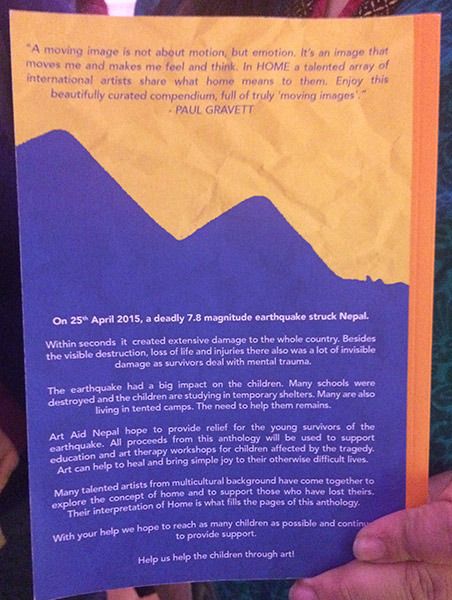 One of the cool things about the launch party was seeing people who'd been lauded in their field for ages, but never actually been featured in an establishment exhibition. There was some big-time excitement. I'm not even sure who this creator is (Claudia Davila, perhaps?), but she was totally lit up, I got all giggly seeing how excited she was.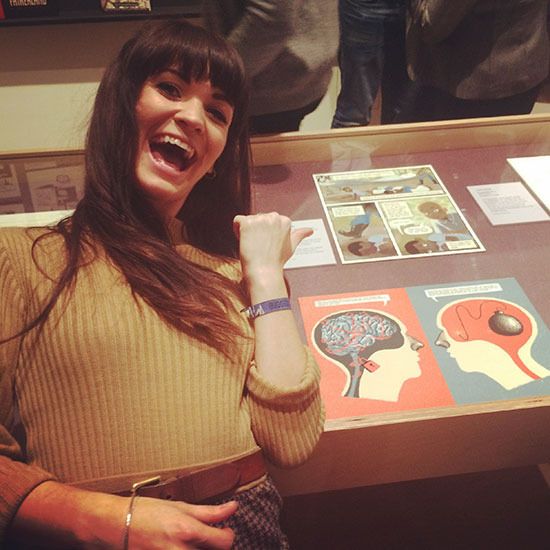 Kate Evans was pretty excited, too, and I got a copy of her new book, Red Rosa, about Rosa Luxemburg.




Somehow I was so busy looking around in the exhibition space that I missed the speeches. (Oops!) So I never got to meet co-curator Olivia Ahmad. But here I am with Paul Gravett, who is one of the top people I can credit with jump-starting my career. He found me, probably at the first comics event I ever went to (a Yahoo group pub meet-up), and pointed me in the direction of David Fickling, who published me both in his DFC comic (now The Phoenix Comic) and with my first UK picture book. There's this notion that women in comics is a Women's Issue that only women will be interested in, but it's not at all; it's just as much about the thoughtful and clued-in men (Paul, Stephen Holland, David Fickling, etc) who encourage women and help us get pointed in the right direction so we can make comics that everyone might enjoy.




And talking about clued-in people, here's Audrey Niffenegger, who doesn't let the confines of medium or genre limit what she does; she's succeeded in everything from comics to bestselling novels to printmaking to her work being staged as a ballet in the Royal Opera House.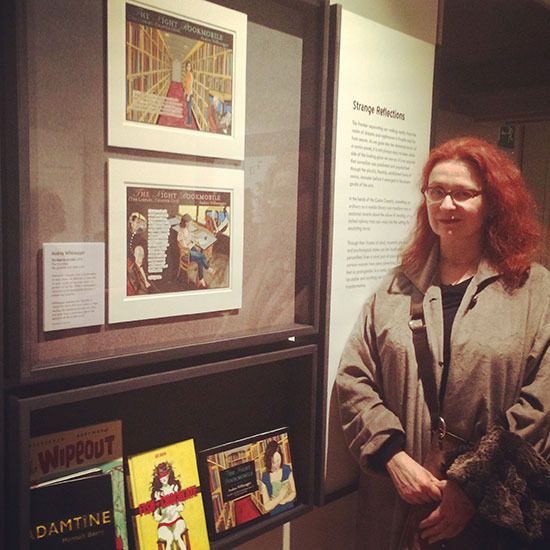 Despite being fairly young, Isabel Greenberg has already created an impresssive collection of work and I'm a HUGE fan. She has this amazing way of bringing together a craft element with modern storytelling twists on old legends that's spectacular.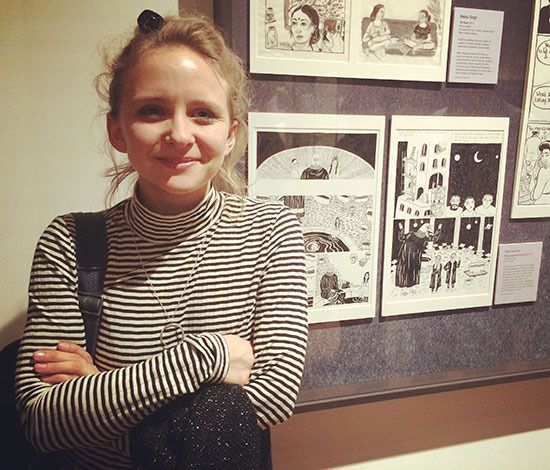 I loved being able to see old favourites at the exhibition, such as these Moomin pencil roughs by Tove Jansson:




And Posy Simmonds, who first inspired me to make comics with her Gemma Bovery book:




And another person who got me making comics was Simone Lia, with her Fluffy books about a rabbit that I found in a clothing shop in Brighton, when Simone was still self-publishing them through Cabanon Press. (The Fluffy books were later taken up by Dan Franklin at Jonathan Cape.)




Philippa Rice continues to inspire me with her innovative approaches to making comics, using non-traditional formats and materials and lovely storytelling (I think I've bought at least ten copies of my favourite of her books, We're Out, as gifts for friends.) Here's an interview I did with her about the book. And here's Karen Rubins having a look: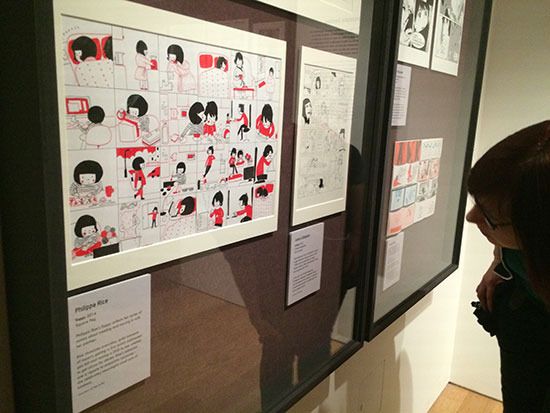 But it wasn't all familiar faces and work at the show. One of the great thing about the Angoulême debacle was the hashtag #WomenDoBD, which highlighted LOADS of female creators I'd never heard of. And this exhibition was like that. Lizz Lunney felt the same: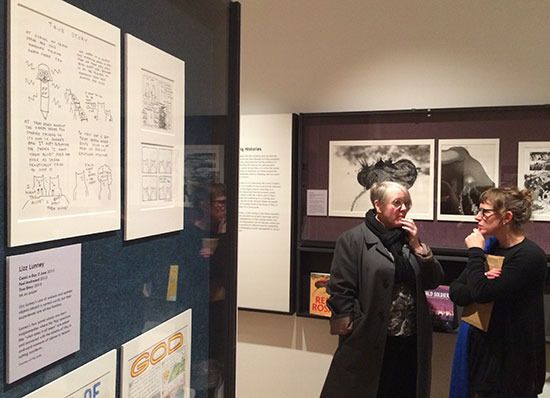 Check out this lovely piece by Aurelié William Levaux: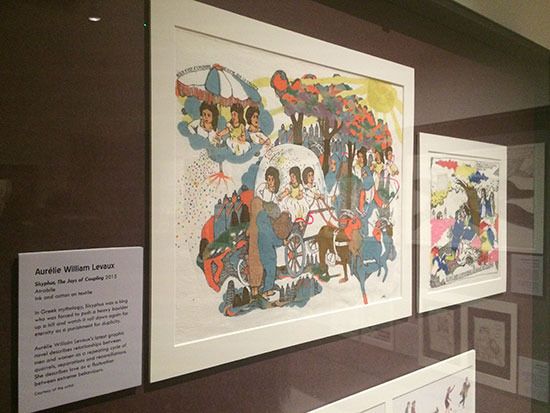 And I definitely want to get a copy of His Dream of the Skyland by Aya Morton. My top new find, I think.




A case of work by female comics creators from back as far as 200 years:




Hey, it's work by my former studio mate Ellen Lindner! Ellen was the one who introduced me to LiveJournal and its comics community, which shaped so much of what I know now. She edits a magazine of comics by women called The Strumpet, and lots of us at the show have had work featured in that.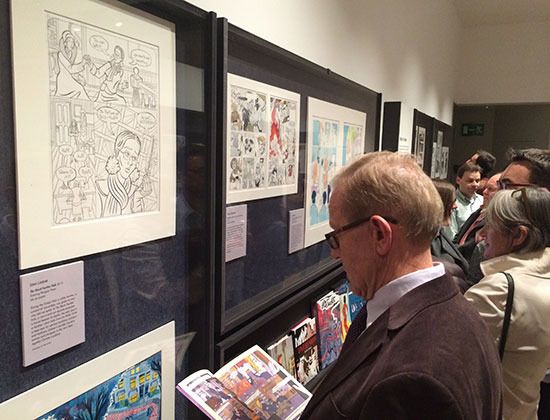 It's one of my buddies from back in DFC comic days! Emma Vieceli and I have had lots of adventures, including a trip to Paris to exhibit with her French publishers. Emma used to organise the Cartoon Village at MCM Expo and she's one of the people everyone goes to when they want to know something about comics.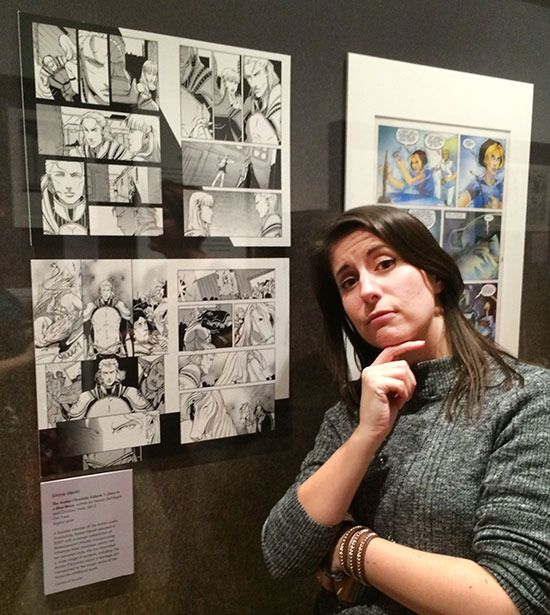 I really must go back to the exhibition for a longer, quieter browse. Besides all the displays, they have loads of interesting-looking books in the reading room.




The exhibition is aimed at adults, so while I think parents could bring older children, they should be aware that some of the content is graphic (but not horrific, I'd say) and that the frames might be hung a bit high for short people to read closely without assistance.




Three cheers for the House of Illustration and everyone who worked hard to make this show happen! You can follow the House of Illustration on Twitter: @illustrationHQ.