Whenever I need to do a fun warmup drawing, one of my favourite things to do is copy an old portrait for inspiration. Here's one I did last week, based on a miniature painting I saw tweeted by the Wallace Collection (@WallaceMuseum):




I thought it could be a fun challenge to bring to the Virtual Studio (@StudioTeaBreak on Twitter). I put out a little poll, and the majority wanted to keep going with the #ShapeChallenge but do an old-painting-based challenge once a week. (So let's try Thursdays!)

I noticed something cool, by using an image a museum had tweeted, and including them in my tweet with the sketch, they were really pleased and retweeted it. This picture even got retweeted by the incredible Hermitage in St Petersburg (@stage_hermitage), which made me SO happy. :D




Drawing challenges like ours, bringing together people of all ages and drawing abilities, totally fits in the educational side of what most museums are trying to do. So when you're tweeting you're drawing, consider not only adding #PortraitChallenge but also the museum's twitter handle, and you never know, you might just get a retweet to all their followers! :)




Why portraits and #PortraitChallenge? There's something very engaging about drawing someone who's looking back at you. And if you like, you can simplify it right down to something as simple as an emoji smiley face. Or you can have fun playing with the details.

One of the most valuable projects ever set for me was at college by an old Dutch professor named Charles Stegeman, who had me keep a notebook and every day, find a piece of art that I liked and spend an hour looking at it and writing down all the reasons I liked it. I also made sketches, and got really excited discovering compositional secrets the painters had used. Here are a few pages:



Studies of a Giocometti self portrait, 1954, and Lady with an Ermine by Leonardo da Vinci, 1490

When I copy a top-notch painting, the painter has already made a lot of hard decisions for me, so my drawing has a chance of looking more interesting than if I'm drawing from life. But then I find myself internalising the artists' decisions and bringing them into my drawings that aren't copies, and my drawing gets better.

Over the past few years, I've had even better fun being a bit more playful with the images and sometimes turning them into a bit of a joke. They don't always look all that much like the original painting, but it doesn't really matter; the original gave me the idea.




Sometimes I draw myself into the painting, wearing the same clothes. (This one I saw in the Lowry Museum in Salford.)




Try to record the name of the painter and if possible, the name of the painting and the date. Otherwise there's a chance you'll want to find the original later and spend ages scouring the Internets trying to track it down. Also, it's always good to credit the artist, even if the copyright's way out of date. And the name may come in handy if you decide to write the character into a story.




Sometimes you might just find an odd way of drawing - like Picasso! - and have fun drawing your friends in the same style. (Here's some portraits Sam Reeve and I made when he was ten.)




And another of my studio mate, in the style of Dora Maar, painted by Picasso.




I had fun turning this famous oil painting portrait of Pushkin by Orest Kiprensky (from the Tretyakov Gallery, @Tretyakovgal) into more of a woodblock style drawing:




And these old rock art paintings, tweeted by @AfricanRockArt and @BritishMuseum inspired a cartoon.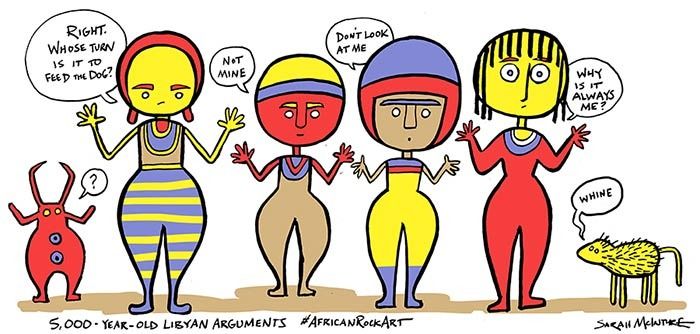 Don't feel you need to interpret a drawing at all like I have. You may want to simply, add different colours, create it on a plate using food, make it serious, stupid, whatever you like! Here's our first portrait, The Laughing Cavalier by Frans Hals, tweeted by the Wallace Collection. (You can use that one, or if you want to pick another portrait, that's fine, too!) Don't forget to add the #PortraitChallenge hashtag and we'll see you at @StudioTeaBreak! :)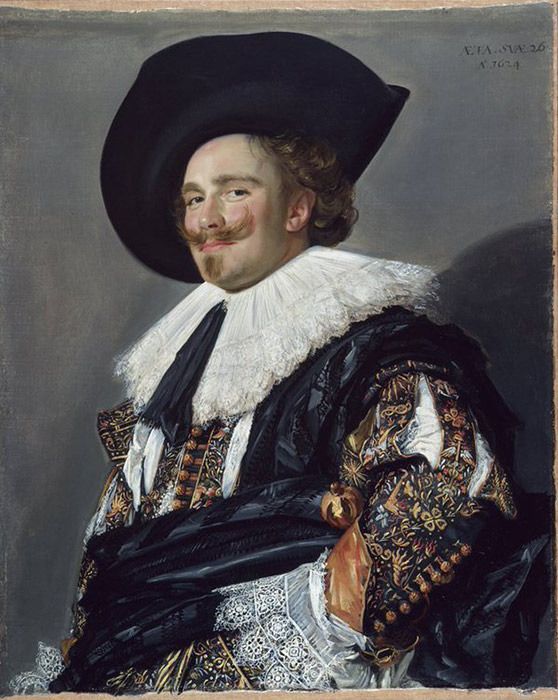 ------------EDIT
Thanks to everyone who took part in the first #PortraitChallenge! Here are some amazing reinterpretations of The Laughing Cavalier: