Even though two of my three publishers are based in Oxford and I go there often for meetings and such, the town has a special magic to it that never really goes away.




This year for Oxford Literary Festival, I got to stay in Exeter College and have breakfast in their dining hall, which was pretty awesome. (Also slightly embarrassing because I didn't have time to get into costume after breakfast, and the few people in there were too polite to ask questions.)




The very first event I went to, I got to sit in the audience to hear Philip Womack interview Philip Reeve and Frances Hardinge.





Here they are, getting papped by festival photographer KT Bruce. (You can see her photos here on Facebook.)




Philip talked about his new Railhead book and Frances, about The Lie Tree, which deservedly has got lots of press lately when it won the overall Costa Award. They're both brilliant books, I recommend them to adults and teenagers alike.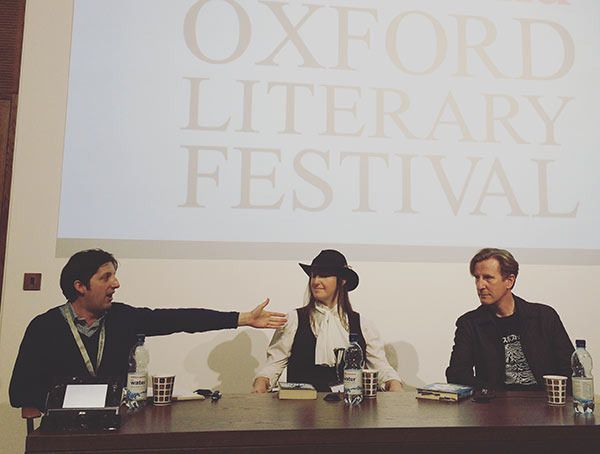 Respect to Philip Womack: moderating an event is much harder to do and takes more time with research than talking about one's own books. I wish I could have heard him talk a bit more about his book The Broken King but at least I managed to nab the bookseller's last copy. (You can read Philip Reeve's review of The Broken King here on his blog.)




On the way out, I finally met Katherine Rundell, author of Rooftoppers, which beat out Oliver and the Seawigs for the Blue Peter Prize.. and I didn't mind, because it turned out to be very good! (If it had been bad, I would have been FURIOUS!) ;D




I was too caught up in my Pugs of the Frozen North event with Philip to get any good photos of the Story Museum setting, but we had a good crowd and a great time, and I recognised a certain pug hat from World Book Day dressing-up photos I'd seen on Twitter:




The pugs in the back of our book all have names, but Philip and I loved how these girls found the unnamed pugs at the beginning of the books and gave them all their own names!




Here's a little close-up. Pimples, Macaroon and Sticky Tack are all very fine names.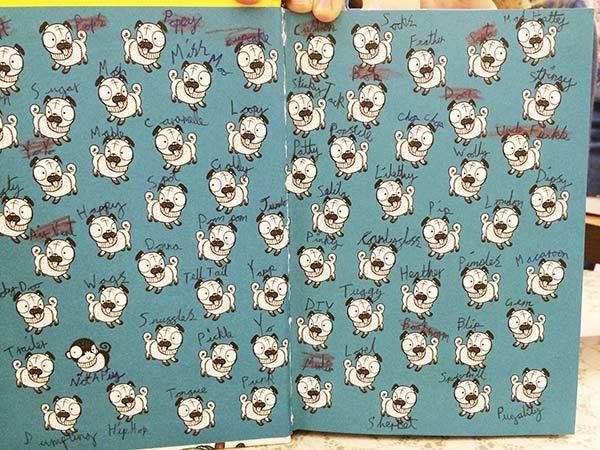 Another girl had started writing a sequel to Pugs of the Frozen North, called Pugs of the Special Spring. We hope she keeps going with it!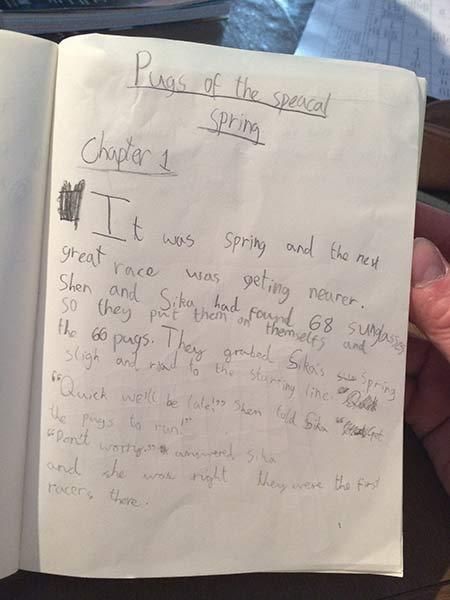 Ah, and evidence of another World Book Day Pug costume. Love the pug costumes.




Big thanks to the Story Museum and to the Blackwell's Bookshop team who provided our books!




After our event, I changed out of Pugs gear into something a bit more comfortable and ran into James Mayhew back in the Green Room. James does live drawings at concerts with full orchestras backing him, which sounds incredibly daunting, but he pulls it off with panache.




Oo, and it's Cathy Brett, who was waiting for Jo Cotterill to arrive to do their event about Electrigirl, their book that's not quite a comic, not quite a novel, sort of a mix of several things.




My second event was right next to the awe-inspiring Sheldonian Theatre with its mad-looking heads.




And right there at the base of the theatre, it was so great to see people reading my Dinosaur Police book.




Inside the Blackwell's Marquee, I read from Dinosaur Police and then taught everyone how to draw silly T-Rex characters. We got some good ones from people of all ages!




Here's Andrea Reece who organised the children's part of the festival and invited Philip and me. Thank you so much, Andrea!!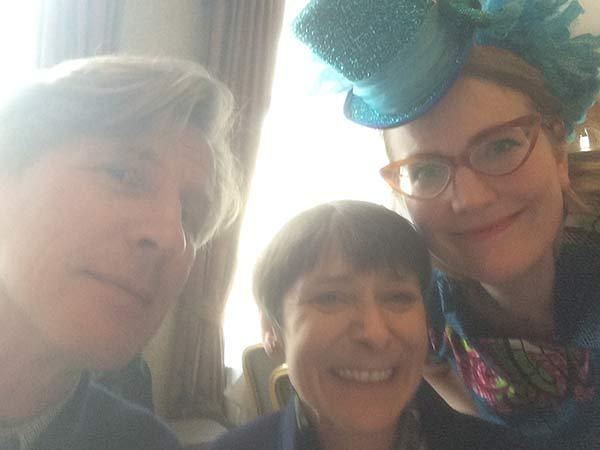 We had dinner with Andrea, our fabulous OUP publicist Harriet Bayly, Philip Womack and Seonaid MacLeod (pronounced 'Shona'), who was at the festival bigging up a Reading Ambassadors scheme, promoting reading for pleasure. Besides the great company at Brasserie Blanc, we got to order a Baked Alaska, which we hadn't had since Philip and I first signed our contract for Oliver and the Seawigs. And it was JUST AS TASTY.




Right before I headed back to the station, I stopped by the Eagle & Child pub (where the Inklings used to meet) to see friends Sally Nicholls and her new baby, comics friends Jenni Scott & Richard Buck and their kids, and my amazing OUP designer Jo Cameron. The kids were very excited and sitting is hard in a pub, so we ended up doing lots of drawing, which always suits me just fine!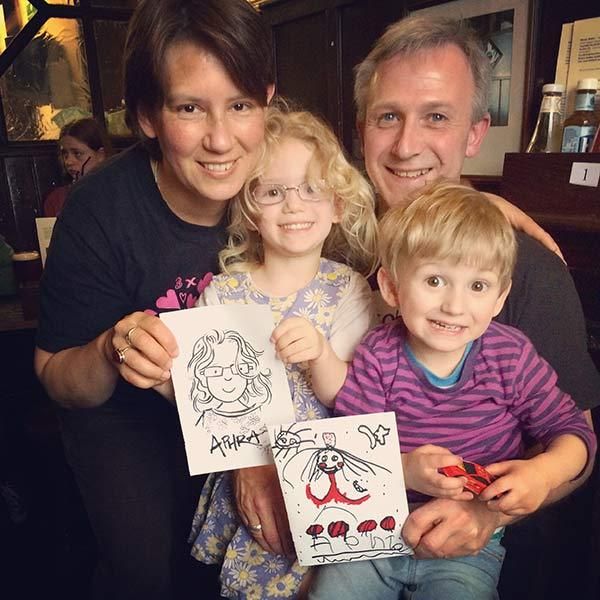 (You can find out about more of my events over on the events page of my website.)