So I've been arrested for outrageous library-saving behaviour and am writing this from Brixton jail... (no, not really). Today's #CarnegieOccupation protest march was very peaceful but there was NO DOUBT of people's passion for their libraries, the Carnegie (which had been occupied for over a week), Minet Library and other libraries under threat.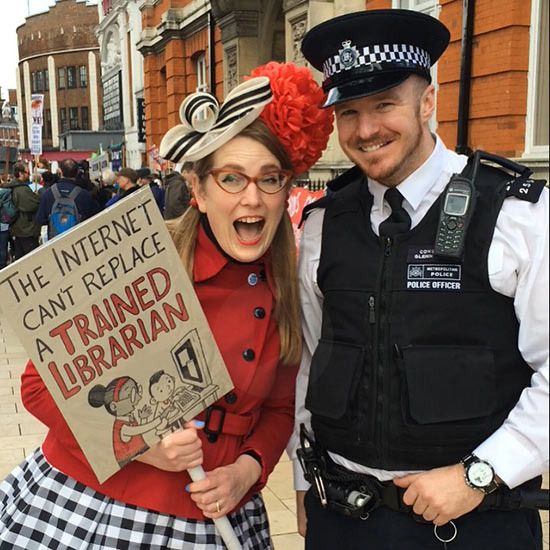 With a big ceremonial unlocking of the front gate, the occupiers came out to big cheers for the commitment they'd shown trying to rescue the library from the council's plan to turn it into a gym. The (Labour!) council's scheme seemed hair-brained: the library group had worked hard to come up with a reasonable business plan and the council had turned it down for lack of funds, but then suggested throwing millions at the building to turn it into a private gym with what appeared to be no organised business plan.





The council argued that they'd just push the books to the side, keeping it a library, but here's author Alan Gibbons arguing that a room with books in it is just a room, without a trained librarian, it's not a library. (Also there were questions about kids being allowed to hang out in a gym, who would look after the books, restock, etc.)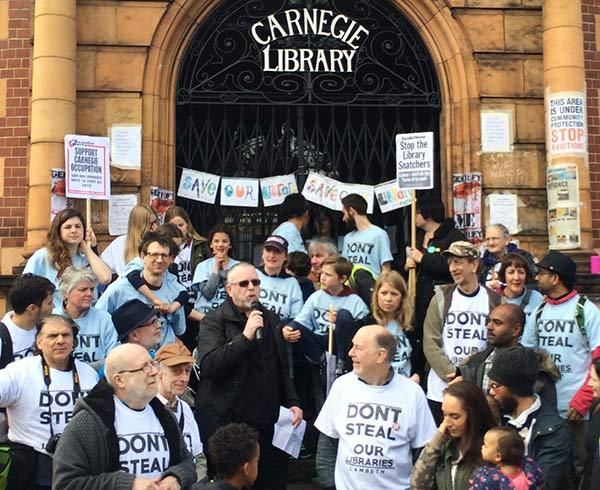 A group called 'Defend the Ten' have been arguing the case for all ten libraries in the London borough of Lambeth, and you can follow them on Twitter: @defendtheten.Quite a few writers and illustrators were able to come along, and it was great to see Francesca Simon, who had argued for libraries the previous evening on Channel Four: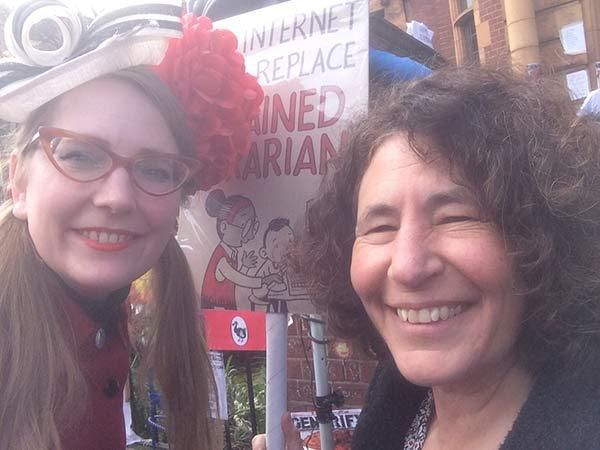 Here's Francesca (author of the Horrid Henry books) with presenter Cathy Newman, and Kate Anderson who was arguing that libraries are passé. (Francesca said she thought Kate saw libraries only as a place to work on a research paper and probably hadn't been to one since university.)



Not everyone was able to make it, but they were present IN SPIRIT. (Yes, you, Ardagh.) Here's my studio mate Gary Northfield, author of the Julius Zebra books (in front of author Stella Duffy, who gave one of the speeches).




Sometimes I go to rallies and see people all with identical signs that the union or political party have given out, but this wasn't like that; a lot of people had put thought into creating their own unique signs, which was fabulous.




I loved the kids' signs, and there were SO MANY KIDS there! I do think the case for libraries is a no-brainer when we're talking about kids and books; there's no way even middle-class parents can keep up with the amount of books their kids go through. Some kids will read twenty or more books every week. And I've seen on my own royalty statements that a very, very small percentage of those books are e-books, they're almost all printed books. Books don't need batteries; if you throw one into the bath (as I did when I was two) it's not several hundred pounds worth of tech ruined.




Can I tell you HOW chuffed I was to see the signs I'd created? ...VERY CHUFFED. It almost felt like an Easter egg hunt, spotting them.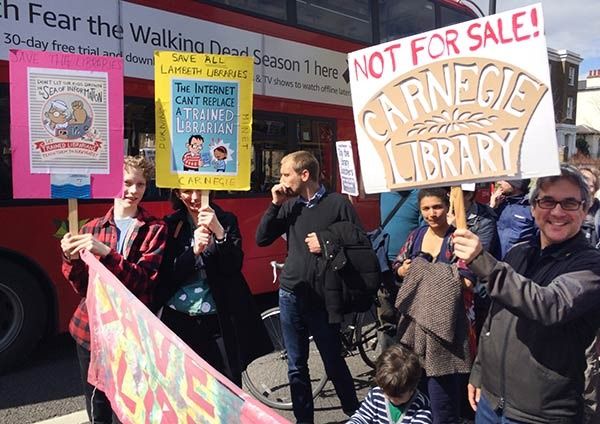 Oo, there's another one! :D




(You can download a range of them free if you click here.)




So I'm really curious what's going to happen to Carnegie Library now that the protestors have gone. Will Lambeth Council think twice about their screwball plan?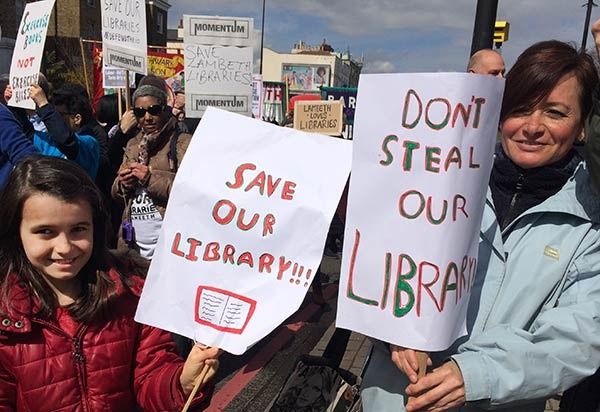 From what I hear, Carnegie Library was getting a lot of use and a real hub of organised community activities. We marched to Minet Library, also closed down and scheduled to become a 'healthy living centre'. I was talking with a fellow protester later in a cafe who said that the idea behind turning these libraries into gyms is that they're not allowed to take them down and rebuild them if they're libraries. (And Carnegie Library was a 'gift to the people', not to the council.) But if the council can get the designated usage changed, then they can do what they like. (I don't know if this is true but it sounds plausible.)




So many awesome signs!




I recognised this sign from @StudioTeaBreak online community's @MrsJTeaches!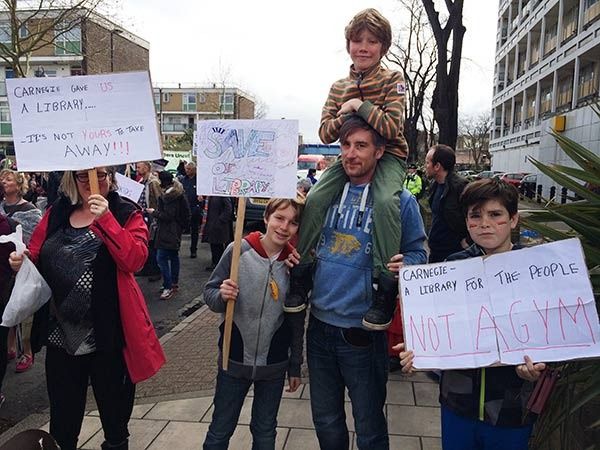 We finished the rally in Brixton, by the Ritzy Cinema, in front of the Tate Central Free Library.



Here's an 11-year-old reading a surprisingly powerful piece of poetry she'd composed for the protest.




Still sign spotting...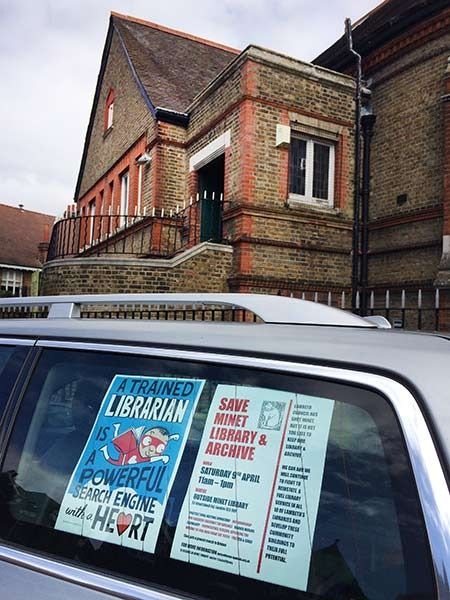 Lovely author supporters! Amanda Lillywhite, Mo O'Hara (and can someone remind me of the name of the woman on the right? I'm so awful with names).




In front of Minet Library: bookseller Adriana at Pea Green Boat Books, Jo Franklin, Mo O'Hara and me.




Thanks so much to Stuart for coming with me! Well done to the Carnegie Library occupiers and everyone who's put time into the protests, and I hope the pressure to SAVE LIBRARIES continues!