All this week I've been on an illustration book tour of the Scottish Highlands! At first I thought I was going to have to do it solo, but I asked Beth Bottery at Scottish Book Trust if I could bring Stuart along and she said yes. Then all my knitted book characters decided they wanted to come along, too.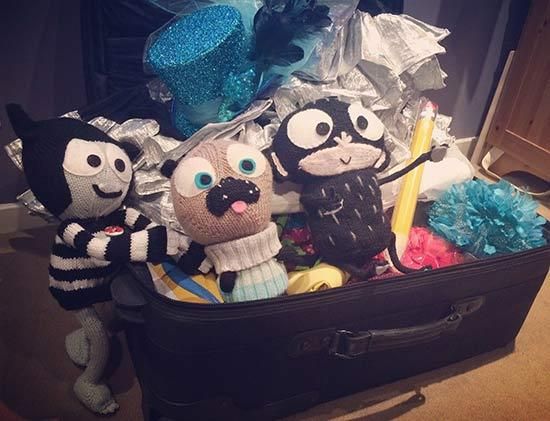 This is the first time I've ever gone on an extended tour with Stuart! And he wasn't just tagging along, he was WORKING. In fact, I thought I'd let him do the blogging. So... OVER TO STUART:

Hi, everyone! My first job was help Doug the Pug sharpen up his drawing skills in anticipation of all the pictures he was going to be making during the course of the week. He drew some pictures on the train.




Here's one he did of me!





And here's one he did of the First Minister Nicola Sturgeon. You can't get more Scottish than that.




Our first port of call was GLASGOW, to see Sarah's auntie.




On Sunday, Beth Bottery and Thomas Jefferson from Scottish Book Trust came to pick us up and drove us all the way to Thurso, right in the north of Scotland.




Here they are in the wilds of the Highlands.




Here are a couple of snapshots of Thurso in late evening.




MONDAY, 9 May:

My first stage appearance was at Mount Pleasant Primary School in Thurso (coordinated by Suzanne Urquhart) and Pennyland Primary came along, too. Here I am with Sarah in my new role as PROFESSOR SNOWSTORM!




I'm supposed to know a lot about the different types of snow in Sarah and Philip Reeve's book Pugs of the Frozen North. Being on stage was exciting but also a bit nerve-racking. Luckily I didn't mess up too many of my lines.




Here are some books the children made in advance, which are pretty impressive.




For the afternoon, Miller Academy Primary School (and Pat Ramsay) hosted us, along with visiting school Melvich Primary. At each visit we created a board game, featuring a race to the North Pole from the school. We wanted to give them ideas on creating a story, how (like a board game) it needs a beginning, an end, and perils in the middle. This group game up with some really unusual perils, culminating in the greatest peril: Donald Trump.




We also met Reading Champion Alex Patience, who works with the kids on this reading scheme.




On a beautiful evening - tropical for Thurso! - Sarah made a new friend named Kali.





TUESDAY, 10 MAY:

We visited Castletown Primary School, just outside Thurso, with the visit coordinated by Rhona Moodie. Having a day's practice, I was beginning to get into my character a bit more. Things didn't seem to be quite so scary, particularly when the class was a bit smaller.




Tom took us to a roadside cafe for lunch, just outside Wick, The Rumblin' Tum. It felt like something you might find in the Australian outback.




Sarah took this photo of Tom and me and mystery guest in the background.




In the afternoon, we were at Noss Primary School (which was only a few weeks old!), with Watten Primary visiting. Headmaster Ally Budge had really researched Sarah and Beth told us he'd filled out the application form for the visit in Russian! (Sarah and I both speak some Russian.) This was our largest event yet, with more than 200 children. The school gave Sarah a very thoughtful Russian-themed gift, Baggage by Marshak & Lebedev.




We drove on to Tain and stayed in the Royal Hotel, which was very grand.




Tain was lovely, with some very striking buildings.




We had dinner at the restaurant at Tain railway station. Sarah shot this video because she thought Beth had a wonderful Hull accent.



During the week the four of us did some drawing challenges. Here's our #ShapeChallenge drawings. (Can you guess who drew which one?) Sarah sets daily Shape Challenges on Twitter which you can discover at @StudioTeaBreak.




WEDNESDAY, 11 May:

In the morning we visited Knockbreck Primary School in Tain (coordinated by Mhairi Miller), with Dornoch Academy visiting. Sarah drew this picture of her and Doug the Pug but she forgot to take any more photos.




After lunch, we headed to Strathpeffer Primary School (hosted by Carolyn Ritchie and Mr Spence), with visiting school Mulbuie St Clements.




The afternoon was so sunny that we sat out on the lawn of our hotel and did a Comic Jam together. Here are some teaching videos if you want to learn how to do a Comic Jam in your school.




Beth shot this video of the Comic Jam at different stages.






THURSDAY, 12 May:

Our first stop was Teanassie Primary School (with Sharon Gallacher), with visiting school Beauly Primary, which was our most intimate event with just over 30 children. When we drove in, we saw the chickens and three pigs the school raise.




Everyone on our tour loved knitted Doug the Pug, designed by Lauren O'Farrell (aka Deadly Knitshade). Here's the link if anyone wants to download the free pattern from Sarah's website. And here are some of the pugs the children drew at Teanassie:




In the afternoon we arrived in Inverness to visit Drakies Primary School (coordinated by Rebecca Fleming), with visiting school Bun-sgoil Ghàidhlig Inbhir Nis. Drakies were very excited about the visit and prepared some posters to advertise Sarah's event to the other children. Sarah was so pleased!




Drakies even tweeted to Sarah before the event (@DrakiesPS). She loves it when teachers and pupils prepare things before the visit and this group made lots of great stuff.




Even after the visit, this mum sent us a picture which made us all go 'Awww'.




On Sarah's drawing challenge @StudioTeaBreak, Thursday is #PortraitChallenge day. Here's a family portrait of pop stars if they were animals.




FRIDAY, 13 MAY

My costume for the week included wearing this pair of yellow trousers. Don't park on my double yellow lines!




For our final day, we began at Crown Primary School in Inverness, organised by James Cook.




The school had a blog up by the same evening! We got some very encouraging feedback from the teachers, including one who said in twelve years of teaching, it was the best event she had seen and gave the teachers lots of ideas of things to do with the kids later.




And finally, Hilton Primary School (with Amy Fraser) and visiting school Cradlehall Primary. We received a warm welcome from the dinner ladies!




The dinner ladies even baked us banana flapjack! This was our biggest event. It will be funny telling my colleagues back at work what I've been doing all week.




Here are cards Sarah drew for Tom and Beth, thanking them for all their hard work. Thank you very much, guys!! And to all the schools who hosted us, Scottish Book Trust, and our sponsors Scottish Friendly.




This was a never-to-be-forgotten week! It gave me a whole new perspective of Sarah's work. I hope all the children we met go away and do a lot more drawing, writing and reading. I might try to do some more drawing, too!