Last weekend Philip Reeve and I got to go to the amazing PUG-THEMED Manchester Children's Book Festival! I'd been excited for MONTHS about seeing my favourite pug, Benny Bean:




Manchester-based publicist Liz Scott organised a whole tour for us, which started with a visit to Ladybrook Primary School, where Lane End Primary had also come along for the occasion. I'll see if I can get their amazing Pugs video!

Here are a couple of the pugs the kids drew:



And a handy map to the school they'd made:




Thanks to Andrew at local Bramhall indie bookshop Simply Books for hosting the book sales! Simply Books are amazing, they organise so many book-related activities and school visits and are generally an awesome part of their community.




Our next stop was Royal Manchester Children's Hospital, which we'd visited a couple years ago on our last visit to the festival. They work with an amazing charity called Readathon UK, which brings rolling library shelves of books and comics (including Moose Kid Comics, edited by Jamie Smart!) to sick children in hospital.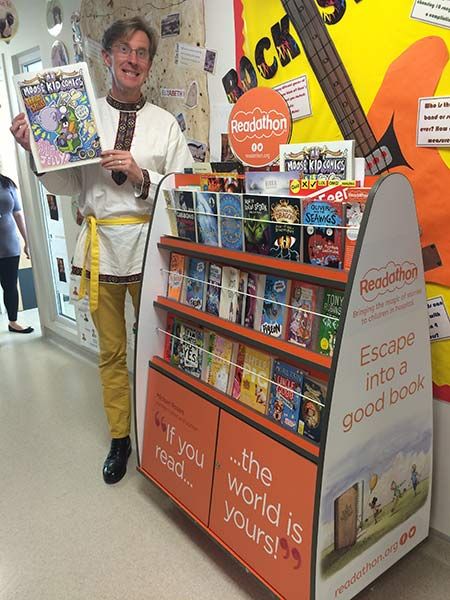 When we first got there, we were supposed to do a performance in the main atrium, and we did a short version of the Race to the North Pole board game. Here are MCBF festival organisers Kaye Tew and James Draper with fab festival team members, us and the GIANT KNITTED PUG by Ally's Wonderland.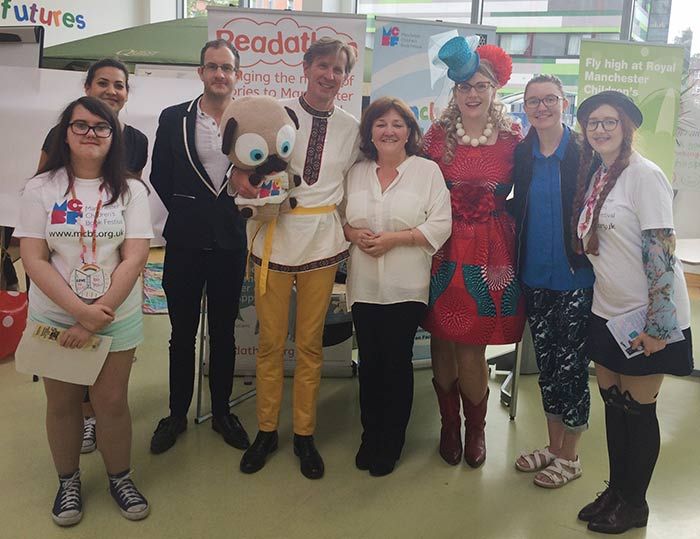 But the majority of kids that day were ward-bound, so we cut short the atrium show and decided to go around to the wards instead and visit with kids individually. And that was the best part, we had fun drawing stuff together. This girl had already done an amazing pug drawing with the hospital school, so I asked her what else she'd like to draw, and we had fun making unicorns.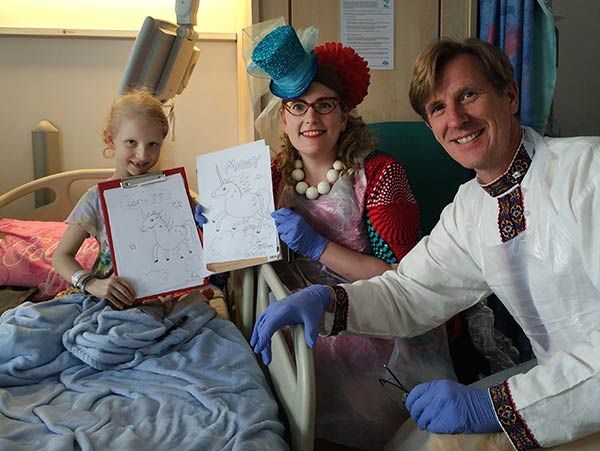 This kid wanted to draw A YETI! He really liked the yeti noodle snow from the book.




The hospital is great, they tailor their education to each kid's needs and stay length, and they've really gone all out featuring Oliver and the Seawigs and Pugs of the Frozen North for class projects. Here are some of the awesome displays they've created: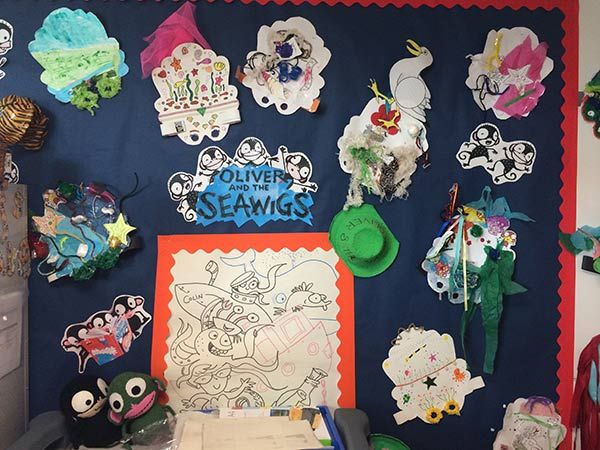 These really brighten up the place! I remember as a kid, one of the things I hated most about hospitals were all the beige walls. And I could see the team totally understood that, there was colour everywhere.




On our last visit, it was funny to see just HOW useful the cardboard bedpans could be! They make terrific hats... or Seawigs! Here are some of the kids with their Pugs projects:




The kids had done some great crafts. Check out these yetis!




Some sleds for Shen, Sika and the pug team: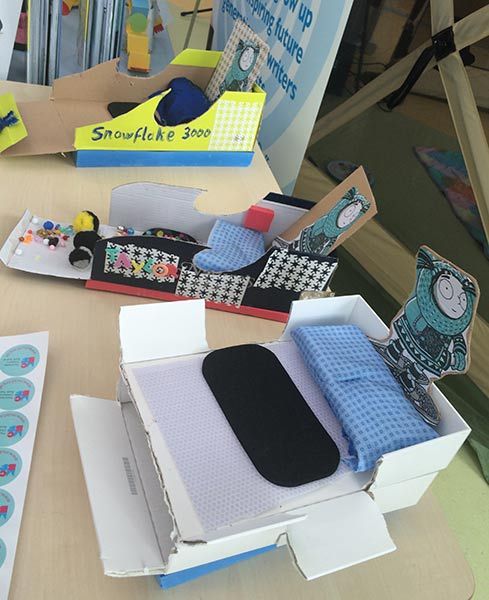 Some pug masks and a polar board game: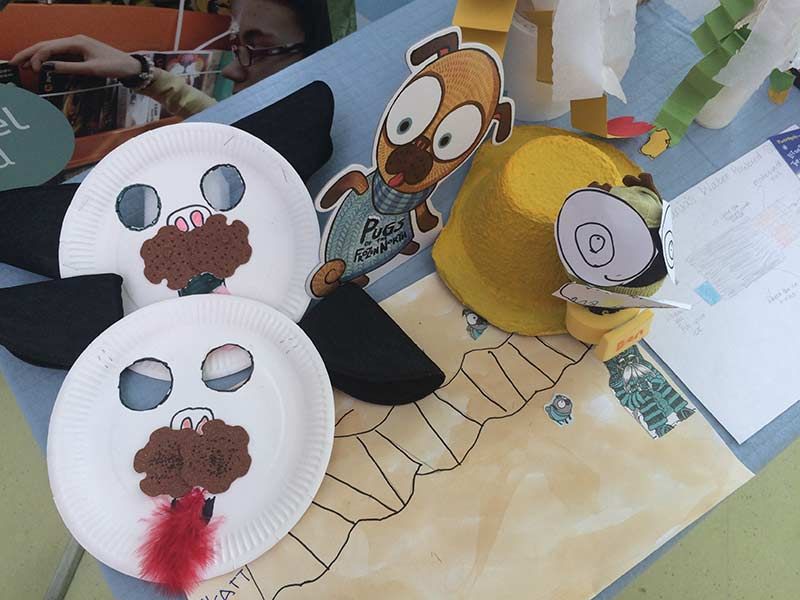 And lovely sock pugs! :D




SCARY PUG!!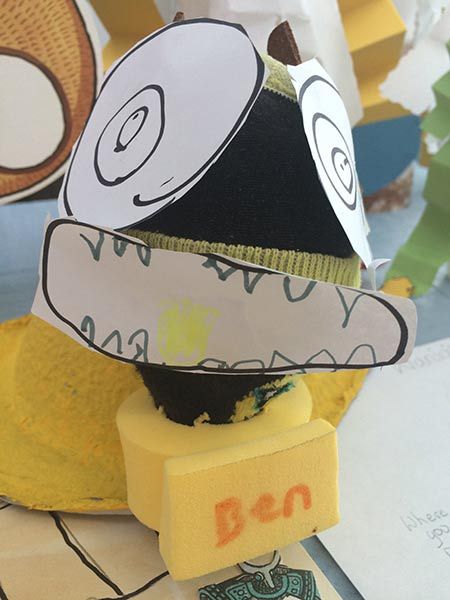 It was so fun seeing hospital school staff in Pugs of the Frozen North costume! Thanks for all the amazing work you do. :)




Check out Helga Hammerfest and the Snow Father!




A big thank you to the hospital team, the festival and Readathon for hosting us, and a massive HELLO from Philip and me to any of the kids if they're reading this! If you're looking for a top-notch charity to support, do consider donating to Readathon or getting your school involved, details here.




Our next stop was Manchester University, where the big Saturday main festival was held. And the very first person we got to see was... I mean, pug, was... BENNY BEAN! (We met him in London on our Pugwalk and I was totally smitten - photos from that here.) Here he is with Sam Scott-Mance, Trustee of The Pug Dog Welfare & Rescue Association, who had a booth explaining to people what they do and letting people have a cuddle.




And here's Pickle, who's a bit more shy but had a face-off moment with Philip here: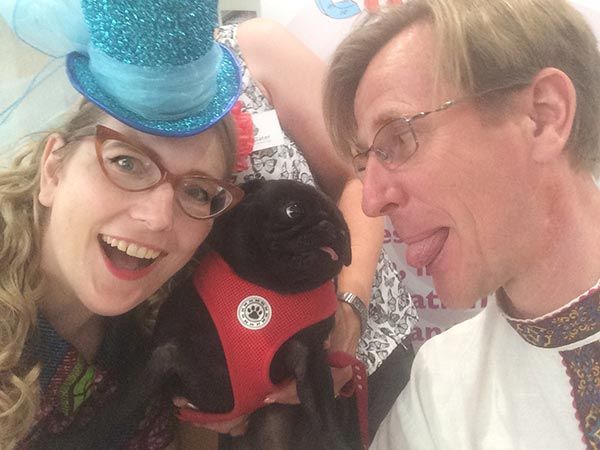 Besides Pugs, the other featured character for the festival was RASTAMOUSE! He's a great mouse, he does tings right.




And his creator, Michael Da Souza! He was wearing a three-piece suit when we first met him and he lectured Philip for not wearing that sort of suit anymore. 'Embrace the dapper'. (But Michael wore a t-shirt for his event because he gets very hot otherwise.)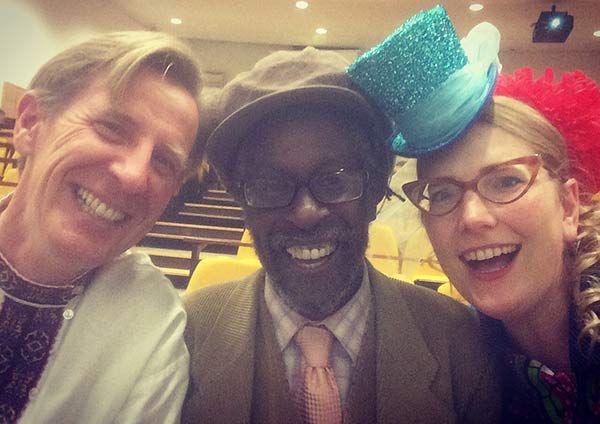 One of the awesome parts about going to the festival was getting to go to someone else's event! At a lot of festivals, there's not enough time, but we managed to get in to see The Etherington Brothers' show, which was fabulous! Those two are incredible stand-up comedians and they taught the kids loads about how to put together stories.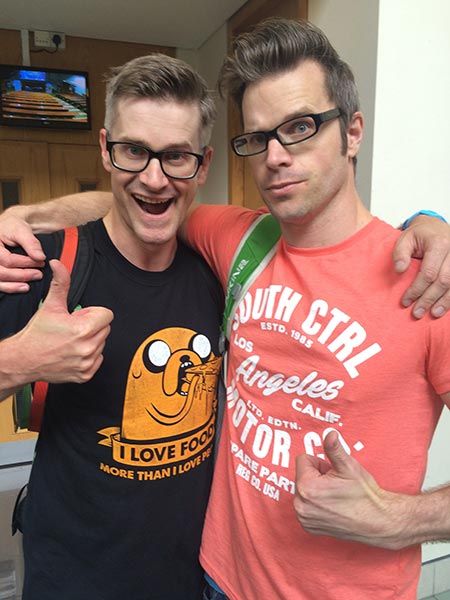 Hey, it's comic artists Laura Ellen Anderson and my studio mate Gary Northfield!




And Adam Murphy!




Look at us being all dramatic... :D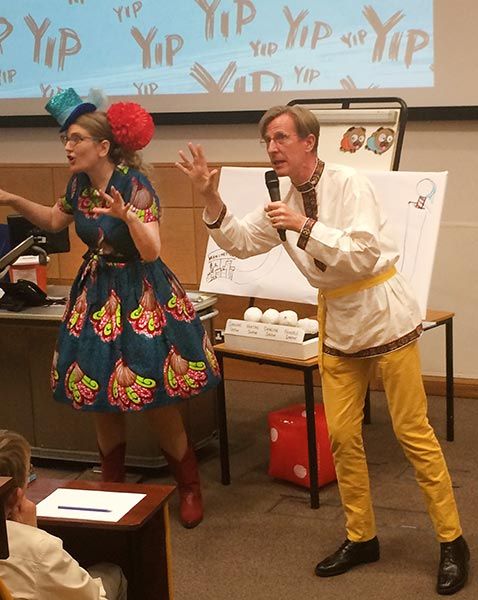 Lovely tiny knitted pugs, designed by Lauren O'Farrell and knitted by Ally's Wonderland!




And a nice group drink at the station. Whew!




Final note: Just like the last time I got to cuddle the Bean, he held on to my arm while I did a big book signing and looked very comfy the whole time. I had a very hard time saying goodbye to him at the end. Benny Bean, you break my heart each time.