'So what inspired Jinks & O'Hare Funfair Repair?' you may ask. Where you and your co-author Philip Reeve get the idea?

When I was eight years old, my mother woke me up and popped a question: if I could go anywhere in the world, where would I want to go? I think I said, 'The Seattle Science Centre', which sounded about as cool as a regular day could be. But my mother said, 'I mean ANYWHERE in the world'. So I said, 'Disneyland, of course'. (As IF I'd ever get to go.) And my mother said, 'Well, pack your bags, our plane leaves in a few hours'. And I was completely gobsmacked. My parents hadn't been sure if the trip would work out, so they left it to the last minute, and after we went, if you asked me that year, what the best thing in my whole life had been, I would have said 'Going to Disneyland' without hesitation.

So it seemed right, when Philip and I could set our book anywhere in the world - in the universe, in fact - to choose a big amusement park. And the best bit, I could go to Disneyland Paris AS RESEARCH!!




That alone would have made my eight-year-old self say that I have the coolest job ever. So Stuart and I did go, with some friends who had a very obliging five-year-old.




Thunder Mountain was still my favourite ride. Space Mountain was closed just like it had been when I was a kid, Pirates of the Caribbean was a little less convincing but still cool, the Haunted Mansion was very disappointing because I remembered it being WAY more magical in California all those years ago with a ghost that would actually sit in the pod with us. The much newer Buzz Lightyear ride was a great surprise because we got to do lots more than sit, but actually shoot at aliens. The Indiana Jones roller coaster had all mechanics of a good ride, but I realised the reason Thunder Mountain is so much better... it's because its designers treated it like storytelling: the roller coaster design used a lot of the same techniques of getting the passengers excited, building intensity and revealing a great view of the scary bits just before sending us flying down a slope. That gave me a whole new appreciation of roller coaster engineers, who are basically building a story.




Jinks & O'Hare Funfair Repair was the very first project Philip and I got published, originally as a four-page comic strip in Issue 44 of The Phoenix Comic. I knew Philip more as a writer and he knew me mostly as an illustrator but we swapped roles: I wrote the story and Philip drew it (and then I coloured it).





Here are some of Philip's first sketches of Jinks & O'Hare: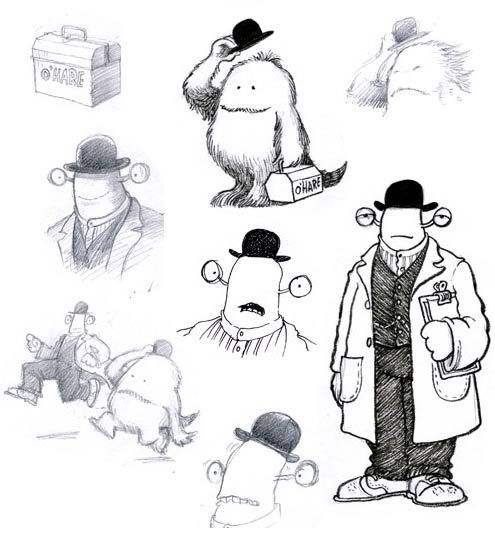 When we were coming up with the idea, I explained to Philip how I'd tried to build amusement parks out of basic LEGO as a kid, but never really created anything convincing; I thought my chance to do it properly had finally arrived, but using drawing and writing instead of plastic bricks. Years later, we decided to return to the Funfair Moon we'd created and set our full-length book there. We created a new character named Emily, who's found as an abandoned egg on a ride and grows up in the Lost Property office. She loves to build funfair rides, too; you can see her right at the beginning in her bedroom with her Meccano set. Here's work-in-progress artwork, from when I was drawing the black lines with my dip pen on my lightbox:




The title of the book is Jinks & O'Hare Funfair Repair but Emily really, really, REALLY wants to be part of the business and thinks she's old enough.




I didn't get to read a lot of books about wonderful funfairs as a kid. Most of them were rather dark and sinister, lots of gritty behind-the-scene elements and clownish horror, and I didn't like those; as a kid, I wanted a story to transport me to a wonderful funfair that had the MOST AWESOME RIDES IMAGINABLE. So that's what we did! You can see Funfair Moon didn't change all that much from Philip's original drawing, but you might spot a few more recent characters from our books together:




And we had loads of fun with it! Since it's not set on earth, we didn't even have to worry about regular things like Earth gravity: roller coasters could twirl and wind all over the place with minimal struts holding them up... gravity might even INVERT on occasion!




And things like school wouldn't have to be like Earth, here's the Learny-go-Round, which is a much more fun way to study:




Yesterday Philip and I met up with our amazing editor Liz Cross and fabulous designer, Jo Cameron, to plan the next project. Thanks so much for all your awesome work on this book, Jo and Liz! (And Clare Whitston, who's on maternity leave but did a lot of the original editing!)




And where do I find this fine book, you may want to know! If you're in the UK, here's the link to its Oxford University Press page, and you should be able to find it at all good bookshops! If you're outside of the UK, it will most likely be published in several translated editions, but if you want it now, you will be able to get it through Page 45 in Nottingham (who ship internationally) or Amazon.co.uk.

We hope you enjoy the ride!