On Friday I found myself on a mysterious platform marked 'Pewsey'. Where is Pewsey?, I wondered.




And also, Where is Reeve?



Ah, I can see a speck of a train on the horizon... could that be my illustrious co-author?


And lo, he appeared, to the sound of many trumpets.




We commended the Marlborough Lit Fest team for booking a rainbow in our honour.




And I tried out their throne, as one does.




After all that grandeur, here are a couple images of gentle domesticity.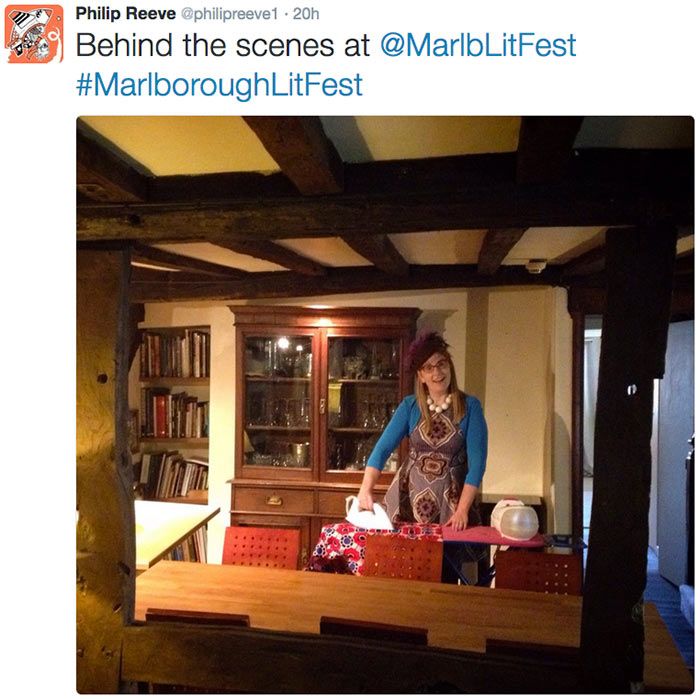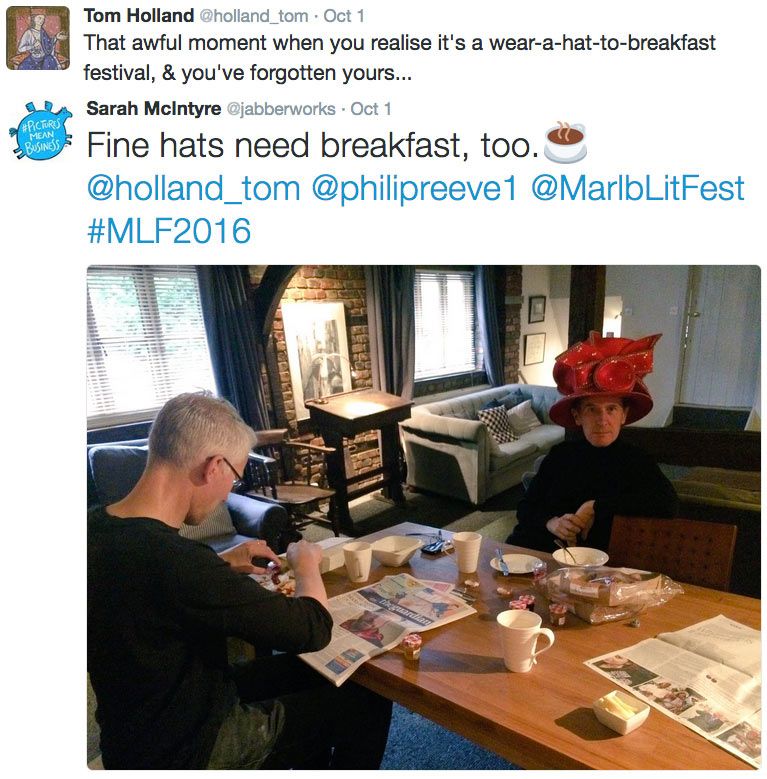 I'd missed meeting historian, writer and translator Tom Holland at several festivals and I was so pleased AT LAST to get a chance to meet him. And have dinner! Where we discussed worryingly rude elements of nature such as geoducks and echidnas. We also went to hear a thought-provoking talk by Lionel Shriver but I might leave that for another blog post. (Tom live-tweeted it but I thought I'd let it stew around in my head for a bit longer before responding.)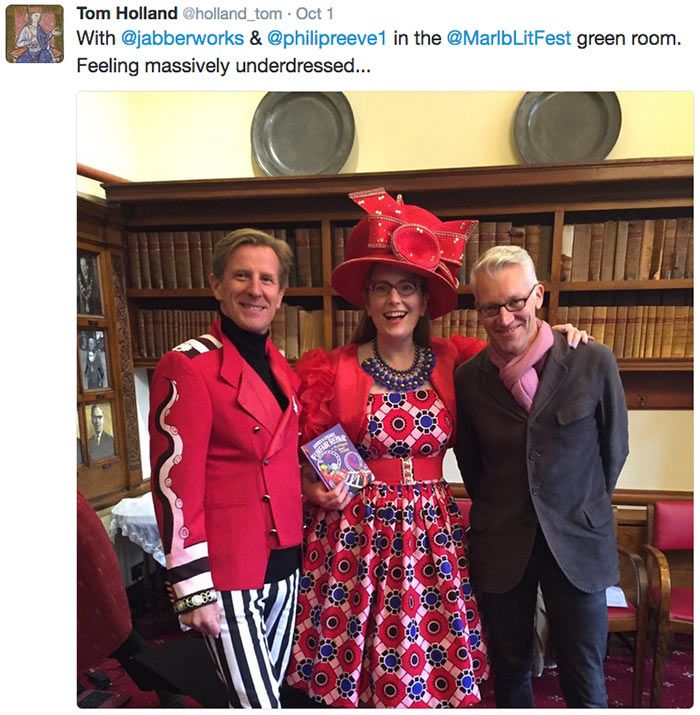 The most interesting thing I learned from Tom was about a tenth-century woman named Æthelflæd, who was for all intents and purposes, a kick-a** English queen (even though she wasn't technically called a queen) who rode out to battle but also set up loads of things that made the country more peaceful and prosperous and was generally pretty awesome. Someone at dinner remarked how it's odd that English people start their history with a battle they lost (the Battle of Hastings) but few people study what came before then. You can find out more about Æthelflæd, Lady of the Mercians, from Tom's video. I'm surprised there aren't more paintings and graphic novels about her, she'd be great material.






I had my first event, a professional talk about book illustration, across the road from the Town Hall at the White Horse Bookshop, in an amazing new events room they've built out back. The skies were dark and lashing rain outside, but inside we were sunny and warm.




I was so grateful to the big mix of people who arrived and had really good questions and all took part. Everyone from pre-teen kids who loved drawing, kids who didn't, art students, a woodworking student, adults who were interested in getting published, professionals, all very thoughtful and friendly. (If you were there, here's a link to my FAQ page I mentioned, with the picture book template.) Right before the event, I got to draw a portrait of Georgia and Little Brown Dog, with Georgia's assistance colouring her stripey tights.




And then it was time for Reeve and me to put on our very first Jinks & O'Hare Funfair Repair show.




From all the feedback we got, I think it went well! We brought in some elements from our earlier shows, such as creating a board game to illustrate the idea of creating a storyline, and I taught everyone how to draw themselves with Jinks & O'Hare in a roller coaster. But we added some new bits, such as the Ducks of Knowledge (which I didn't get a picture of, maybe next time).



(Tweeted by @BookLoverJo)

It was the first time I'd worn these shoes for any length of time, and one of the laces immediately started trailing across the stage.




But the shoes were kind of hard to walk in, and it was hard to bend down in them, so our festival coordinator ran up to assist, which Philip noted as VERY IMPRESSIVE. :D




There was also a fab Oliver and the Seawigs-themed competition and we got to present prizes to the winners!




Here are some close-ups of various Seawigs on Cliff, the Rambling Isle: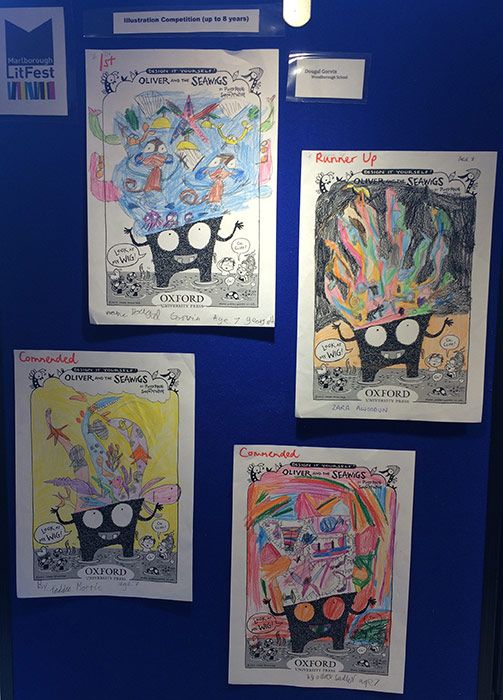 It was wonderful spotting some familiar faces in the audience! I got to meet @BookLoverJo for the first time, after we'd exchanged lots of friendly tweets, and here's Fiona Noble and her daughter. Fiona writes for The Bookseller magazine and was one of the early supporters of the #PicturesMeanBusiness campaign to get illustrators properly credited for their work. Fiona's made a huge difference because she's the person editors submit information to about upcoming books and she selects which ones she'll highlight in the monthly picks. She was cross about the lack of illustrator information in the Advance Information sheets she was being sent (why should she have to hunt for that information?), and publishers quickly saw that supplying this important data could only help them in their pitches to get their books reviewed. Yay, Fiona!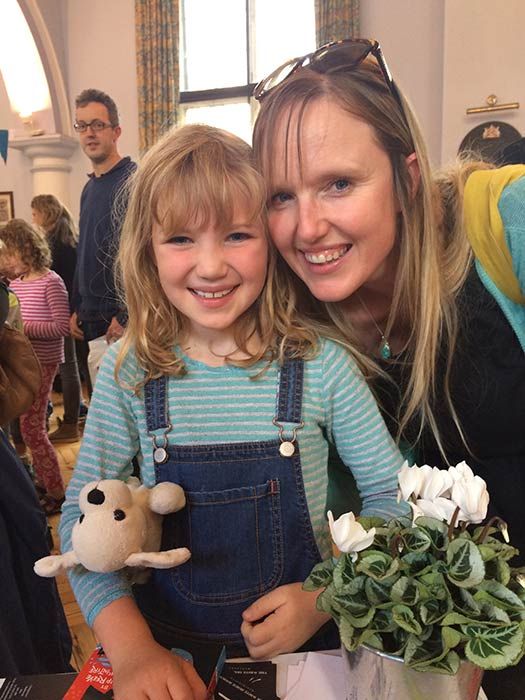 And here are some of my favourite people, Nick and Maureen, with their granddaughter. Nick and Maureen were in a book club with me for nine years and we managed to get through 58 books! (You can read about it here.)




One of the cool things from that book club reading list is that I've had the chance at festivals to meet quite a few of the authors we read: Audrey Niffenegger, Jasper Fforde, Sophia McDougall, David Almond, Chimamanda Ngozi Adichie, Myla Goldberg, Geraldine McCaughrean, Sally Nicholls... and Stephen Kelman (who wrote one of our book choices, the excellent Pigeon English) was sitting a few chairs away but sadly I didn't know who he was so I didn't get to say hi. Oh well! Here's Reeve just after I left, curiously back in civvie clothes, with Stephen: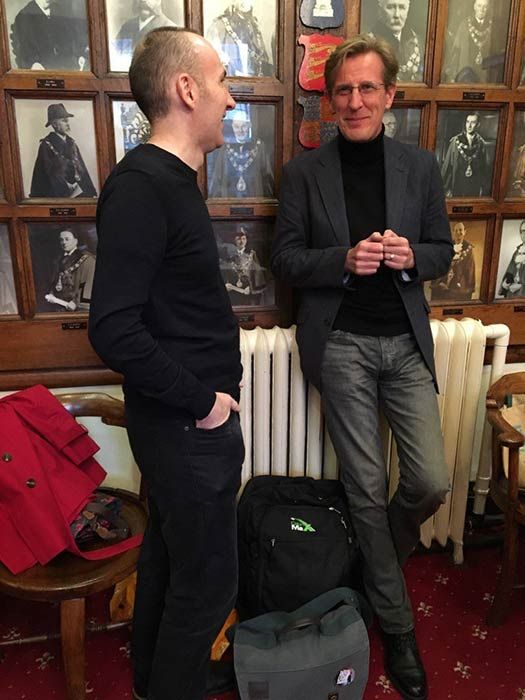 Tweeted by @MarlbLitFest

Huge thanks to Louise Tinker (on the left) who coordinated our visit, Godots who put us up, and everyone who looked after us so well and made the festival run so smoothly!




A big hurrah for all the volunteers, you were great!




And these are just the sorts of tweets we love to get after a book festival, kids stuck into their new books.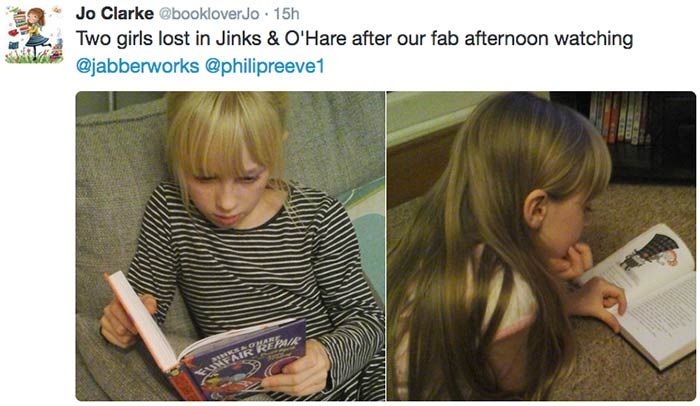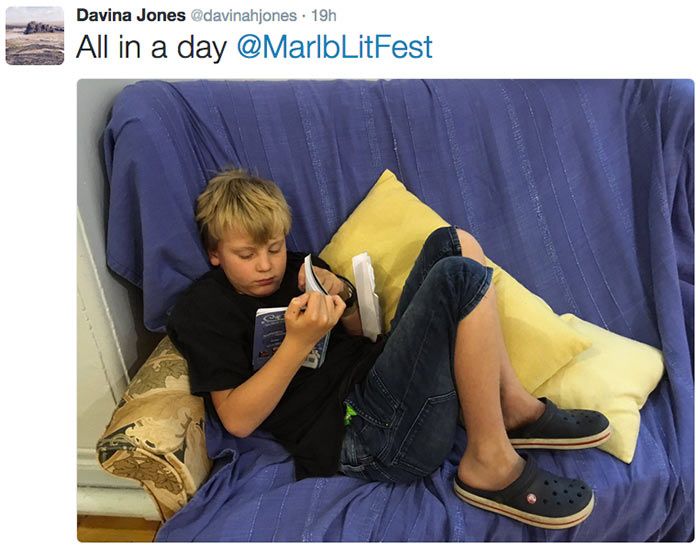 Click for my events page to find out where I'll be next!