When my co-author Philip Reeve and I were approached by Emirates Airlines to encourage kids to write and draw their own travel-related stories - and flex their creative muscles - I got very excited about the idea!



(Here I am with Philip in my studio, flexing my creative muscles.)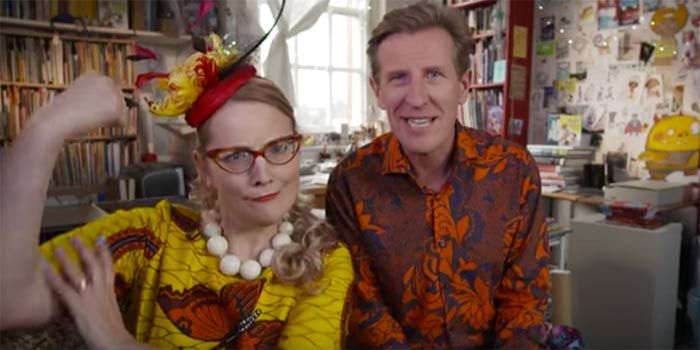 Of the four books Philip and I have created together so far, all are inspired by the idea of going on journeys, and adventure. In particular, Oliver and the Seawigs was very much inspired by trips to the beach, and the setting of Pugs of the Frozen North drew on experiences I'd had while visiting Alaska and Norway.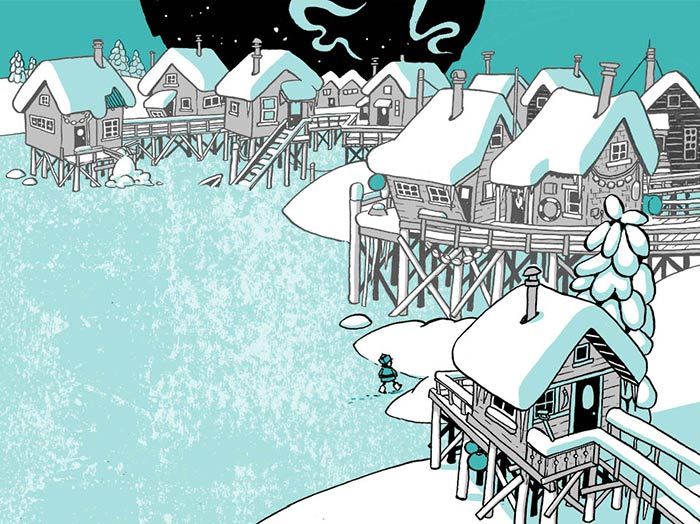 When I've travelled, some of my best souvenirs have been the diaries and travel comics I created during the trip. Sometimes I'd draw things right on the spot, and other times I'd take a photo and draw things later when I was back at wherever I was staying. When I went to China with my family, my China travel comic started during my layover in Dubai Airport: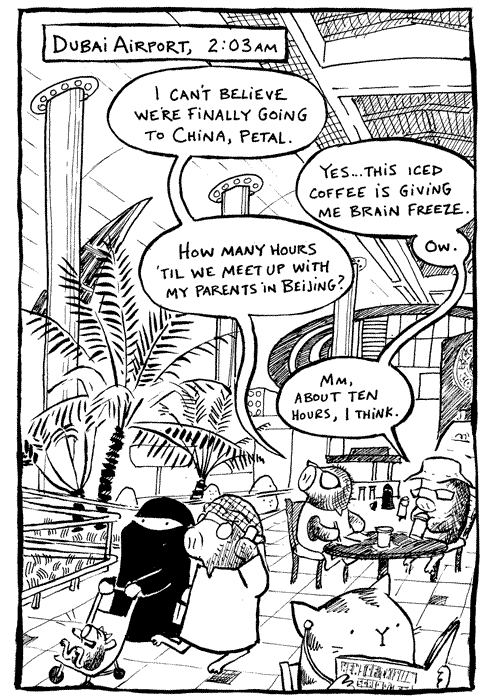 I learned a cool trick from picture books and comics for making things easier: instead of drawing people as humans, I drew them as animals. That way they wouldn't get offended if I drew too quickly and my drawings didn't look like them, and it was just funnier seeing cats and moles and mice doing the things people do. A lot of times I'd draw meals we had together as a family:





Or interesting scenes from the day:




Once I bought a lot of mysterious-looking sweets at a market, and when I was back at the hotel in the evening, I did a taste-test session with my husband Stuart, deciding which ones were nice, which were nasty, and copying the interesting packaging.




When I came home from China, I scanned all the pages of my sketchbook and ran off about 20 copies of the book on my computer printer. It was a great way to remember my trip, I was able to give copies to my parents and travel companions, and I posted the whole comic on my website.




I made a comic in Alaska, too; this time drawing everyone as rabbits:




My husband (who hardly ever draws) even created a little bit of a travel comic when we went to Alaska. He decided to draw people as potatoes, which made them easier to draw. And... it's just funnier, how often do you get to see potatoes going around having adventures?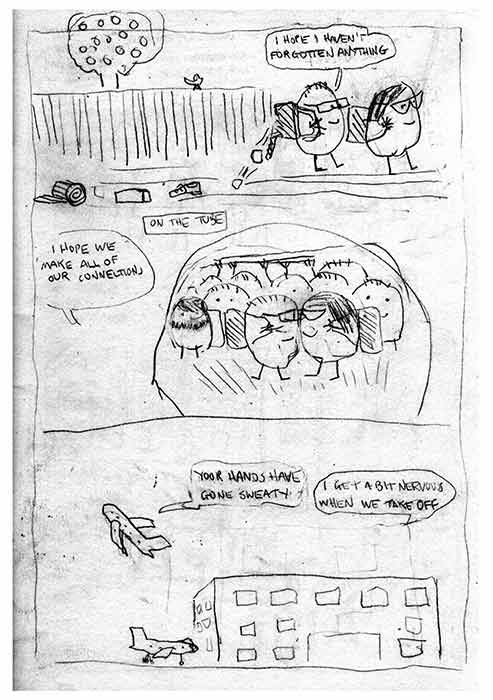 Families, now it's YOUR turn!
Going on trips with your family is a great way to expand everyone's horizons and have new experiences that can inspire you to be creative. You might:

* Read books together about your destination before you go
* Draw pictures about what you're hoping to see on your trip

While you're travelling, you can keep a diary of the places you've been, a sketchbook of people and things you've encountered, or a scrapbook of things you pick up on your travels such as ticket stubs, napkins and postcards. (They might all be in one book together!)

And when you come home, you may already have a booklet that's a story of your trip, or you can use it to inspire a story, maybe just using several elements of the places you visit. Say, if you went to Thailand, you might make a story about an elephant who learns how to paint. Or Dubai, a window-cleaning camel who climbs up the Burj Khalifa!

With the Emirates Flight Time Stories, parents or guardians are invited to visit the Flight Time Stories website with their kids and together submit their own holiday-inspired story, along with a colourful front-cover design.



Click here to read the rest of 4-year-old Edith's story

The best ones will win prizes, including a family trip to Dubai. And Philip and I will use one or more of your stories as inspiration for a storybook we will create, which will be available online early next year, dedicating it to the child or children who helped inspire it!

So visit the Emirates Flight Time Stories website and start thinking about how you and your family can get creative!

www.emirates.com/FlightTimeStories