So what's the first thing I did when I returned to Skudeneshavn in Norway? I went for WAFFLES.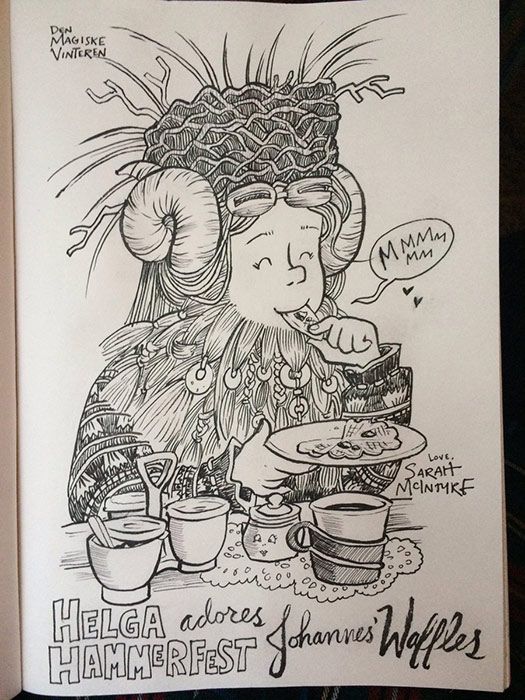 More precisely, to Johannes's cafe, because Johannes is my favourite thing about Norway, even more than waffles. Every year that I visit him, I leave him a drawing in his guest book. This time it was a picture of Helga Hammerfest, our best bearded lady from Pugs of the Frozen North or the new Den Magiske Vinteren, my first-ever book in Norwegian (published by Aschehoug, translated by Tonje Røed), with Philip Reeve.





He showed me a t-shirt made from a drawing I did on my last visit:




And when the postmistress delivered a parcel while I was there, with a toy tractor in it, we spruced up Johannes's tractor collection!




My visits to Norway are amazing and fun, but they're also some of the most intense school work I ever do. While I was in Norway for this trip, I visited eleven schools, as well as doing several library events. (You can see the first leg of my trip, including bLEST festival in the Tysvær region and a side trip with Stuart to Bergen.) But I can't say it's hardship in any way because I wake up to this view in the morning: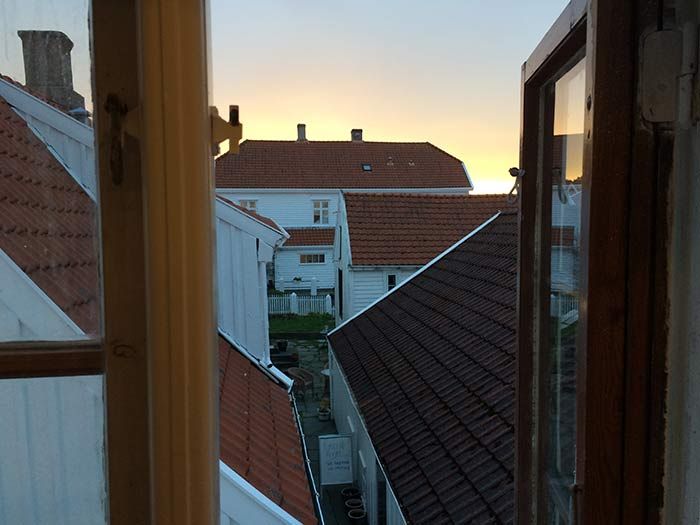 Here's my little loft apartment, in the top of this art gallery building, Studio 21, run by Eli Aarskog Monsen and Ingvar Torbjørn Øritsland.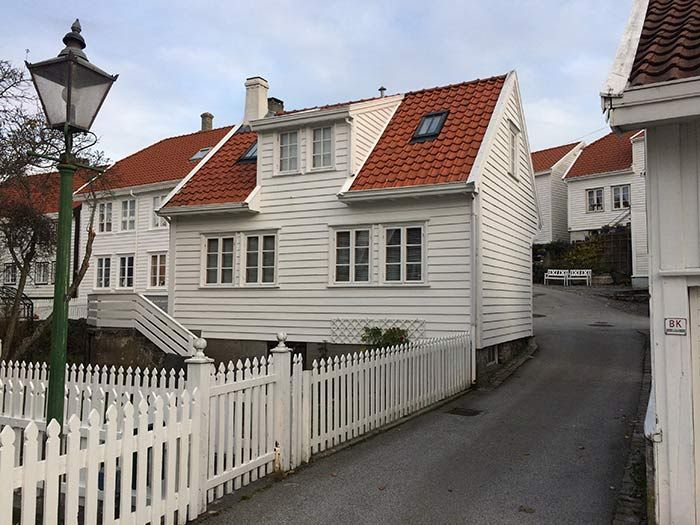 From my base in Skudeneshavn, the first school I visited was Ådland School (pronounced Oddland). I was just getting into my stride and forgot to take any photos but they were welcoming and wonderful and I was off to a good start.




The second school I'd visited several times before and knew well, Skudeneshavn Primary School. I love that they always appoint two cultural ambassadors to welcome me with a little speech, take me around, and bring me coffee. (Here they are in their blue badges.) Skudeneshavn kids are quite rambunctious, but in a good way; they get excited and we have a lot of fun.




When my co-author Philip Reeve and I do our Pugs of the Frozen North events, we have the kids create a giant game board with us, to reflect the book's race to the North Pole. We explain that a story is very much like a game board: you choose a beginning and an end, and then think up all the wonders, pitfalls and perils that might happen in between them, events that might help or hinder you.




Philip wasn't there to help me lead the game, but I did it solo as best I could, and we also had fun drawing PUGS. The next day, next place was Norheim School, where we also did just that!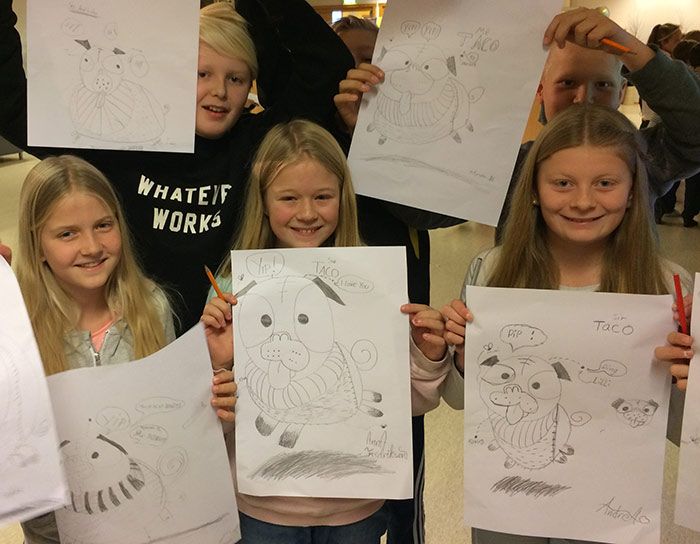 A cool thing about Norheim school is that they train up someone to be a proper technician, so this guy on the right set up all the slideshow and microphones and everything.




I visited Mykje School (pronounced 'MEE-cheh') last year and done a Pugs event, so this year I focused on my latest Reeve & McIntyre book, Jinks & O'Hare Funfair Repair. The story features Funfair Moon, an alien planet that's one huge amusement park, so I led them in drawing themselves with our Jinks & O'Hare characters on an awesome roller coaster ride.




When I first started doing school events, I used to try to keep the drawing session more open, giving the kids more freedom to draw things the way they wanted. But I found that, particularly with the older children, they just found the white paper intimidating and didn't want to look silly in front of their friends. If I led them in drawing something together, step by step, they were far less self-conscious and often amazingly surprised with how well their pictures turned out. They could then colour and customise their drawings, but learning how to construct the lines of a basic picture helped build their confidence.




The next school I visited was Vedavågen (or 'Vea') School, and it was the first time I'd ever led an event in a NUCLEAR BUNKER. Yup, it really was a nuclear bunker, check out the doors (but it wasn't as grim inside as you'd expect a nuclear bunker to be). More pugs:




And these lads were more than happy to post for a picture with our game board.




When I'd ask them to think up a PERIL for our race to the North Pole, several of the schools suggested 'Donald Trump!' as the most dangerous/silly peril they could think of. Norwegian kids were kind of obsessed with the whole Trump phenomenon, I don't know if people in American realised just how much pre-election interest there was around the world. (I can't think of any foreign election we got very interested in as American kids, only British royal weddings and stuff.)




Anyway, we built a wall, and Trump rode at it on his tricycle (the kids' idea, not mine). I think that's Hillary above him on a 4x4 but she's not quite so easy to identify. If you landed on Trump's space you had to 'go back 30 years'.




The next stop was Sevland School, which I'd also visited last year. Check out this ace drawing one of the students made for me in advance. :)




Ha ha, I love these life-affirming pictures. DEATH WALKS AMONG YOU. (Which is quite a good name for a roller coaster, really.)




On the Thursday, I anticipated my most difficult visit, to much older teenagers at Haugaland vocational college in Haugesund. They were first-year students trying to decide if they wanted to go into design, textiles, hairdressing, lots of different things. Last time I'd done it, the students had sat their stony-faced and uncommunicative the whole time, and I assumed they were hating it. But right at the end, after I'd finished, they rushed up with loads of questions and interst, it's just that they hadn't wanted to speak English (or look interested) in front of their peers. So I was hoping there would be some secret interest this time, too. The long morning drive started with a great sunrise over Avaldnes, the place in Norway where archaeologists dig up the most Viking burial treasure. (The next evening I met a sheep farmer from there who says they can barely dig a fence post, the government's so worried about them hitting a Viking ship or something.)




When I got to Haugaland, the class was all women and one man and they were pretty surly. It wasn't until the first break, when one woman asked me if I would draw her portrait, and then things loosened up a little bit.




I wanted to introduce them to some basic elements of creating a storybook, so the first thing we did was design a character, and I used a Sea Monkey from Oliver and the Seawigs as a basic template. Then I gave them some comic-making tips, and set them off on a Comic Jam. (What's a Comic Jam, you ask? Here's a quick explanation, and a longer set of four videos if you ever want to do it as a workshop with your class, ages 8-adult.)




This isn't a Comic Jam, but it's a comic I made alongside them, so they could get a sense how different panels might be laid out.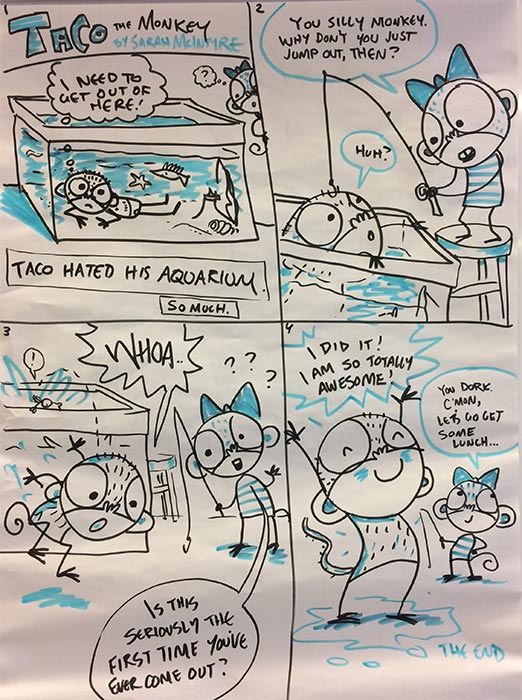 Then we had lunch break. Oh, here's what I got in the staff room during the mid-morning coffee break: Lefsa! We used to get Lefsa when I was a kid in Seattle, for Christmas Scandanavian smorgasbord, and my mother would sometimes go to Poulsbo or Ballard to buy it. (Funnily enough, a LOT of people in that area have relatives in Ballard.) It's a potato pancake thingie that's very nice with sugar and cinnamon.




After lunch our project was to create a WHOLE BOOK, from beginning to end. I told the students that the difference between an author and an 'aspiring' author is that the author is the person who has finished a book. This applies to a lot of people I know who have been writing a book for twenty years but never finished. Sometimes the problem is that they take on too big of a project. I told them that you can be the author of an eight-page book as well as an epic 300-page novel, and so I showed them how to fold an eight-page book out of a single sheet of one-sided paper. That way, they could make easy photocopies of it if they wanted to self-publish it. (The basic difference between an unpublished and published author is that the published author has more than one copy of the book.)

Also, a book doesn't have to be PROFOUND to be either finished OR published. In fact, it can be quite silly! As I demonstrated. I had them make a title page, featuring their character. I scribbled mine on the flip chart: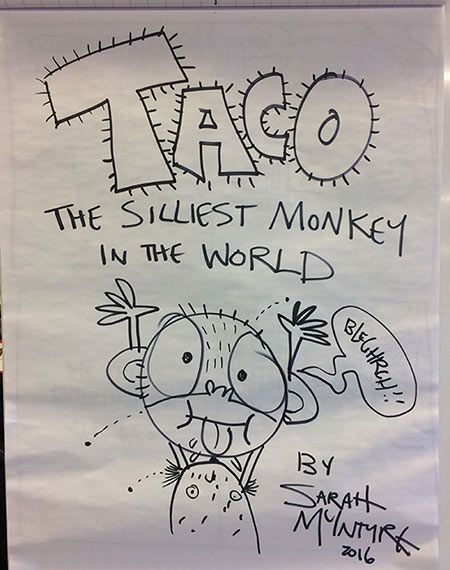 With eight pages, they had a title page, three 'double-page spreads', and a back page to fill, so seven more pages. I gave them ten minutes to draw the first two pages and I drew mine, too.




For the next two pages, I showed them how they could either use the full double-page spread for one big picture, or divide the picture up so different things would go on each page. Or, in this case, text on one side, picture on the other. We had ten more minutes...




Ten more minutes for the last double-page spread, or pages 6 and 7:




And five minutes for the back page, to wrap up the story.




Then it was time for COVERS! I told them that there are a lot of books in the world, and you somehow have to make yours stand out, make it JUMP OFF THE SHELF AND DEMAND TO BE READ. How would they do that, I wondered? I also had them write a simple blurb for the back and add a price tag.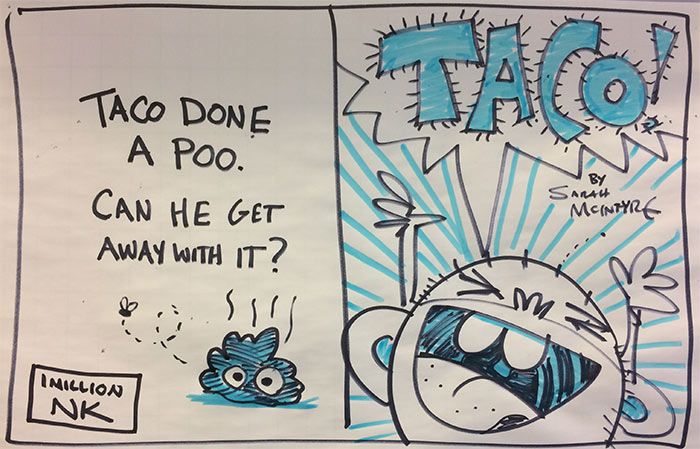 I gave them coloured paper to wrap around the white folded paper of their books, and they came up with some good ones! I particularly like the very literal interpretation of my tip: 'READ THIS BOOK'. :D





At the end, I told them that they could now all confidently call themselves authors, since they had, in fact, completed a whole book, which was something a lot of people never do. And I encouraged them to go on making books. Make books, make BAD books! You won't make good books unless you practice making a lot of not-so-good books, and that's perfectly okay.

Did they enjoy the class? I'm not sure. I didn't get a big rush of eager people at the end; maybe I'd worked them harder than they were expecting, or freaked them out with the monkey poo comic. But I hope they got something out of it. That was the only afternoon that I didn't visit Johannes at his waffle cafe; I was too tired and slept until dinner.

On the Friday I went to another school I'd enjoyed visiting the year before, Sørhaland Privatskole and the kids were enthusiastic and full of good ideas.




Here's wonderful Astrid Havn Tranøy, my main contact at Karmøy council, who had invited me and funded me on this trip, and organised everything to run so smoothly. At Sørhaland, she drew a roller coaster, too!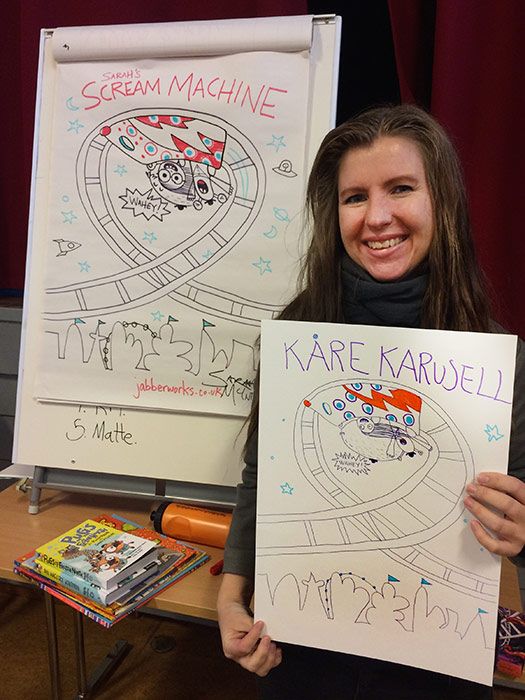 I love it when the adults draw along with the kids; it's more fun for everyone, the adults often surprise themselves with their drawings, and the kids take the drawing way more serious because they see it's not just a kiddie thing.




And my very last school was Håvik School (pronounced 'HO-vick').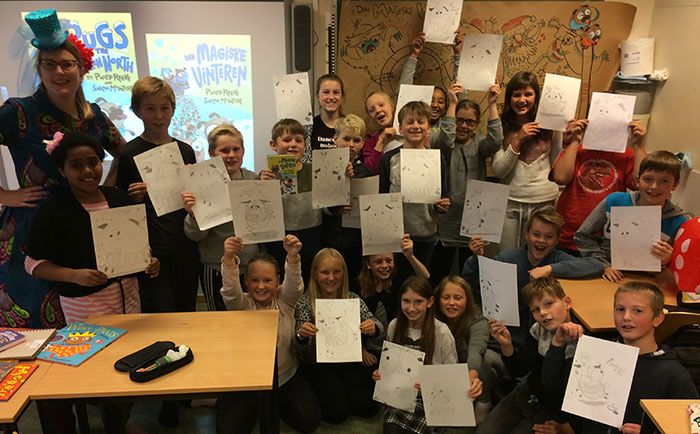 I think they were one of my funniest groups, we had a total blast doing the board game. Check out my Santa mermaid!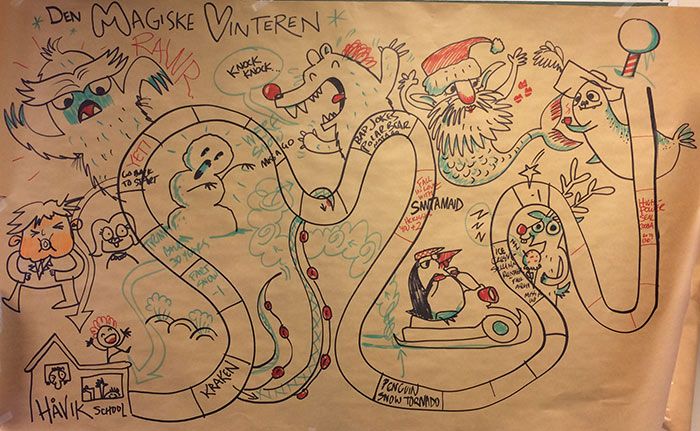 And pugs!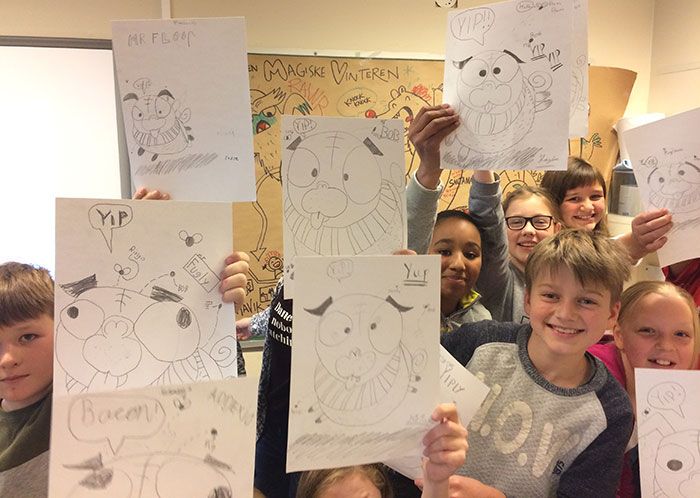 MORE PUGS.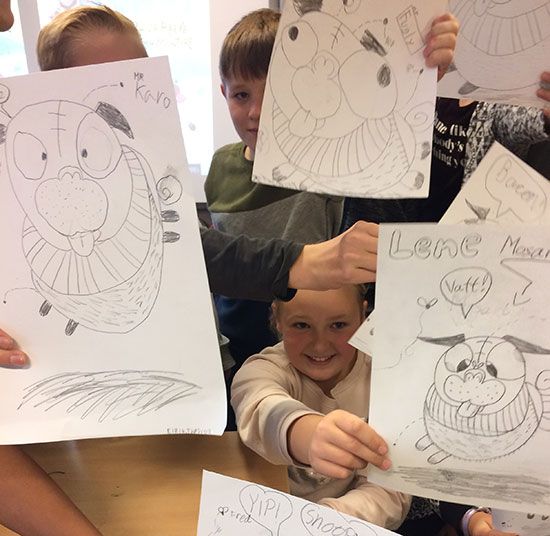 OKAY THAT'S ENOUGH PUGS.




On the Saturday, I had one last event, but it wasn't a school event, it was an open family picture book event for Kopervik Culture House's Open Day.




We did a Monster Workshop; I showed them my Morris the Mankiest Monster book (written by Giles Andeae), and led them in drawing a couple monsters...




...and then later the T-Rex from Dinosaur Police (written by me!).



One of the cool things in Skudeneshavn was seeing my books prominently displayed in the town's main bookshop window all week. That's me with the wondefully supportive owner of Hillesland Libris, Marit Hillesland.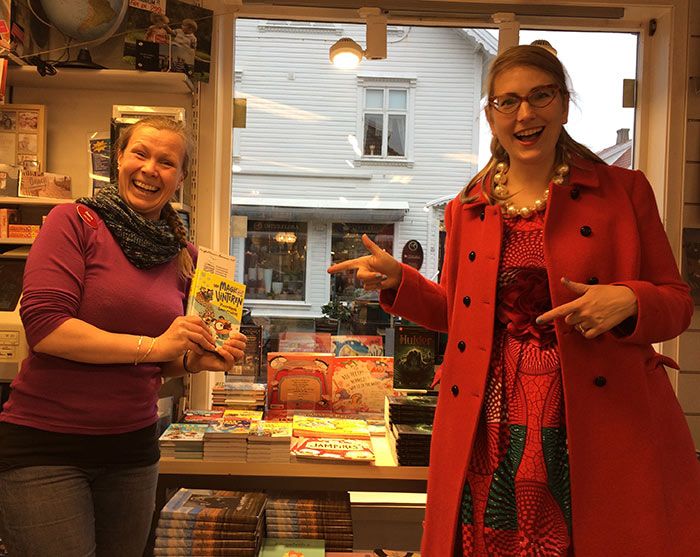 Oddly, they were stocking the American versions, not the British ones, so it was kind of interesting signing in the new format.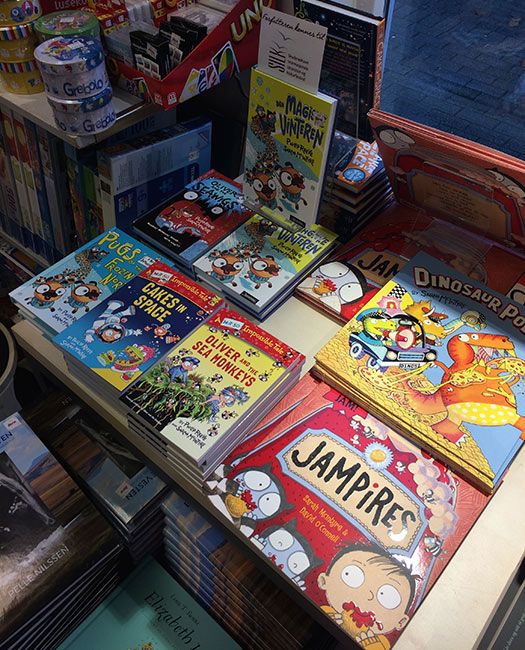 My trip coincided with the weekend's SILK Festival, the book festival I've attended for the last three years, so I got to sign alongside authors including South African writer Deon Meyer (whom I'd first met with his wife in Dubai). Here is is with Odd Henning Johannesen, who organised my Haugaland visit.




And here's Åsne Seierstad. (Years ago my book club read her novel The Bookseller of Kabul.) I bought a copy of her more recent novel dealing with the massacre in Norway by Anders Breivik.




One of the fun things about SILK Festival this year was the music; I crushed out on this adorable Norwegian band called Rags & Feathers, all three of them. There was a talk going on in Norwegian, so I escaped to the venue's back room with the fireplace, only to end up drawing a portrait of the three of them:




Here they are performing, twin sisters Kjersti and
Rønnaug Tingelstad, and Kjersti's boyfriend, Oddbjørn Austevik.




And back in the festival Green Room. Such great JUMPERS!




And here's another band I enjoyed, called Blest (which means 'wind') but I didn't crush out quite so badly, they were just very good, especially the guitarist (who, my new sheep farmer friend told me, is a cousin of Norway's sheep-shearing national champion).




I also got to hear a talk by Australian writer Kate Morton, who sets her novels in Cornwall and lives in London. She was interviewed by the excellent Rosie Goldsmith, my journalist friend I get to see each year at SILK.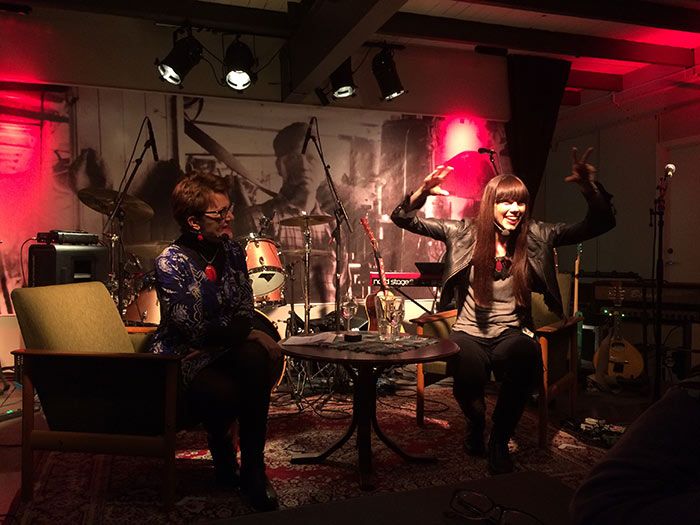 And here's Rosie and me back in the Green Room, being as COLOURFUL AS POSSIBLE.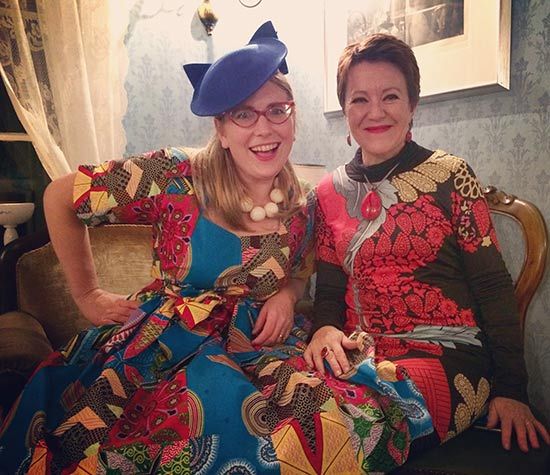 Oh look, there's journalist Odd Karsten Tveit being beaten at world domination by a four-year-old.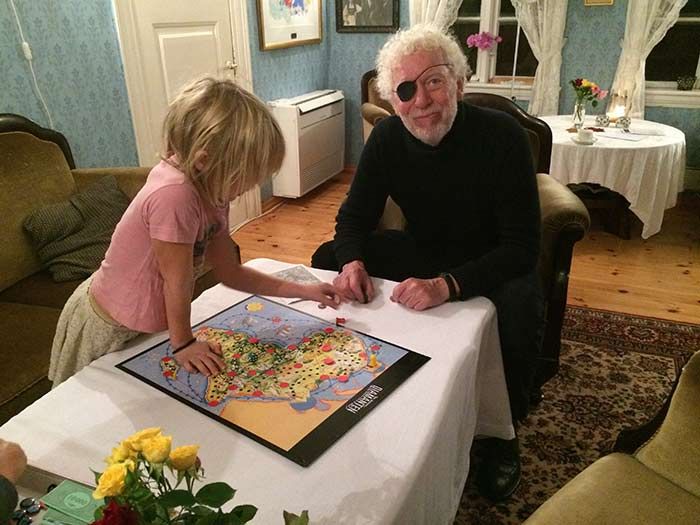 Huge thanks to everyone who made my trip possible! My original Skudeneshavn friends John and Helga Rullestad... ah yes, there they are, with Ingunn Tjørve in the centre:




Oh hang on, I drew a picture of Ingunn, let me show you:




And I drew a picture of John Kaare Hoversholm, too: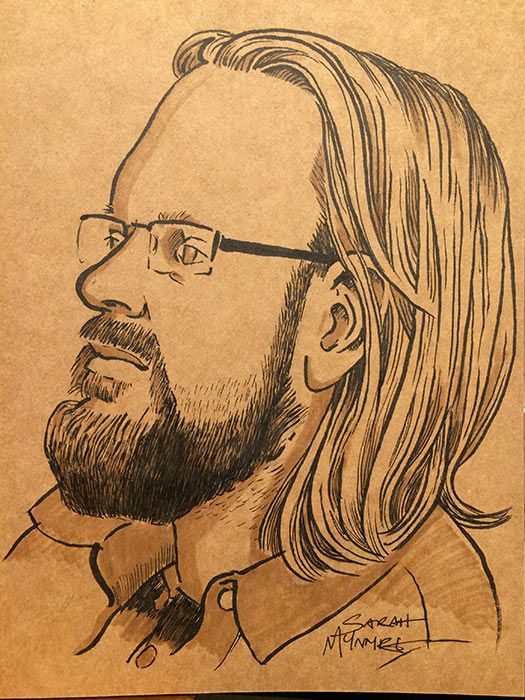 Big thanks to Astrid from Karmøy council for the school events and monster workshop, Odd Henning for the Haugaland day, Johannes for all the post-school-visit waffles and moral support, the Green Room kitchen volunteers, Marit Hillesland for stocking the books, and all the wonderful drivers who picked me up in the mornings and helped get me from school to school. You were ace! (One of them was a firefighter; here's his picture in one of the books stocked by Hillesland Libris in Kopervik.)




And Silje Maria Skaadel, who brought me my favourite Norwegian food... not just brown cheese (brunost), but the Christmas version, Julebrunost, which has added cardamom and is even more amazing!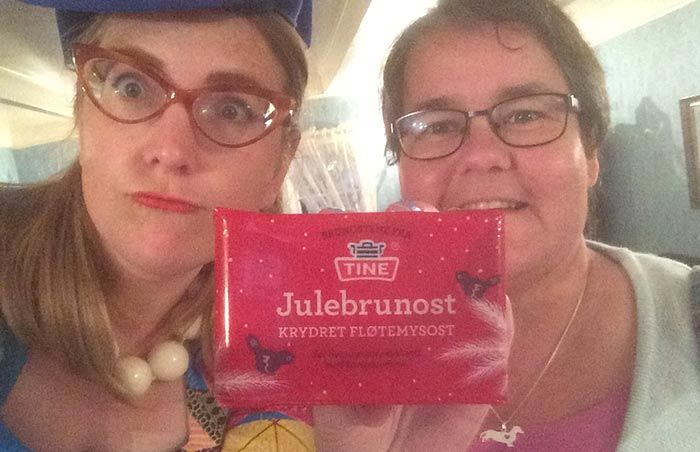 There's SO much I've left out of this blog post but it's already epic-long, so I'd better sign off. Norwegian gang, I'll miss you guys! (I do already!)



Photo from Rosie Goldsmith's photo stream

Bye, Johannes! Someone please give him a hug for me.