Today my studio mate Gary Northfield appeared in this rather melancholy photo...



Photo by Nicky Evans

Yes, it's true, we've moved out of our studio at the Fleece Station. Here's how Gary's desk looked a couple weeks ago: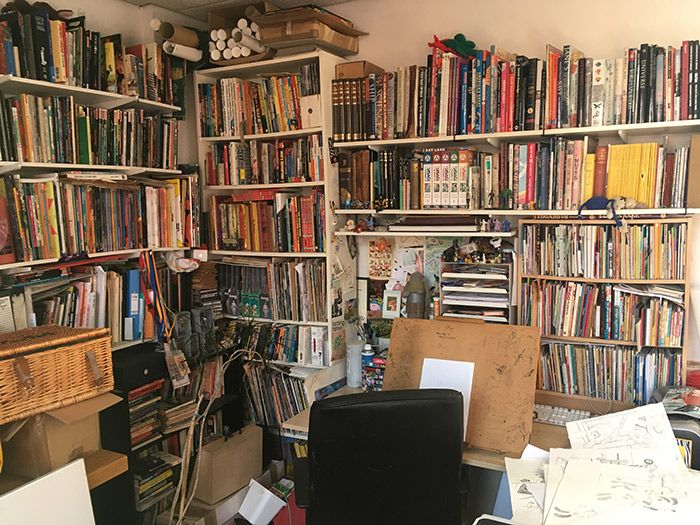 And now:



Photo by Nicky Evans

This was my desk:



Click here for original blog post with video credits

A few days ago, some guys at Deptford market took it away and now the space looks like this:





And Elissa Elwick's desk: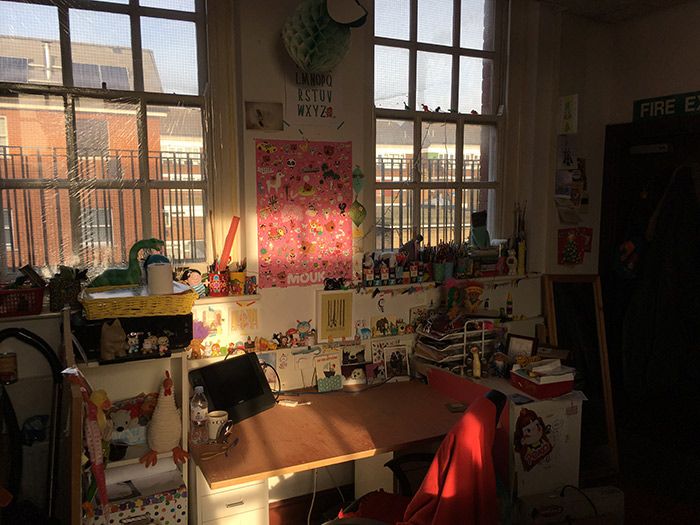 This studio symbolises so much for me. I know things come to an end and other things begin, but it still aches to say goodbye to it and see it empty (and, come to think of it, looking surprisingly large when it's not packed with all our stuff).





Here's Stuart helping take down the Fleece Station sign painted in 2010 by Gary, Lauren O'Farrell (aka Deadly Knitshade), Ellen Lindner and me:




What does the Fleece Station mean to me? I'd have to start back in August 2009, when three of us illustrators - Gary, Viviane Schwarz and me - were having a moan on Twitter about how isolated we felt, and how we were going a bit bonkers working from home all the time. Within a few tweets, we'd decided to band together and find a place to work. Reading our conversation, a supporter of the DFC magazine (for which Gary and I were creating comic strips), architect Barnaby Gunning, gave us a tip-off about the Old Police Station in Deptford, run by his architect buddy Anthony Gross. Within a few weeks we miraculously had the keys to our own space.




The building hadn't changed a lot since it had stopped being a police station a few years previously. Of course we checked out the jail cells. Our room was one of their conference rooms, and the wallpaper was the most disgusting shade of pinkish-liver-grey, so the first thing we did was give it a lick of paint. The three of us were quite giddy with the excitement of it. Here's Viv trying various strategies of keeping paint off her clothes.




I bought a desk for £35 at Deptford market and Gary and I staggered back to the studio with it while Viv made sure the person walking backward didn't fall over.




We called it the Fleece Station because it was a police station, but also because we were all drawing comics about sheep at the time. Gary had his regular Derek the Sheep strip for The Beano, I was making Vern and Lettuce for The DFC, and Viv was working on The Sleepwalkers for Walker Books. There was a modern police station next door, visible from our window, and whenever we peered over, the police always seemed to be eating little pots of yoghurt. (Spot the yoghurt-eating sheep on the right.)




We threw a studio warming party and Viv led us in making sheep-shaped cupcakes: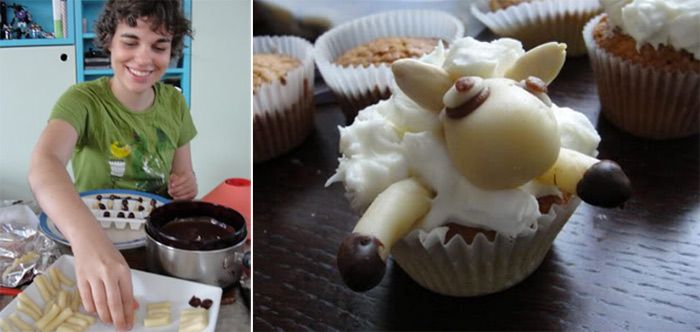 Click here if you want to see photos from the party, lots of comics buddies and illustrator friends came along.


Candy Gourlay, Fiona Dunbar, the Gunning family

Rian Hughes, Stephen Betts, Mark Stafford, Hugh Raine, Al Maceachern, Joe Decie

Back then, the studio had an amazing cafe run by Jaine Laine, so the smell of cake was always seeping up through the floorboards, and all the people at the studio would gather and get to know each other at lunchtime. That's how we got to know animators Ian Gouldstone and Martin Lye, and we had a lot of fun racing up the metal staircase to see what they were up to.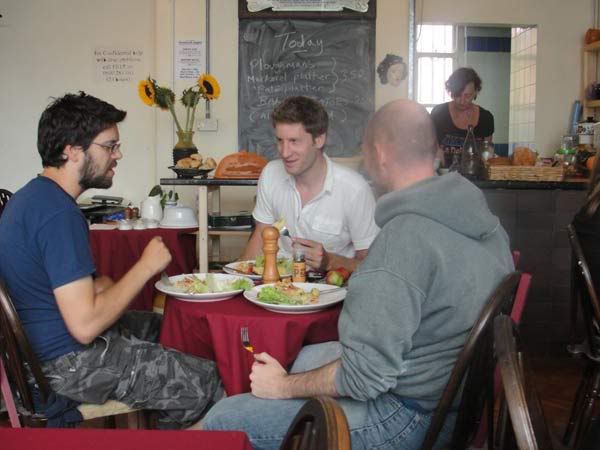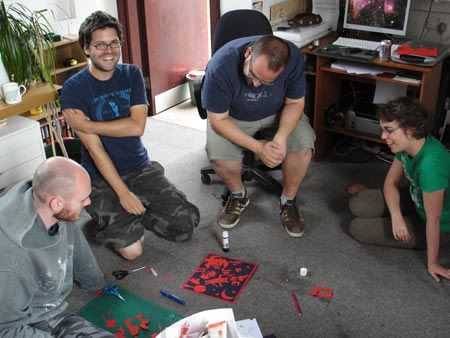 When Ellen Lindner and Lauren O'Farrell joined the studio a year later, we had another big party for Darryl Cunningham's 50th birthday. (See more photos here.)




Jodie Hodges (Gary, Elissa and my agent), Jamie Littler, Darryl, Rob Davis, Faz Choudhury, Patrice Aggs

Ellen was definitely our party person, she was always up for organising a good bash.




She even set up a mini comics festival in the studio building, called 'New Cross Turn Left'. I love the video she made for it, giving directions, with Julia Scheele (cameo appearance by Howard Hardiman):



Our other great party person is Gary's sister, Susannah Northfield, who baked fab cakes for quite a few of our book launches!




We had a lot of fun getting to know the local neighbourhood better, including stops for bubble tea at Panda Panda.




Lauren was a graffiti knitter and helped us out by designing woolly versions of our book characters:




And badges! There were a lot of little crafty things to look at everywhere.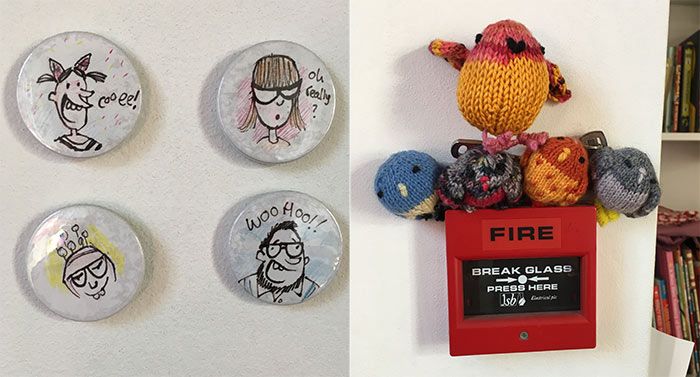 Here's Lauren and knitted skull with brains coming out: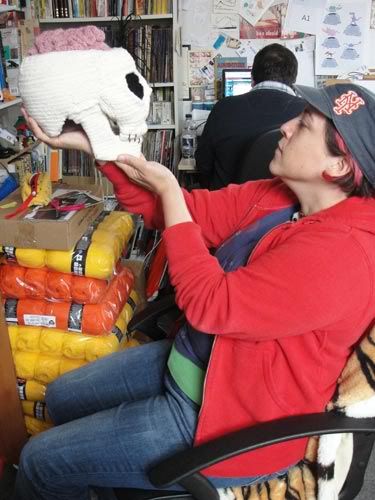 And here's a video some Portsmouth University student - Ryan McBride, Matthew Freeman Carter, Mitchell Jackson, Dale Bennett and Steven Ellis - made of our studio in 2012:



Having Gary working at the next desk was amazing; he's a real pro at comics and storytelling, and he gave me so much good advice and helped me whenever I got stuck. I learned that it's a great thing to find someone with a similar working rhythm, who understands deadlines and can work hard, but then have a joke just when it's needed. And I got to love his music, too. Viv, Lauren and Ellen came and went as their situations changed, but I'm really glad for Gary sticking with me as long as he did. One of my best friends ever.




Even stupid stuff was fun with Gary, like watching him open a Kinder egg.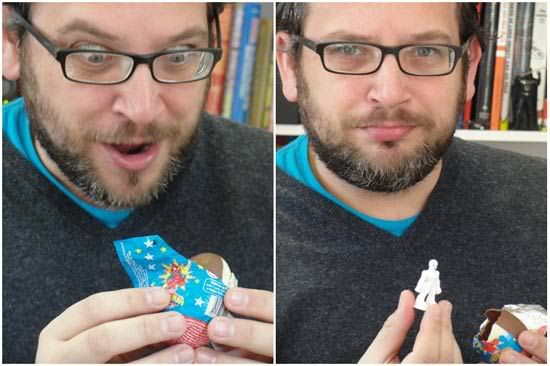 When Ellen and Lauren moved on, Gary and I needed a third person and there was this woman working downstairs in one of the leaking container crates who seemed to be around more than the other artists in the building. Another children's book illustrator! Lauren left just as Elissa Elwick was moving into a windowless inner studio, and we pounced on her and talked her into joining us.




Elissa's so much fun, she is wonderful at arranging things and making them look nice, and she comes up with fun ideas like making her own pot noodles, which she eats while watching animations.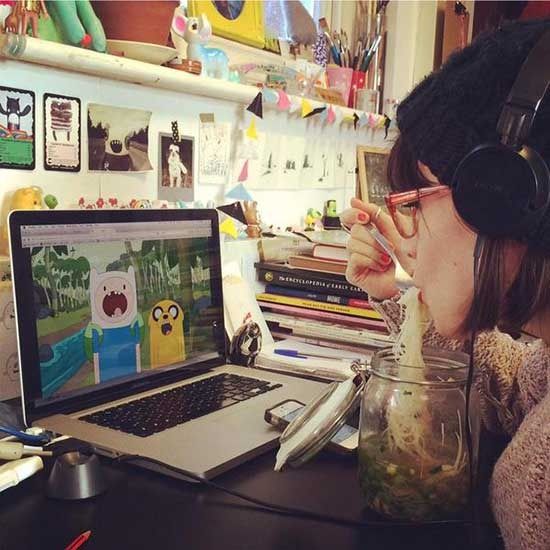 Elissa didn't come alone, we found we unexpectedly had a fourth studio mate again... and not someone tiny whom we could easily tuck away into a corner.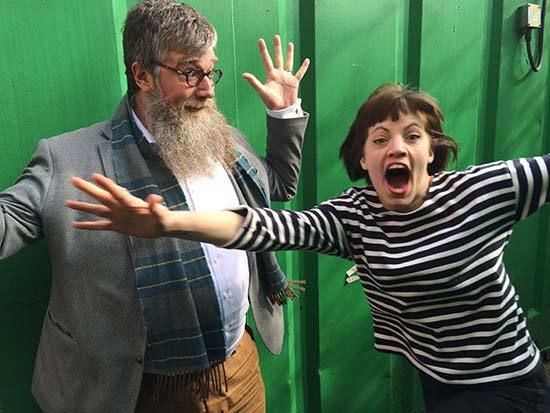 That would be Philip Ardagh, Elissa's co-author on four Little Adventurers picture books for Walker Books.




She was very good to him and made him lunch when he came around, and sometimes I lucked out by getting a free lunch in the bargain, too! (Well, occasionally I made the lunch, although whenever I cooked it was always burritos.) We didn't really have a handy kitchen, just a microwave, kettle and garden hose, so we had to be a little bit inventive.

But not just Ardagh, we had a lot of fun visitors! One of our other regulars was my Jampires co-author David O'Connell. We'd originally tried to rope Dave into joining us at the studio, way back in 2009, but he liked working alone, and was doing a lot of writing, so it just wasn't for him. But he still felt like part of the studio. And his dog, Treacle, is incredibly well behaved and will plop down and fall asleep next to his laptop as he's working.




My co-author Philip Reeve lives way off on Dartmoor so he can't just pop around for a cup of tea whenever he wants. But we've still done quite a bit of work together in the studio when he's been in London. Here are a couple videos we filmed there when we were finishing our first book together, Oliver and the Seawigs. I built this whole little puppet theatre, but it turned out to be too heavy to carry to festivals, so we only used it for this video and a sales conference in Oxford. But it was still a lot of fun.



And another video of how we made the book:



Oxford University Press team! (That's our Seawigs publisher Liz Cross and then-head of publicity Elaine McQuade.)




More studio visitors (both Gary and Woodrow Phoenix have an excellent penchant for wigs):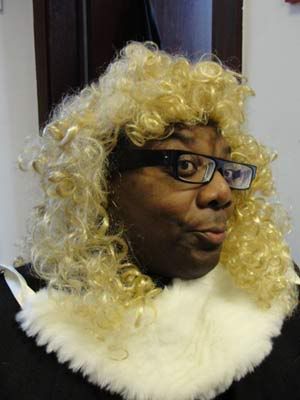 Here's MP Tom Watson and his family getting their comics signed:




Illustrator Mei Matsuoka locked up in a cell with Gary:




Lucy Knisley drew us all having a meal:



You might recognise a few names. Katie Milway is actually Katie Lee, but she got everyone else right the first time!

The studio wasn't always quiet; we had everything from potters to Greek chorus performers to heavy metal musicians in the studios nearby.



We also saw a fair share of fashion models languidly lolling about, and crews filming police documentaries and screaming zombie horror flicks. But it was always fun to stumble out into the courtyard and discover something totally bizarre happening there. (Very often it was the work of puppet and theatre prop makers Sam Wyer and Laure Drake Chambers.) Here's their Jabberwocky:




But good things don't always last forever. Four things happened that made the Fleece Station start to wind down.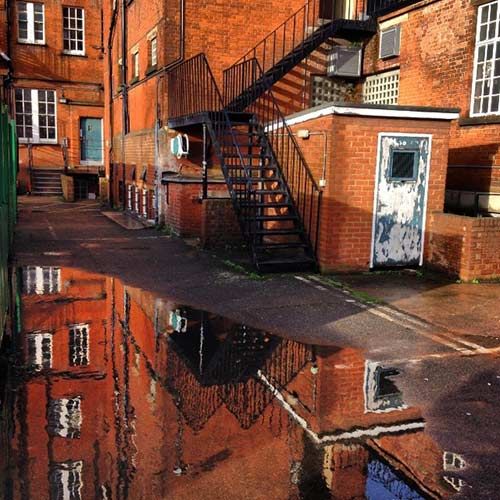 The first was the cafe closing down. Jaine just couldn't get enough foot traffic or skint artists spending money to make a real living at selling food. When she left, and artists came and went, everyone pretty much stopped talking to each other and the sense of community among the whole building reduced to whoever was in our studio room itself.

The second thing was Gary's soft melty heart. He and his partner Nicky adopted a rescue dog who looked like a small, cute little staffie...




...but grew and grew and turned out to be half boxer. Stan combines the size of a boxer with the massive muscly build of a staffie, FULL of needy energy, with a penchant for chewing on things. He wasn't very good on public transport and got into accidents very easily. Gary couldn't take him to the studio, but Nicky was out working, so he ended up working at home with Stan so much that eventually, for the last two years or so, he stopped coming into the studio altogether, even though he couldn't bring himself to give up his desk.

The third thing was the cold. And gosh, in the winter did it get COLD. I had a grey body-bag thermal suit thing that made me look like an elephant, but it was pretty grim, even with three heaters blasting.




We put plastic stuff over the windows, which helped a bit, but it was still brass monkeys. (Or T-Rexes.)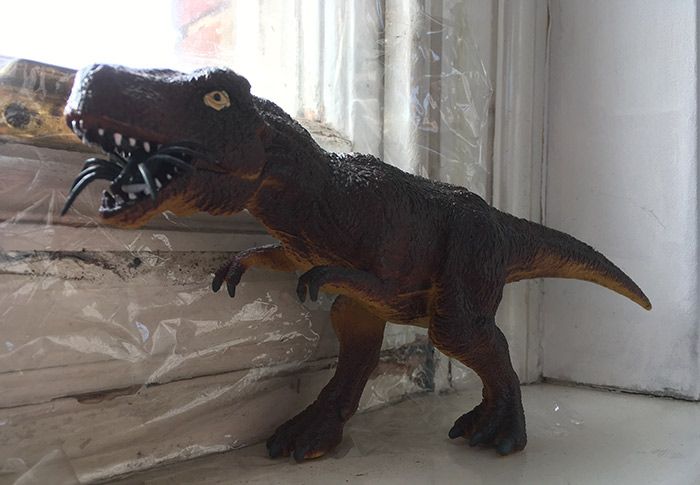 And the fourth thing: after seven years, the studio lease was running out. We'd get extensions, but we never quite knew when we'd have to leave and so Elissa and I started looking. And looking and looking. ...And eventually found a place!




Thus begins a new studio saga, and I'm thrilled to bits to be sharing with Elissa. It's been amazing watching her work and career blossom and we'll undoubtedly give a later update with details of the new studio. We're still in the process of moving in, and it's all bare again. But I had three big book deadlines straight away, so Philip's already been to the studio working hard with me on our latest project, and my desk's already a mess. But it's WARM. And we have a little kitchen with hot running water, so we can have a proper coffee pot and be able to wash it!




But gosh, it still feels poignant leaving the Fleece Station. On my last evening working there, I had some power ballad playing and I thought of all the work we'd done in there, and friendships forged, and I had a little blub. I think moving into the studio is what took me from what everyone seemed to consider being a hobbyist to being a proper professional illustrator; it's covered the whole span of that transition.

Fortunately no one's gone far (and Ellen still pops back from New York), and we'll all see each other, but it really feels like a significant milestone. Gary, Elissa and I all have the same agent who looks after us wonderfully, and Gary and I were there together at the funeral of our first agent, whom we respected so much and who gave me such a good start in the beginning of my career.

If you've read this far, well done! This is quite a sentimental, self-indulgent blog post. But I suspect I will revisit the pictures for years to come, the studio and my studio mates will always be a very important part of my life. Thank you, Gary, Viv, Ellen, Lauren and Elissa!


Big thanks to Anthony Gross and managers Mario Cordeiro, Lucy Sames, Gabriella Sancisi, Andrew Rickett and James-the-Tech for running the studio and looking after us!