There's an incredibly friendly festival called Mountains to Sea that happens on the outskirts of Dublin every year, in Dun Laoghaire, and my co-author Philip Reeve and I were thrilled this year to be a part of it! (Because we like to show off, internationally.)




I've just written a couple blogs for BookTrust about not being afraid to draw badly, and about the fun of drawing with other people. So our very first even played right into that, a big six-way speed draw! Here was our team: former Irish Children's Laureate na nÓg Niamh Sharkey, Philip Reeve and me: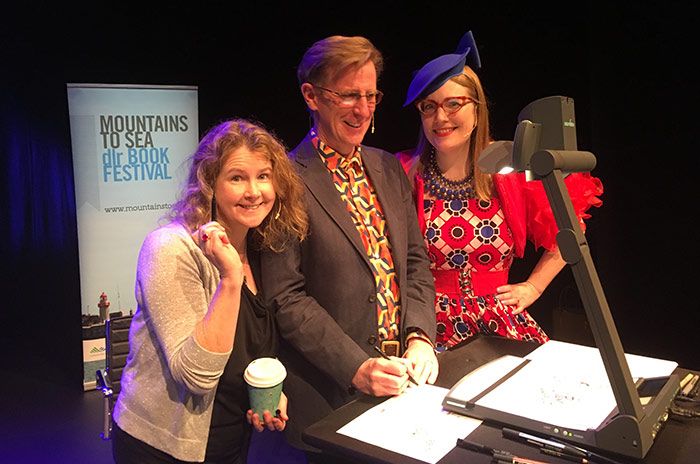 And our opposing team: Chris Judge, Oisín McGann and Margaret Anne Suggs! (You may have read in the Irish Times about the Irish fight to credit illustrators when Mags's name got left out of a big award and we all went 'WHAT?!'.)




Anyway, there was no talk about credit on stage because 350 school kids could see exactly who was drawing! And not even necessarily our best drawing, just our FAST drawing. Which is very fun in its own way, almost like playing Pictionary.



Photo by Ger Holland

Here we are, venting our nervous energy backstage with our host (and author), festival coordinator Sarah Webb.




Photo by Ger Holland

This photo's by Philip; there's something about those backstage mirrors with big lightbulbs around them that make us feel like SUCH BIG STARS. :D Let me have my Marilyn moment here...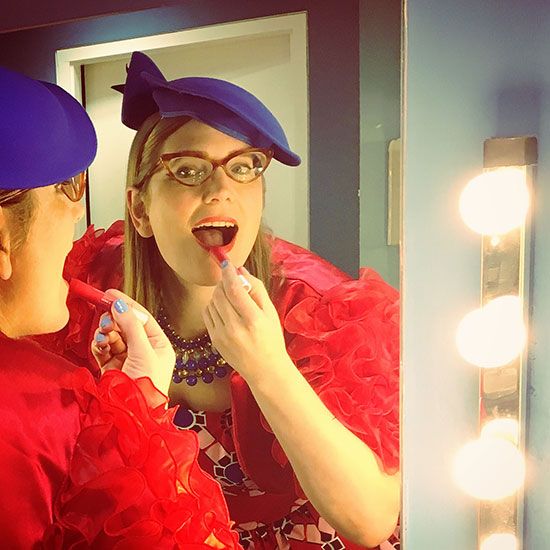 For our second event, Philip and I were presenting our new book together, Jinks & O'Hare Funfair Repair. We think up ideas for the story together, then Philip writes and I draw, but there is a lot of swapping around, helping each other at every stage.



Photo by Elizabeth Rose Murray

Here's Philip describing the Learny-Go-Round, a much more exciting version of school if you happen to live on Funfair Moon, where our story's set. (Click over to my website if you'd like to see some free Jinks & O'Hare activities.)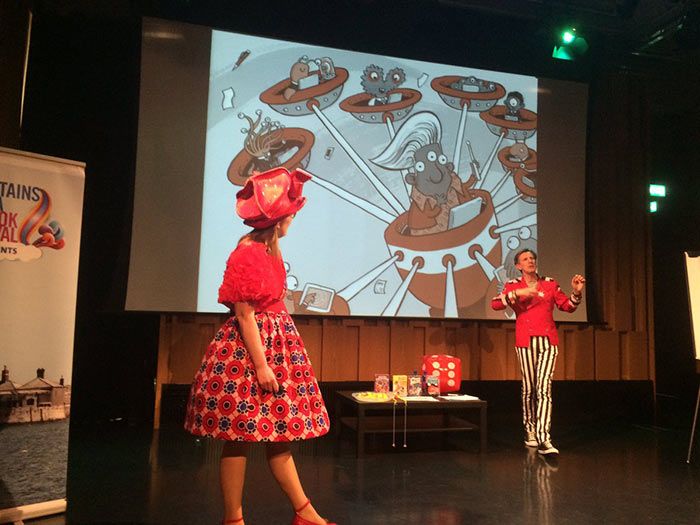 Photo by Elizabeth Rose Murray

Then we taught everyone how to draw Jinks, O'Hare and themselves riding upside-down on a roller coaster! We saw some fab results from kids and grownups alike.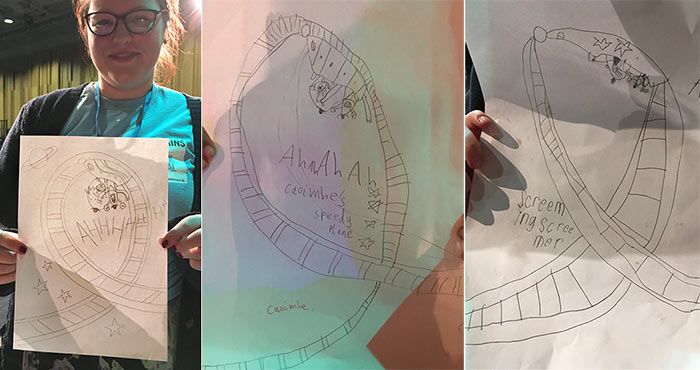 For our third event, Chris Haughton joined our drawing teams (well, the opposing team) for another round of Ready Steady Draw!




Some of the briefs set by people in the audience were quite complicated! I'm trying to remember this one, something about a cake and a cat and a mouse in a kitchen. Anyway, it was also quite a task trying to cram Niamh's, Philip's and my hands above one picture all drawing at the same time in two minutes, but very funny, too.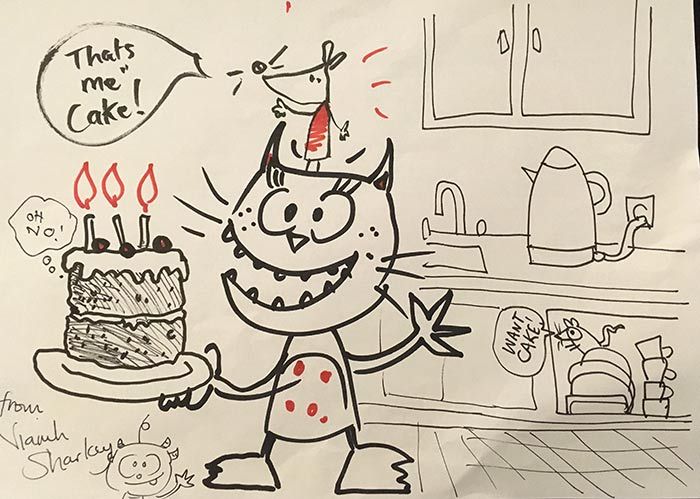 Here you can see a few examples of what we were dealing with...




I think this one was 'a man on a boat, slipping on a banana peel and being rescued by a butterfly with a bunny's head'. Or something like that.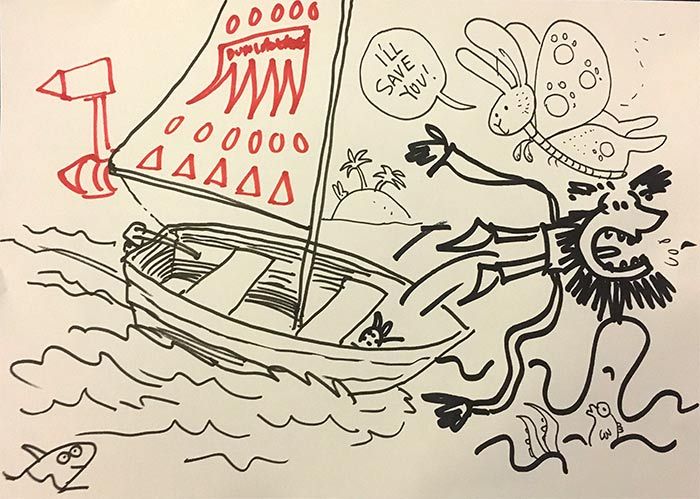 Some of the fun challenges were having two dads come up and draw against each other, two kids, and two mums. Then we had a portrait challenge and I had to draw Ashling in two minutes, with everyone watching. Not easy!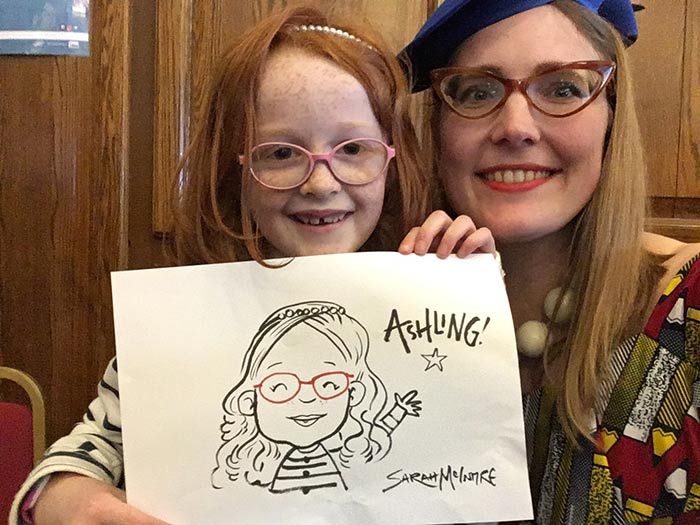 After our mad session, we hopped across the road from the Town Hall to the Pavilion Theatre to see a much calmer, but just as fascinating session with writer-illustrator Judith Kerr. She's 93, and still going strong! I grew up with her book Mog the Forgetful Cat and I'm always chuffed when I run into her at festivals. But this was the first time I had a chance to go to her event, and I'm so glad I could. Her editor, Ian Craig, was leafing through a picture album the whole time, which I think matched up with many of the slides, and I must find out which book it was; I'd love to get a copy. These are some photos of Judith with her real-life Mog cat, who really did love hardboiled eggs.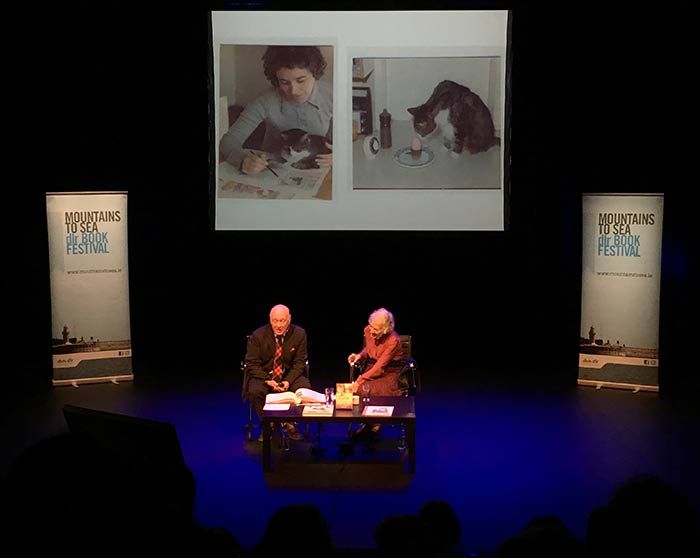 Another fun thing about the festival was getting to see an exhibition of artwork by illustrators Chris Haughton and Beatrice Alemagna. (She's Italian, so it's pronounced 'Bee-ah-TREE-chay'.)




Here's Beatrice and her partner at dinner:




And one of her lovely books:




I got into the immersive aspects of the exhibition and viewed it all like a grown-up.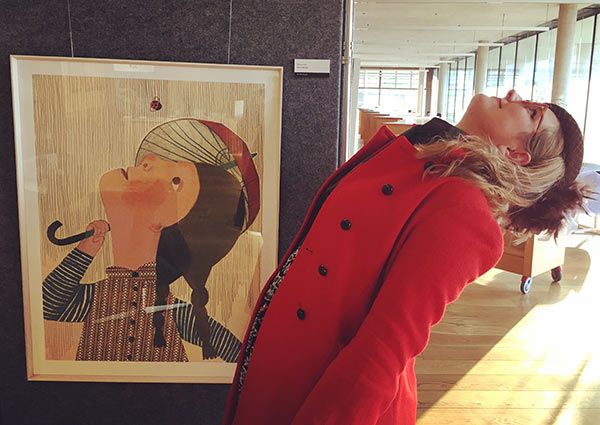 Just next door to the exhibition in the Lexicon DLR library was another exhibition of artwork supporting Irish animation Song of the Sea, by Cartoon Saloon. I still haven't seen it, and absolutely MUST now. Beautiful work!




Here's the trailer: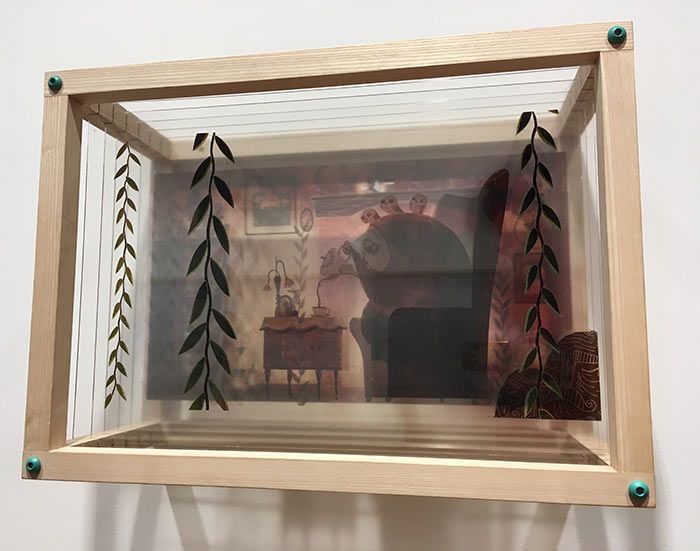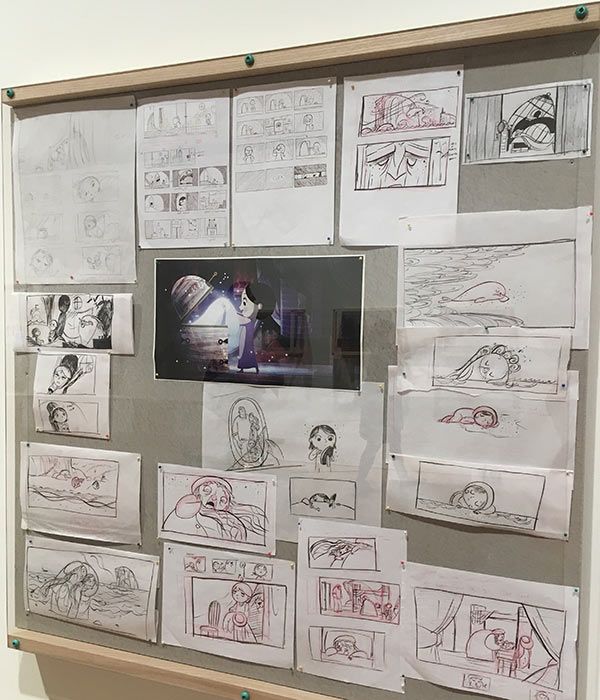 Here we are in the beautiful library space, in front of Chris's and Beatrice's exhibition, with UK Children's Laureate Chris Riddell and Irish Book Doctor/bookseller/academic/librarian/radio presenter Kim Harte.




We also got a chance to go to one of Chris's live drawing events, hosted by author and festival coordinator Sarah Webb:




Big thanks to Bob Johnston and Jenny Duffy from Gutter Bookshop for stocking books for our events! Here's Jenny, who did a few excellent turns down our stage catwalk, bearing various books aloft.




I reckon I've been to Mountains to Sea four times, and each time it's been as sunny as the French Riviera. Irish people assure me this is not always the case, but I'm quite happy to live in ignorance on this point and trot my way down the pier.




I love festivals where you get time to meet and hang out with other people taking part in the festival. Here's Oisín and a new writer friend, Elizabeth Rose Murray, at breakfast.




A little group drawing we made after the second Ready Steady Draw session: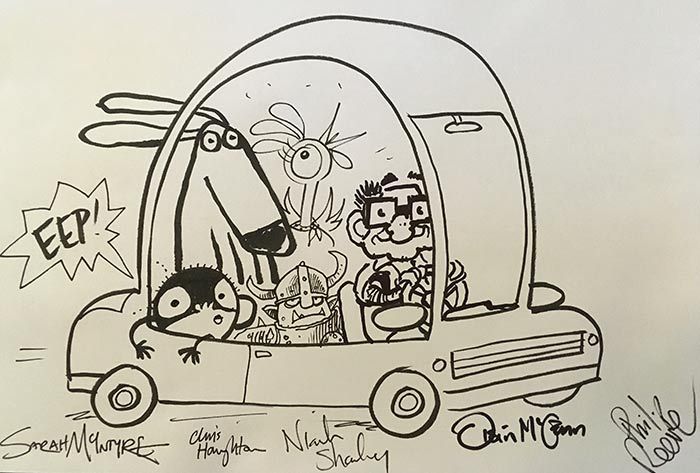 Illustrator Matt Robertson and his wife, Amy:




Irish writer legend Judi Curtin and her husband:




UK YA writer Holly Bourne, bookseller Dave O'Callaghan, Chris Haughton: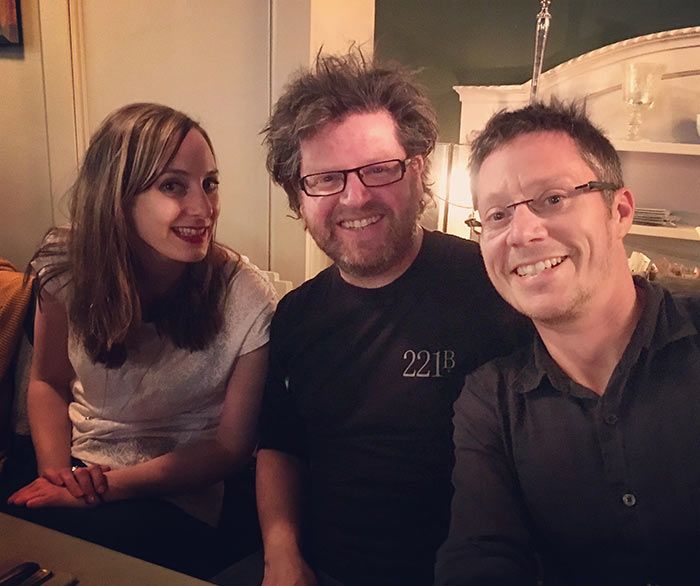 Designer Grainne Clear, Keelin Murray from Children's Books Ireland, Irish YA writer Sarah Crossan, and across from Sarah, her recent co-author Brian Conaghan.




Here's a picture I drew of a bunch of people at an earlier dinner, when I was trying to explain that you don't always have to make photo-realistic pictures of people for them to look engaging. I wish I'd drawn Joanna Trollope, who sat at our table, but she's left by then and I was too surprised earlier to snap a photo.




Huge thanks to Sarah for organising, Kim for meeting up, and everyone on the festival team who made it such a brilliant success! xx