Here is the serious authorial face of someone on her way to a literary festival who has just realised she has forgotten to pack something.




I forgot to pack my fluffy petticoat for Stratford Lit Fest, the one that makes my dress stick out a bit so it looks more fancy. I tried to tell myself it was no big deal, I was there to talk about books.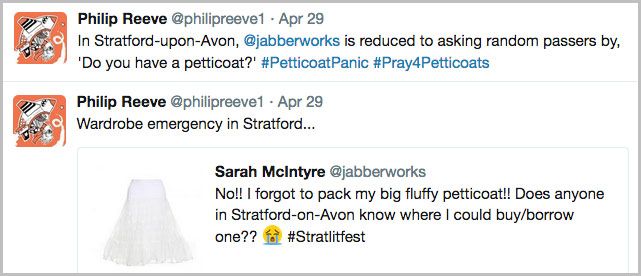 SUCCESS! Of a sort. No one seemed to have a petticoat at 8pm on a Saturday bank holiday weekend in time for a 10am Sunday event. BUT... fellow festival author and Stratford-upon-Avon local Evgenia Golubeva had a giant blue TUTU up in her loft, which she kindly loaned me. Would it work? It looked like a swirling nebula, hovering on the chair in my hotel room.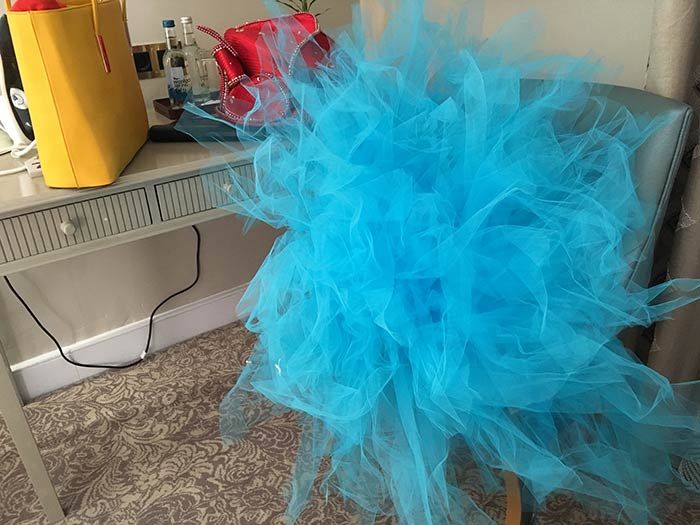 I really wasn't sure.




This is basically how I'd look, inflated.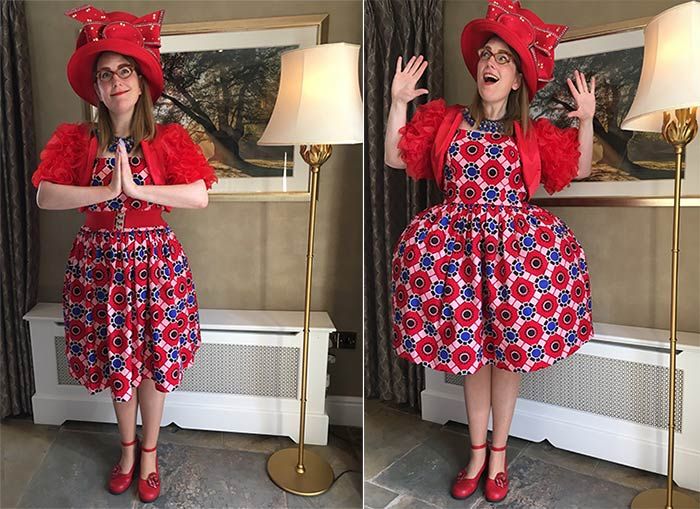 I tweeted that I'd always wanted to be the widest read author in Britain and I was halfway there.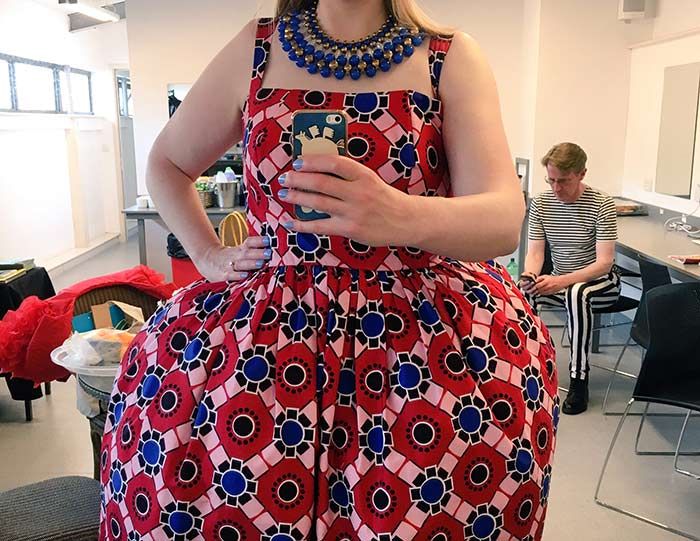 WITH petticoat won the poll, so I went on stage with my colossal backside to draw whatever festival director Annie Ashworth told a bunch of us to draw. And it was great fun!



Photo by Rupert Barnes - @Rupie_Photo

Here's Jonny Duddle, just after drawing a rather magnificent troll. And Martin Brown, Philip Reeve and me, deep in concentration, drawing... stairs?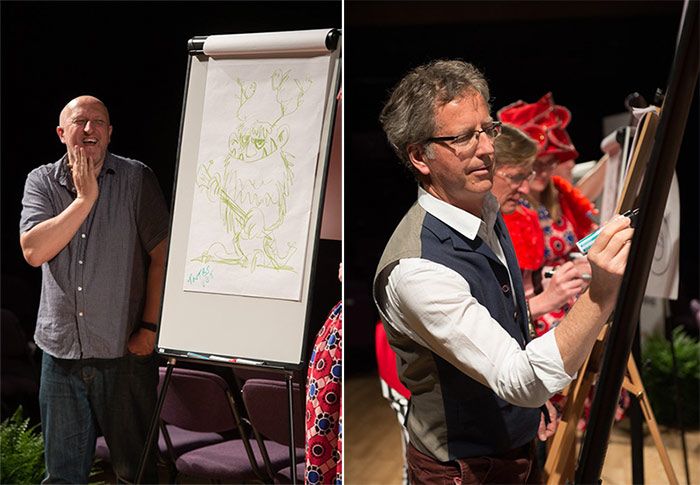 Photos by Rupert Barnes - @Rupie_Photo

Whoever thought of 'stairs' as a drawing challenge?? Rob Biddulph surprised us all by being able to draw endless Escher stairs without even looking at a reference picture.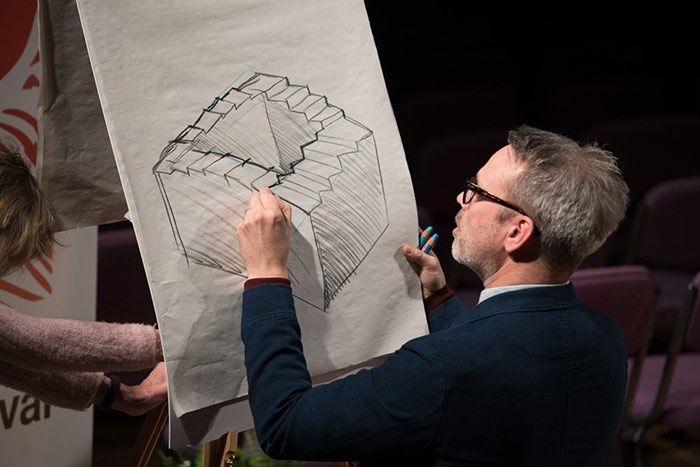 Photo by Rupert Barnes - @Rupie_Photo

One of the challenges was to draw each other, and I slightly sabotaged Jonny's picture by drawing on my glasses. But I love the way it came out.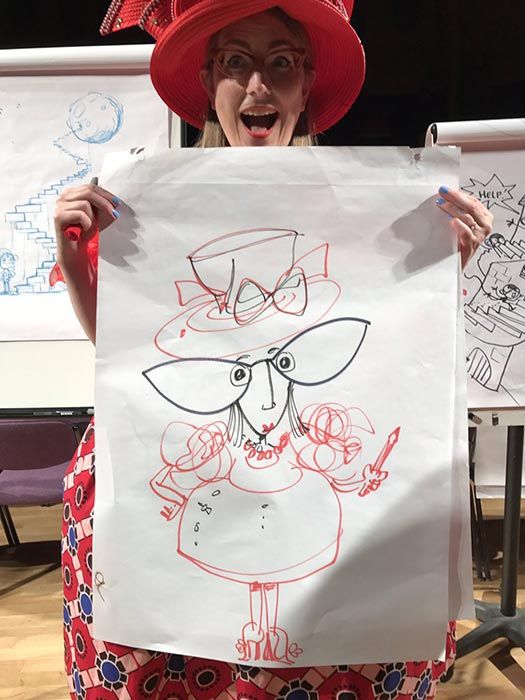 Thanks for taking part, everyone!




Besides our Big Draw Challenge, we had individual events. Things had been going on all week with the festival, events for grownups, theatre events and workshops. Here's Steven Lenton leading a panda session featuring his Let's Find Fred picture book.



Photo tweeted by @StratLitFest</a>

And here's a photo Steven took of my co-author Philip Reeve and I leading a Jinks & O'Hare Funfair Repair session, having the audience help us create a board game.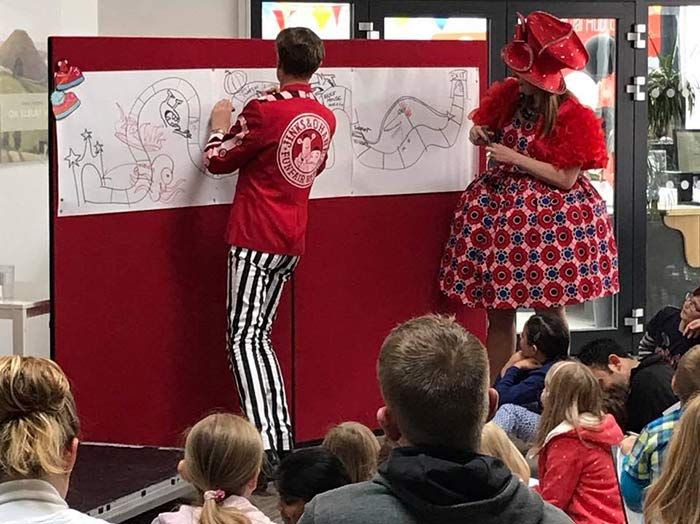 Photo tweeted by @StratLitFest</a>

We taught everyone how to draw Jinks & O'Hare and themselves on a roller coaster, and here's a lovely example we saw in the book signing queue: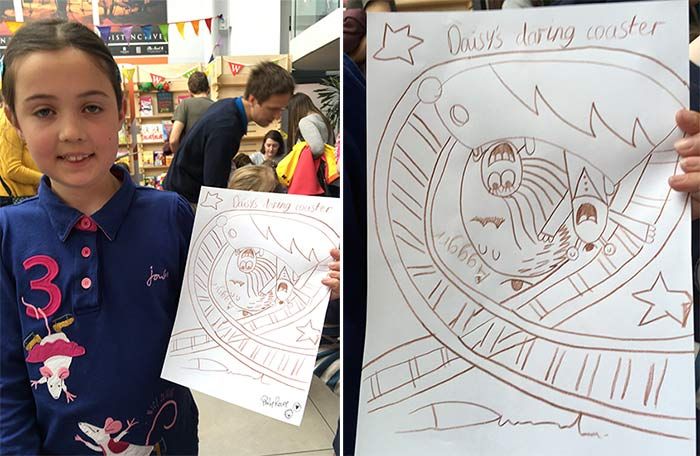 Here are the people who worked so hard to make everything happen! Annie Ashworth, Jane Churchill and Jo James, these ladies are HEROES. I was festival guest director, but it mostly meant getting to stay with Annie when I visited schools in the area and doing all the fun stuff while she and the team did complicated organising work, fundraising, choosing the final speakers and arranging all the logistics of their visits. Thank you, Stratford team: volunteers, drivers, everyone! Jo's also just started up a company with Paul Blezard and Lyndy Cooke that can meet all your festival-related needs, called Hand Held Events, which you can learn about here on their website and in The Bookseller. Thanks, too, to the hotels who donated rooms for authors to stay in! I stayed at Arden House, which was brilliant and had amazing snacks and breakfast.




And a video!



A few more behind-the-scenes photos. Here we are at dinner, Philip Reeve chatting with a huge fan of the Mortal Engines books (the first of which is currently being filmed in New Zealand by the Peter Jackson gang).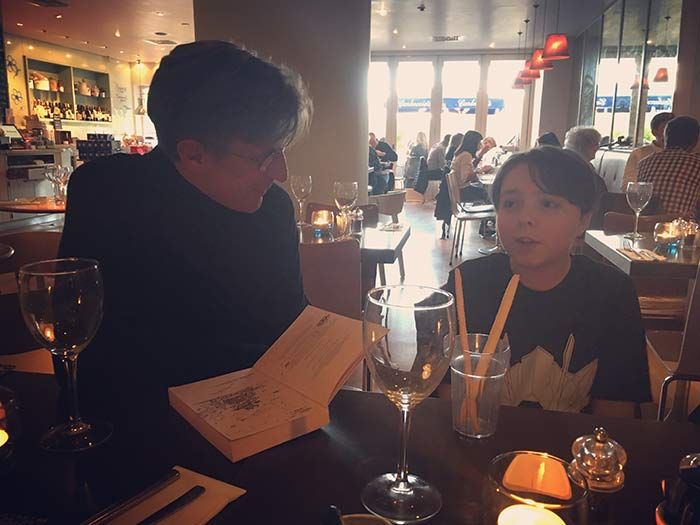 Philip does the best dedication doodles! This book's dedicated to his wife, the photographer and musician Sarah Reeve (who composed the Lufthansa Terminal soundtracks for his Railhead videos).




And here's Philip with Evgenia Golubeva, generous provider of giant tutu and remarkable illustrator, writer and animator, who'd run a festival workshop earlier in the week. (She's @janeneverwood on Twitter.)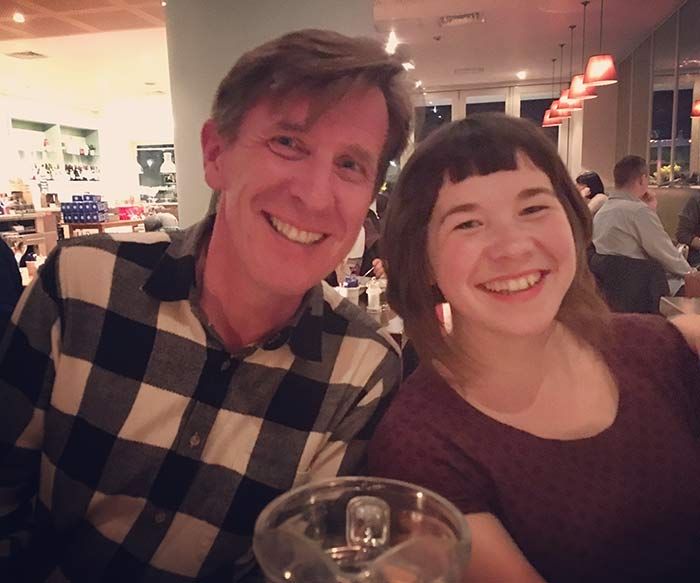 Here's one of her animations, I am not a Mouse, and you can see the original Russian version here!




I am not a Mouse from Evgenia Golubeva on Vimeo.



I was also very excited to meet brilliant animation team, the Brothers McLeod (pronounced 'McCloud'). That's the illustrator Greg on the left and the writer Myles (Evgnenia's partner) on the right, and they actually are brothers.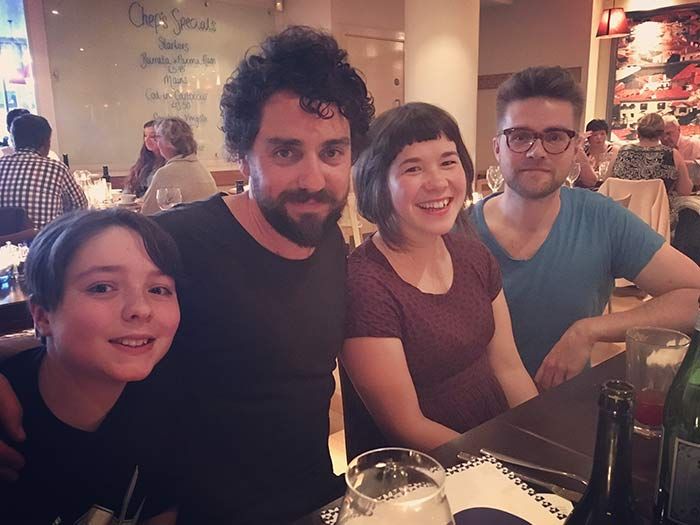 Here's one of their animations and there are loads more online! I only just noticed that one of my lovely comics colleages, Lizz Lunney, did the storyboards for this animation.



While Evgenia was rummaging about upstairs at home for her blue tutu, I got to meet Lizz's very huggable Mountain, who was most calm and welcoming.




Goodbye, Stratford, it was lovely getting to visit you!