Hey, Philip, is it time again for Edinburgh Book Fest???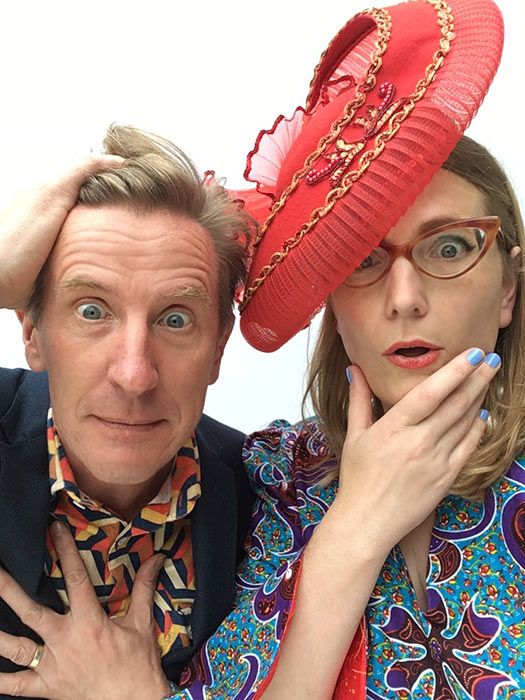 I first met my co-author at this very same festival, back in 2010, and since we started working on books together in 2012, it has most definitely changed the course of my book career! For our joint event, we presented our fourth book together, Jinks & O'Hare Funfair Repair and got the audience up to help us with a whole variety show of activities.




I did a solo event, too! Here's my presenter, Ruth Collin, and the stage crew who helped make it all happen! (Shockingly, writer of The Prince of Pants, Alan MacDonald, had been booked to do the week before with illustrator David Roberts. I'll only forgive him because he is David Roberts.)




The audiences are the best part, and I was thrilled to meet this one who'd created her own special Pugs shirt! (She also helped us with the Hook-a-Duck and rolling the giant dice during the event.)





Here's the big Authors' Yurt where most people hang out between events and catch up with everyone. The two people with headpieces play huge roles in running the festival: associate director Roland Gulliver and children's programmer Janet Smyth. The lady on the left is Lola Shoneyin, director of Book Buzz Foundation, which helps get books to children and mentors writers and illustrators in Nigeria. She was there representing Book Buzz and Nigeria's Ake Festival.




The festival did brilliantly this year, getting a record footfall of 250,000 people in the festival village. There may be a whole huge arts festival and Fringe festival going on at the same time, but the Book Festival is a big deal! I took the train up with Stuart and we were both excited.




We stayed at the Roxburghe Hotel, which had been refurbished since our last visit and was looking very swanky! I liked the little egg cosies at breakfast, and here are writer-illustrator team Cerrie Burnell and Laura Ellen Anderson dining most elegantly, ha ha.




When we were tweeting photos of our room, we all realised we had exactly the same room, identical decor. So we played Telephone Tag on our matching red phones, as you do. (That's writer-illustrator Steven Lenton on the end.)




Here's my studio mate Elissa Elwick! She was doing several events, including some with her small-but-perfectly-formed co-author Philip Ardagh, talking about their Little Adventurers picture book series.




I got a peek at Cressida Cowell's new book - lovely production values, so many pictures! - and got to see the big Ideas Book where she makes early sketches of what she'll be drawing inside. Cressida was BookTrust's Writer-Illustrator in Residence right before I was, and you can read blogs from both of us over on their newly refurbished website.




Here are two top Scottish lasses! Writer-illustrator Debi Gliori and writer Pamela Butchart:




Illustrator Clare Elsom left Edinburgh without getting to see the portrait official festival photographer Chris Close had shot of her, so I tweeted her a couple pics of it:




I got to wear my brand-new Esther Marfo dress! I'm very proud of the red sleeve lining, that's why you'll see me walking around with my hands up in the air.




I went a bit mad pretending to be a portrait photographer and taking floaty pictures of everyone. Here are Laura and Cerrie again:




And I got to meet OUP illustrator/storyboard artist/comic creator Sav Ayküz, so we tried to look as literary as possible.




Oo, look, it's writer Gill Lewis! Did you know that she started out as a vet? That's why she's so knowledgeable when she writes animal stories. She let me take inspiring and uplifting pictures of her, too.




Moving on swiftly... here's Beetle Boy M.G. Leonard with Philip and her husband Sam Sparling:




What's this? Oh, it's just Philip standing around the Yurt with props. We needed the water for our event's duck pond.




What's a literary festival without The Gruffalo illustrator Axel Scheffler? (I'd have taken a photo of Julia Donaldson and Malcolm, too, but they looked rather busy, buried under a pile of their grandchildren.)




Supertato writer Sue Hendra! And I'm dying to know the name of the guy on her right; I met him, but I'm rubbish with names and need help.




There's Janet with Vivian French, another essential part of any Scottish book event!




And there's Ardagh looking as short as possible next to writer Tracey Corderoy.




Huge thanks to everyone who made this festival happen! Director Nick Barley, Janet, Roland... and here's our OUP publicist Hannah Penney! (Thanks for organising us, Hannah!)




Here's the excellent Andrew Jamieson, who introduced our Jinks & O'Hare event, and Joely Badger who got our tech working right:




It takes a big team to run this show! Thanks to everyone on staff!




Another terrific year, Edinburgh. xx