Wahey! So proud to be in this new collection of women comic artists! Remember that brouhaha a couple years ago, when Angoulême comics festival executive officer Franck Bondoux explained the lack of any women on their award nominee list of 30 comic creators? His explanation: "Unfortunately there are few women in the history of comics. That's the reality. Similarly, if you go to the Louvre, you will find few women artists... The festival loves women, but we cannot rewrite the history of comics."

The Inking Woman shows this argument is untrue. And this book doesn't even include ALL the women who make comics in Britain, it's a selection that makes a good read and shows off different styles. I'm so proud to be included in it! You can find out more about it on Myriad Edition's website. (Photo by Rachael House)




When the Cartoon Museum hung up my Vern and Lettuce comic next to one by Posy Simmonds, it was a highlight of my career. And now I'm next to Isabel Greenberg, another hero of mine! Super chuffed. I wasn't in the original Inking Woman exhibition there (I mostly do children's books, not comics), but there was a little gap that my Funday Times Shark & Unicorn comic (edited by Karen Robinson) fit into so they squeezed me in at the last moment. Both the Cartoon Museum and the House of Illustration featured exhibitions of women creators at the same time (hurrah!); you can read about Comix Creatrix: 100 Women Making Comics in this blog post.




The woman on the left is Nicola Streeten, co-writer of the book with Cath Tate, and the woman who, with Sarah Lightman, set up Laydeez Do Comics. I was honoured to be a speaker at one of their very first meetings back in 2009 (maybe their very first?), and again in Dublin in 2013, and now they have meetings in Leeds and Birmingham, among other places. If you're interested in meeting people and finding out more about women comic creators (and they have some male speakers, too), do pop along to one of their meetings! The woman in the middle here is comic creator Ros Asquith, and the woman on the right is Roz Streeten (also known as colouring book creator Rosie Flo):





Myriad publisher/editor Corinne Pearlman hosted the launch in her amazing shared house slap-bang next to the British Museum. And it was SO crowded I didn't get past the front door for the first half hour! So I missed seeing a lot of awesome people I would have loved to have spent time with if I'd had my act together enough to get in touch with people ahead of time and figure out who was coming along.




I got a lift there from the dapper Woodrow Phoenix (on the left) who has been an amazing mentor to me in comics and helped me when I've had a wobble at the start of making picture books. (He's also been a speaker at Laydeez Do Comics.) I haven't quite worked out yet who's photo-bombing next to him (anyone know?), but next to him is Karen Rubins and Emma Vieceli. (You can read about a comics adventure I had in Paris with Emma here.)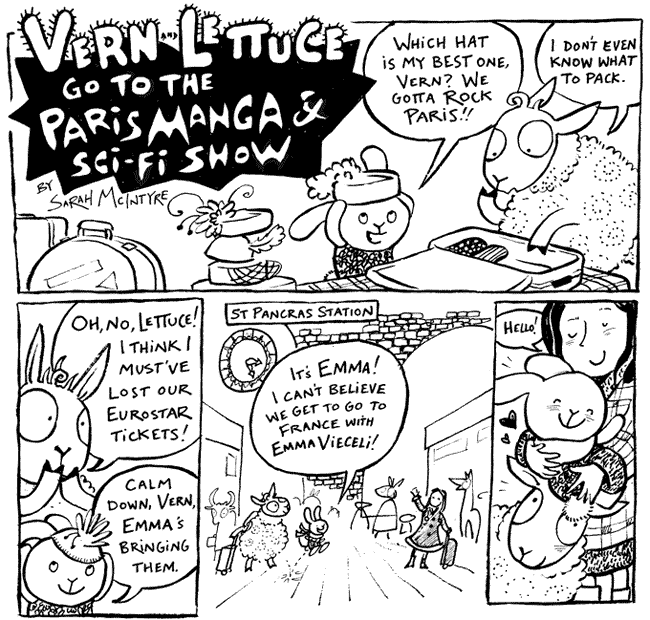 Read more...

I missed loads of people who were there, but it was impossible to miss the vibrant Sally-Anne Hickman or Rachael House!




It was great getting to meet Michi Mathias and Zara Slattery:




Contributors Janette Parris and Tanya Meditzky (does anyone know the name of the person in the middle?)




Trout pouts by Henny Beaumont and Hanna Berry:




Oh, and one more picture of Woodrow outside the British Museum because he looked rather fine in that suit, shirt and tie combo. (Thanks for the lift, dude!)




You can buy The Inking Woman direct from Myriad, at lots of fine comic shops, including Gosh London, Page 45 in Nottingham (ships worldwide!), in the Cartoon Museum shop, and in many other fine bookshops! And on Twitter, you can follow @MyriadEditions, @Laydeezdocomics and @Cartoonmuseumuk.