Being a children's book illustrator is such an odd experience. You go into it, thinking you're going to be sitting at your desk all day, working in your pyjamas. But then you get put on stage to 'talk about your book'. So last weekend I went to the Hay Festival, in Hay-on-Wye in Wales, to do that thing I do.



Photo by Paul Musso, Hay Festival

Going on stage to present my books is a bit scary, but also kind of exhilarating. Most of all, you want to give everyone a good show, and make them glad they came along. This year I did an event combining two very different picture books: The New Neighbours (with David Fickling Books) and Dinosaur Firefighters (with Scholastic UK). The thing that unites then is they're both set in worlds where I've taken out all the people and replaced them with fun animals, so that's how I played it: Bunnies vs Dinosaurs.



Photo by Sabina Maharjan, DFB

I always worry my step-by-step drawing lesson will be too tricky, but the audience did admirable jobs following along and giving their drawings of a bunny and a Diplodocus their own unique personalities.




It's so fun seeing how kids interpret characters; sometimes I get really good drawing tips from them on making pictures more energetic or funny.




These two kids came to the booksigning to show me the drawings they'd done based on my book with Philip Reeve Jinks & O'Hare Funfair Repair. So wonderfully detailed!




Thanks so much to everyone who came along to the event and got books signed, it's such a great encouragement when people want to read the books I've spent so much time drawing.




After the stage event, I did a couple hours at the Illustrator Hotdesk in the Make & Take Tent. It was a nice chilled-out drawing session; I drew the outlines of these buildings, then sat at a table and kids came up, picked a house, and decided which new neighbours were going to live in it, and how their home might look. Here's illustrator Sarah Dean who was helping in the tent, holding up our finished poster.





It's worth looking at the details in it! I must draw special attention to this picture by a girl who told me she likes writing stories but can never finish them. She finished this, and it's intensely narrative, with its basement hatchery and alien minion revolt.




It's fun thinking how different animals would inhabit a space and how they'd decorate.




Big thanks to David Fickling Books publicist Sabina Maharjan, who looked after Philip Pullman and me that day. We all got to have lunch together and it was good to catch up briefly. (The last time I talked with him properly was when he and Philip Reeve were getting honourary doctorates in Cambridge.)




Here's the hardworking Julia Eccleshare, who was in charge of organising the whole children's part of the Hay Festival. Thanks for inviting me, Julia!




Right, now I could stop the blog post there... but my blog is practically my brain's hard drive for remembering what I've got up to. So I'm going to post more pictures just so I can look back and not forget anything! Let's see... it all started with the electrical storms throwing the rail services into disarray. We got dumped off at Worcester Scrub Hill station and put on a replacement service bus. But it wasn't so bad, it turned out to be the PUBLISHING BUS, where I caught up with a former publicist I hadn't seen in ages - Lucy Richardson - and met author and journalist Bryony Gordon.




We also had the added bonus of going through Great Malvern, which looks SO DIFFERENT not buried under snow! The last time I was there was for World Book Day, when school was cancelled at lunch time and everyone sent home in a snowstorm; I got back to London all right but it took Philip Reeve 45 hours to reach home. Look at it, all sunny and green...




Rail, bus, and one more mode of transport when John the festival driver picked us up from Hereford station. We added Kamila Shamsie to our number and all had a good chat.




When I got to Hay, the first people I got to hang out with were the Bayly families. This visit was quite a big one for Hattie Bayly, as it was her last children's book event before she leaves OUP Children's Books to work in the charity sector. She's been at OUP for ten years, and we will really miss her.




So to mark the occasion, I did a ceremonial drawing on Cecily, just like I did at my first Hay with Hattie, back in 2011.




Okay, I had to go look up the photo from back then. Aw... Cecily looked a bit different back then.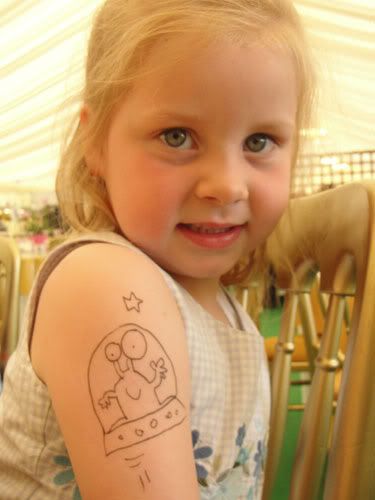 A few more pictures from around the Green Room. Here are two Children's Laureates in one place! UK Laureate Lauren Child and Irish Laureate Sarah Crossan.




And here's author Kiran Millwood Hargave and her mum!




A bookfest just isn't a bookfest unless Daniel Hahn is there. He was only chairing seven panels this time, which was a shocker; he does anything from 15-27 at festivals, which completely blows my mind. As a translator, he's a good ally in the #PicturesMeanBusiness campaign to get illustrators credited, with the parallel #NameTheTranslator campaign.




Hey look, it's A.C. Grayling! Neither of us are very wild about Brexit.




In the evening, Hattie, her husband Simon and I went to a party for speakers at the amazing house of long-time festival supporter Shân Egerton. Her herb garden must be one of the prettiest places in Hay.




Such a lovely house.




It was fun meeting lots of other speakers, although I didn't recognise Richard Dawkins and wouldn't let him sit in the chair next to me, since I thought illustrator Nick Crumpton was coming back.




The next morning, I was lucky enough to get my portrait taken by festival photographer Paul Musso. Thanks, Paul! I was wearing a brand-new dress Esther Marfo had sewn for me, which was rather exciting.




Oh, hey look, it's David Miliband! I mostly took this because my husband Stuart hadn't come along this time, and he's never that impressed when I saw I met such-and-such writer, but if I run into politicans or aging rockstars, he's like, WHOA. Ha ha. (Thanks for humouring me, David!)




And here's author Nicola Davies, with my fellow Read For Good UK patron Tony Robinson (whom if you're American, you might know as Baldric from Black Adder.)




Here's Jules Marriner, children's book writer and illustrator who also runs the Isle of Wight book festival.




BookTrust Director Jill Coleman, and Emily Drabble (who's somehow connected to almost everything I do):




And Peter Florence, who keeps all the plates spinning at the Hay Festival!




Just before I left to catch a train to go to the next festival, in Gloucestershire, I ran into these two musicians I've seen a couple times in concert, Phil Beer and Steve Knightley - I was sorry I couldn't stay longer to hear them! My clothes are all askew from a fast costume change in the loo, heh heh.




Huge thanks to Julia Eccleshare, Peter Florence, Aine Venables from the Make and Take Tent, and all the technicians and publicists (especially Sabina from DFB and Olivia Horrox from Scholastic) who supported the events! And to lovely Annabelle who looked after me at La Fosse B&B (do stay there if you're ever in Hay, it's very central and homely).