The Big Picture
awards ceremony. Once again, I had the excuse of being there as a Write Away reviewer, so I took some photos for its website. The event really was a who's who in what's happening right now in British children's book illustration, a lot of fun. I'll post my review when it goes up, but here are some sneak preview photos, and links to books reviewed on the Write Away site. Here's a link to the
Longlist
illustrators and some of their pictures. It was funny having everyone together like that, because there was a lot of mutual fan-dom going on.
Edit
:
(Here's the review!)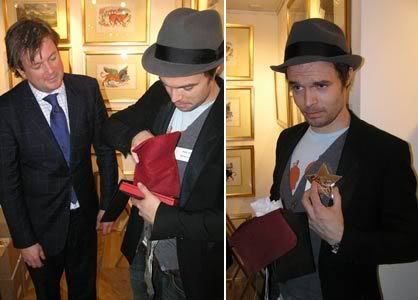 The
Illustration Cupboard
's John Huddy and
Oliver Jeffers
, unwrapping his shiny new sheriff badge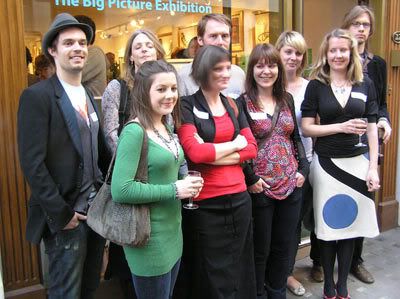 The Big Picture's top ten, left to right: Oliver Jeffers,
Mini Grey
, Lisa Evans,
Emily Gravett
,
David Lucas
,
Vicky White
,
Catherine Rayner
,
Polly Dunbar
and
Joel Stewart
(
Alexis Deacon
is missing in that shot)
Polly Dunbar and her writer mum,
Joyce Dunbar
Jeffers and Mini Grey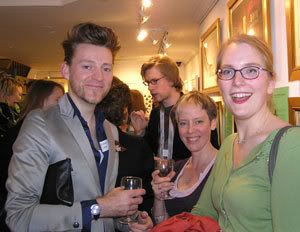 David Roberts, writer
Sue Eves
and me. (Joel Stewart in the background.) I'm a big fan of David Roberts, so I was miffed he was only one of the two honourable mentions. A Write Away reviewer recently reviewed
Mouse Noses on Toast
, but hardly mentioned Roberts' amazing illustrations, which are the best thing in the book. I don't normally comment, but I had to
add something
on that one. And I think his book 'Little Red' is brilliant.
The Illustration Cupboard was heaving last night for