I've recently applied to join the Society of Authors, partly because I thought it was about time, since I've gatecrashed a few of their events and I can get in cheaper before I turn 35. But I also think they fill a gap that the other two organisations I'm a part of don't yet meet. All three are great in their own ways.


The Association of Illustrators was the first one I joined, partly because my illustration tutor, Janet Woolley, is a patron and very active in it, and I was in a crit group with several active members. They're great for professional advice and networking with other people who are on the cutting edge of mainly editorial illustration, graphics and design, and who expect to work hard enough to earn a living from what they're doing. There are a lot of people fresh out of college, with new techniques and a lot of excitement. Their business courses are brilliant, just the kind of hard-core information I need. And it's nice to be part of a sort of union type thing, that looks out for the interests of illustrators, since it's so easy to get taken advantage of in that field. I've been very glad to get quick and accurate quotes for standard price quotes on their hotline, which I don't use so much now I have an agent, but it's still helpful.

The Society of Children's Book Writers & Illustrators has been the most approachable, warmest group, and I've made some really good friends there. I shared a room with three others on our recent trip to Bologna and we had a fabulous time at the SCBWI conference there before plunging into the fair itself. It tends to be a bit more focused on people who are trying to get published, and less for people who are already published and dealing with those complicated issues. (In other words, I don't have to worry that people might think my questions sound stupid.) But I think it's also growing up - these people ARE getting published - and it's cranking up a notch, while staying friendly. This group tends to be a bit older and humbler, people who have gone through some of life's hard knocks and have had kids and know all about distractions to a professional career. The AOI don't have much of a children's book focus, and SCBWI is all about children's books, which is great. In some ways, a lot of the work that comes out of this group can feel less 'juvenile' than some 'adult' work, even though it's aimed at younger audiences. There are less attempt to be cutting-edge trendy and more attempts to really communicate and speak to readers.

And The Society of Authors, I don't really know yet, but it seems to fill that kind of union gap that the AOI fill with illustration, and very much be for people who are well along in their career and are struggling with the complicated issues that throws up. There seems to be a strong focus on children's books, which I'm very happy about. And it's marvellous sitting down next to someone at a talk and discovering they're someone who wrote the books I loved when I was a kid.

Last night I went to the SoA talk at Random House about 'Age Ranging'. Scholastic UK's Elaine McQuade introduced Martin Lee from Acacia Avenue, a research and strategy consultancy firm. The Publishers Association hired them to do a study on how people buy children's books, and how much their awareness of the books' projected age ranges helped or hindered their buying. They concluded that the majority of buyers feel a bit lost when buying books as gifts for children, and would welcome a subtle little black-and-white box near, but not inside, the books' bar code box, stating a projected 'age plus' range (ie, 5+). It sounds like publishers will be going ahead with this fairly soon.

Or course, this threw up a whole storm of protest from the authors, who don't want their books pigeon-holed and felt they hadn't been consulted soon enough. Here's a picture I drew of the audience response:



Here's a sketch of Elaine, looking polite, engaged, and slightly under attack: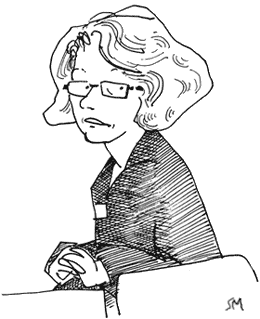 And here's an audience member after the storm had abated a bit.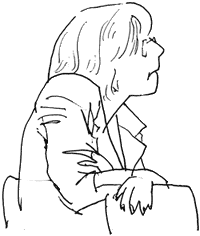 (I saw Ros Asquith drawing people, too, but I didn't manage to get a good look at her sketchbook.)

After the discussion, we went for a cosy curry with an amazing table full of people: my friends Sally Nicholls and An Vrombaut, and some people I hadn't met but was chuffed to bits to meet, Fiona Dunbar, Shoo Rayner and Nicholas Allan. Funnily enough, I've had one of Nicholas Allan's books sitting right next to my keyboard, and I think I've bought at least ten copies of it: the £1.50 version of The Queen's Knickers. It's the perfect thing to send to foreign friends who want a quirky little bit of Britain, but also lightweight and flat enough so I don't break the bank doing it. He also wrote The Hefty Fairy and Cinderella's Bum, which I find hilarious.

Here's one of An's animations, Little Wolf. She's made loads more since then, but this one's still brilliant:

And here's a photo I took on a quick walk in Chelsea in the afternoon. The flowers smelled heavenly.