Entries by tag:
La Fleur
. There were big, fat, ripe strawberries on the bush right next to my table and I was willing myself not to steal one, but the nice owner saw I was swooming with the effort of restraint and let me pick one.
Then I inked it on my break. Which is probably not what one is supposed to do on a break, it's probably healthire to stretch or go for a walk or something.
Hey, the original of this looks clean and nice, want to buy it? £40 + £5 registered mail postage via Paypal for people in the UK, £6.50 postage for Europe and £9 for anywhere else. Drop me a line at sarah at jabberworks dot co dot uk. (Artwork size is 28 x 17cm, ink on cartridge paper.)
I quite like how this one came out! A bit minimalist. I penciled it while I was having my morning coffee at this great little garden cafe run by French ladies, called
And now I ought get back to the day job.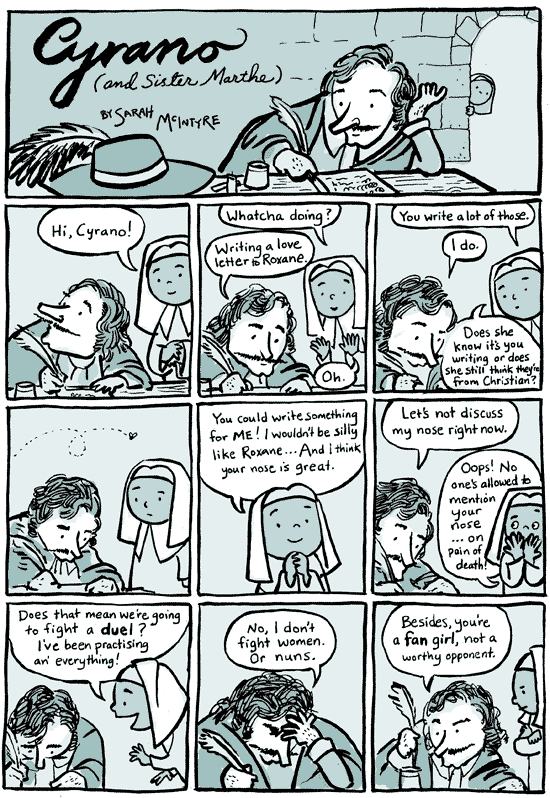 (
Two more pages under the cut
Collapse
)
Hooray, here's my Cyrano comic! I could do a lot of these. I perhaps should've ended it with the second page, but I thought Ragueneau could use some company. Poor Sister Marthe is really a very minor character in the story.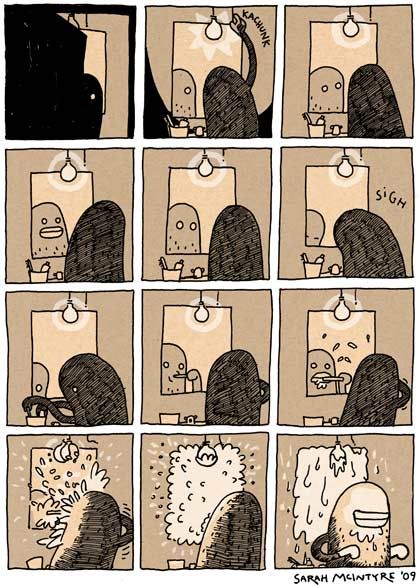 I still can't get my head around why this funny person I live with acts so finicky about the messes I make, but can't brush his teeth without merrily leaving the mirror coated in spray. I tried to show him this technique in which one holds one's lips securely around the brush and moves it around without opening one's mouth, but I think he revels in this singular glorious moment of domestic flamboyance.
I was just friended by
bsabo
and discovered the amazing comics and illustration work on her website,
have a look!
You can read two mini comics in full online (I love the storytelling in
The Shortcut
), and see first chapters of two books. I really want to read more of her comic
Bad Lands
.
tozocomic
is introducing us to the second little mecha-golem in his ongoing
Tozo webcomic
. I think Klikker's fab
(see my fan art)
, and I think I'm going to like this Tikker, too!
And
ellenlindner
referred me to this
great New York Times article
about the classless classiness of the Obamas on their recent visit to Britain. (Thanks, Ellen!)
Cartoon Museum
asked me to do an info sheet for their school packets, to go along with the
Vern and Lettuce
pieces they have in their collection (pencil sketch, line work and digital final print).
(Click on the image to enlarge)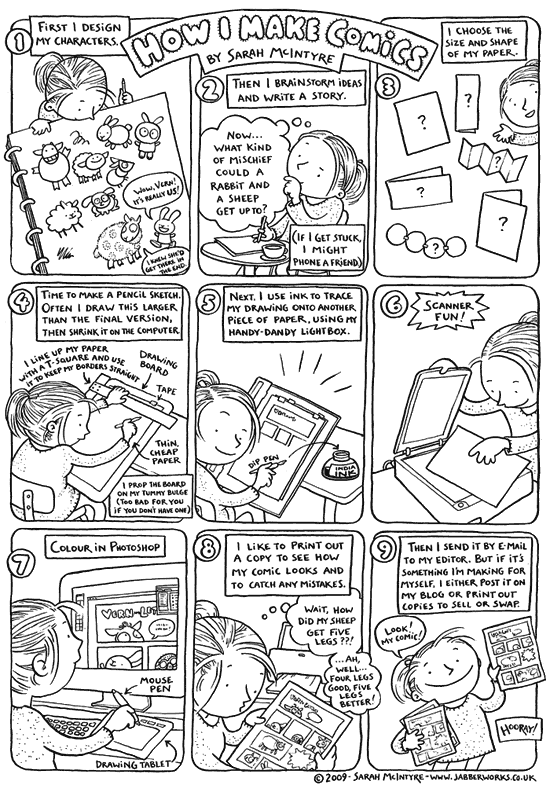 Anita made me laugh when she explained some of my qualifications:
It just seemed such an opportunity given that we have the page at different stages .... plus.. you are young, female and very much alive a rare combination which doesn't recur in any of the other featured artists.
I told her that I will be sure to put the fact I not dead on my next CV. But it made me think of all sorts of comics I could make about workshops led by dead comic creators. They'd be real stinky, for a start. I bet Heath Robinson would've created some amazing things with his grave cloth and coffin nails.
Anita at London's
Gary Northfield
's strip and cover in today's issue? So fab.
I'm almost done with my second UK picture book, just the covers due on Tuesday. So I haven't had much free time, but I've been picking away at this comic since last week, keeping it almost to stick figures.
(
Click here to keep reading
Collapse
)
Don't forget,
Vern and Lettuce
is still running in the Guardian Saturday Comic, in the Family section! It's episode four, and I've had more comments from kids about that particular strip than about any of the others.
Here's a comic I made about the day I found out the DFC went under. It started out as one of those days in London where everything's just a bit magic. And the DFC is a bit magic, too. Did you see