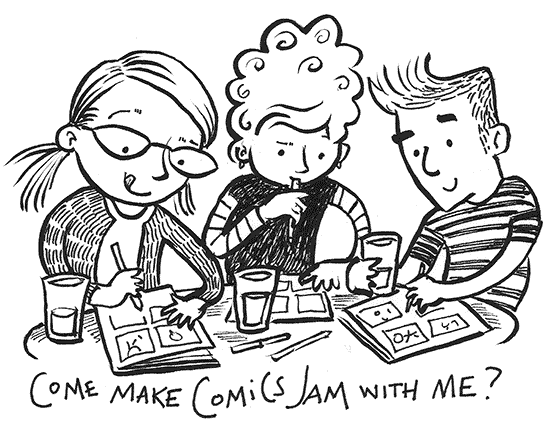 Adam Cadwell
(who runs the
British Comics Awards
I'm helping judge this year) jumped straight in and said he'd be there, then
Bevis Musson
(who baked the
spectacular Morris cake
) said he'd come, and I breathed a big sigh of relief. Then
Andrew Tunney
, Ellie
@Frillyart
,
Andrew Chiu
and
James Lawrence
all showed up. Here we are, drawing!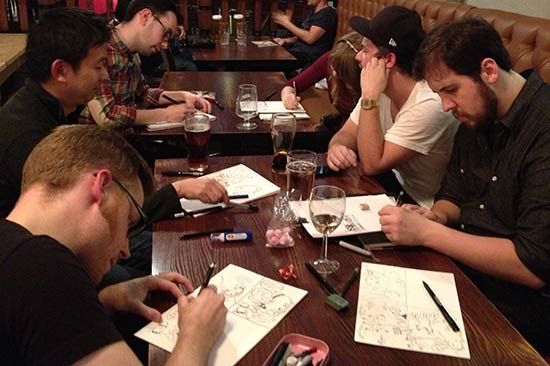 I drew a picture of Adam: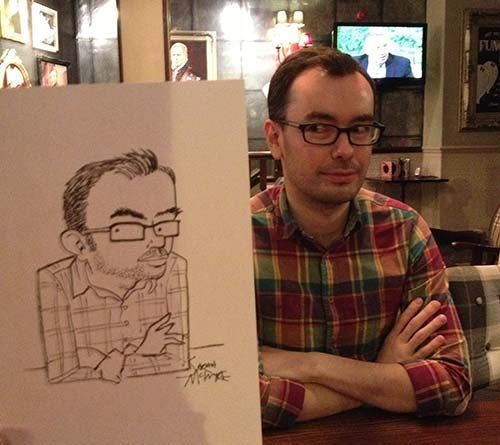 Here's one of our Comics Jams! We started with the theme of 'Rocket', each drew a panel for five minutes or so, then passed them around for someone else to do the next panel, and so on.
(
Click here for more under the cut!
Collapse
)
When I went to Manchester, I wasn't sure if anyone would be free to meet up, and I didn't know anyone there very well, except a little bit from the Internet and comics conventions, where we hadn't had much time to talk. So I was slightly nervous when I blogged I'd be at the pub at a certain time on Thursday night, if I'd end up with only one sweaty stranger in a Batman shirt who didn't even want to draw. But it was FINE. In fact, it was much better than fine!
When I arrived at the Green Room at
The Ark
, I could tell they were a comics-friendly bunch by their selection of tea mugs.
And here was our awesome Comics Jam team! Meet comics creator and illustrator
Steve Simpson
and writer and illustrator
Mary Louise Fitzpatrick
!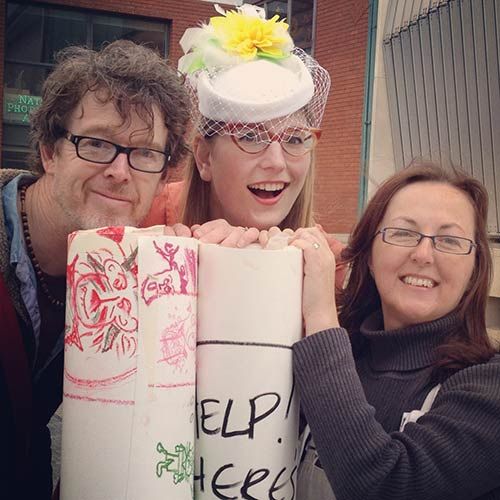 We started out indoors with the kids, giving them some basic comics-making tips, and having them help us design a monster character all together. Here's Steve drawing a curly monster moustache. Monsters are great for coming up with new characters because no one can tell us that we've drawn it wrong.
Photo by Ber Simpson
And then we went outside to
Meeting House Square
, and all 90 of the kids drew comics on huge rolls of paper!
It was wild, it was awesome! I'd never led a Comics Jam session that large before, and we made up a template to keep things simple:
1. The kids marked out their drawing territory with a box.
2. They drew a dinner-plate-size circle at the top of the box, one hand-width down from the top line of their box.
3. Monster time! They designed their monster inside the circle. Some of them added a pet or sidekick friend for their monster.
4. They wrote the name of their monster above the circle, and I encouraged them to do it in lettering that tells us something about the monster (hairy, slimy, spotty, etc). If their monster had a sidekick friend, they named the friend, too.
5. They drew a line under the circle and divided this big square into four boxes.
6. They had 8 minutes to start off the comics story in just the first panel. (I encouraged them to make something bad or embarrassing happen to their monster, so the story would have to go somewhere.)
7. We counted down the last ten seconds and then called 'PENCILS IN THE AIR!'
8. Everyone rotated one comic to the left and read the new comic in front of them.
9. They had 8 more minutes to pick up where the last person had left off in this new story and continue it, just in panel 2.
10. We did the same for panels 3 and 4, and at the end, they got to go back and see the original comic they'd started and see what adventure their monster had gone on while they were away.
(
Click for lots more photos under the cut!
Collapse
)
Speaking of comics, one more thing: When I arrived home from Dublin last night, I found new paperback copies of
Vern and Lettuce
waiting for me! I've designed new covers for the paperback edition and I'm really pleased with them. You can buy the book in hardback now, but the paperback will come out this autumn (a little early for the Edinburgh Book Festival). You can read their magazine,
The Pickle
over on my website
.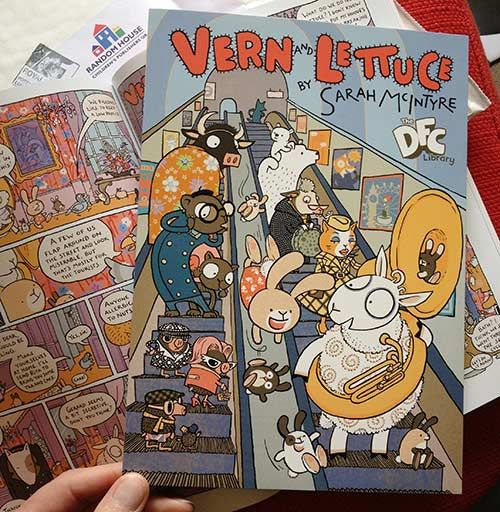 And Dublin! Keep an eye out for my fabulous studio mate,
Gary Northfield
, who will be arriving in September to take part in Dún Laoghaire's
Mountains to Sea festival
. Before he arrives, get a copy of his new book,
The Terrible Tales of the TEENYTINYSAURS
, and see what awesome comics he makes!
And you can see us talking on RTE2's Elev8 show here.
I knew we'd be drawing LOTS OF MONSTERS with LOTS OF KIDS in Dublin, so I did some limbering up by drawing my own monsters before the event. (Thanks for leaving such fab pens at the lodge, Children's Book Ireland people!)
Britain's first children's comics festival!
It was awesome, and Oxford's
Story Museum
totally rocked. For Free Comics Book Day (4 May),
The Phoenix Comic
joined up with other comics creators to put on a day of comics workshops, drawing activities and convention tables. One of the most exciting parts for me was seeing two kids at their own tables, selling their own self-published comics. You will have already seen
Zoom Rockman
(right) many times on my blog, and he's been all over the media, including
The Independent
,
Evening Standard
and
Vogue's 2013 Hot List
. But
Jordan Vigay
, also 12 years old, is newer to the scene - I'd only met him once before,
at Animated Exeter
- and it was exciting to see him at work!
Here's an interview I did with Jordan, in which he talks about his comic,
The Red Crow
, now in its third issue:
The Phoenix Comic was out in force! And it's official:
Laura Anderson
(who creates the
Evil Emperor Penguin
strip) is taller than
Jamie Littler
(
Cogg & Sprokit
) when she has Zoom's giant hamburger on her head.
(
Click here for lots more under the cut!
Collapse
)
Hurrah for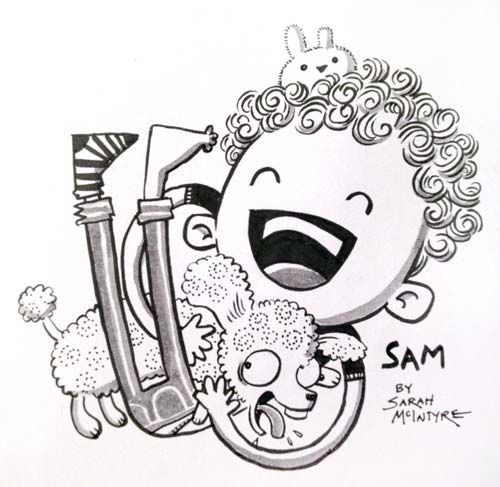 "Who's Chaffy?", you might ask. Chaffy is a little white ball of fluff with mismatched ears which we kept finding all over the house and on the moor. Also created by Jamie Smart, for his
Find Chaffy and Find Chaffy Now books
.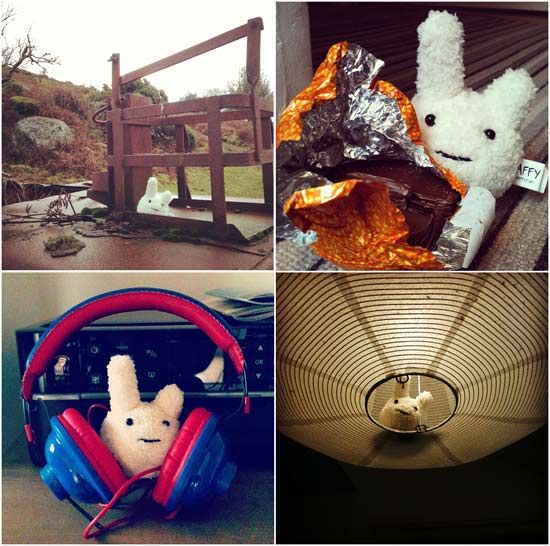 Photos 2-4 by Philip and Sam Reeve
Sam gave me a lovely comic for Christmas,
The Hen House
a very limited-edition anthology he'd created with three of his neighbour friends and edited by his dad,
Philip Reeve
, who'd been giving the three of them weekly drawing lessons.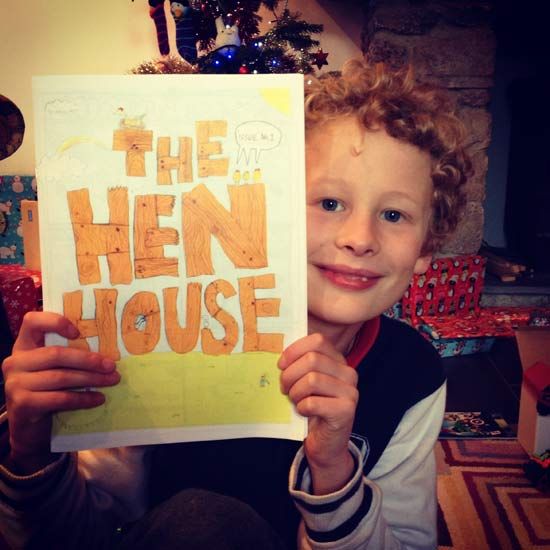 Sam said, "Let's make a comic!" So we did, but we roped in everyone in the house to help us do a Comics Jam, taking turns making each page. Here we are, looking very industrious, and Sam, with all the scanned and printed pages laid out in an assembly line to make ten books.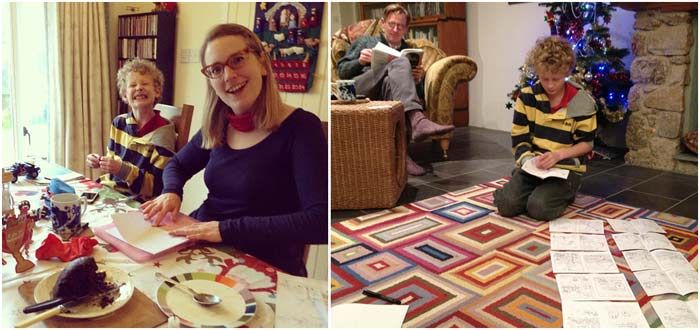 We got lots of help from
Sarah Reeve
to print out the pages, and here are our final books! They are 20 pages long, with a single panel per page.
Because there are only ten of them, we will let you read it online: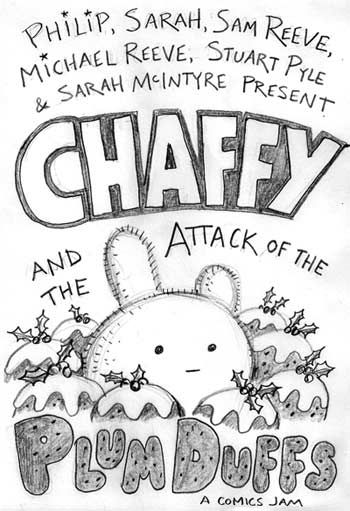 (
Click here to read the comic under the cut!
Collapse
)
Sam Reeve and I had loads of fun this Christmas and Boxing Day, getting everyone to make comics. Sam LOVES anything drawn by Jamie Smart, and spent much of the holidays drawing Jamie Smart characters into his sketchbook. Here's my drawing of Sam, Chaffy, and his poodle in a Jamie-Smart-McIntyre mash-up sort of way:
Giles Andreae
at Liverpool Street Station and we took the train up to Bishop's Stortford, where last year our book
Morris the Mankiest Monster
won the Bishop's Stortford Picture Book Award. (I blogged about last year
here
and
here
.)
Giles Andreae & Sarah McIntyre
We both led a couple workshops at Bishop's Stortford College, then Giles presented this year's award. But first he gave gave a talk and told a few of his own stories, including one which I filmed here,
The Knitting Gorilla
:
Giles Andreae YouTube link
Lots of writer and illustrators came up for the award ceremony, including
Gillian Rogerson
! Our book,
You Can't Eat a Princess
was shortlisted, but unfortunately this year only came in fourth place. (Still, not bad, there was a huge long list.) Here she is, having come down from Leeds, with Scholastic editor
Ellie Parkin
. Ellie's originally from the north like Gillian, but talks like a Londoner... until the two of them get together; I couldn't help grinning as Ellie's voice starting lilting all over the place.
Ellie Parkin & Gillian Rogerson
And the winner this year was
Dave
by illustrator
Liz Pichon
(who's also a writer) and writer
Sue Hendra
(who's also an illustrator). Their book stars a fat ginger cat who gets stuck in a cat flap until he eats so many baked beans that he manages to blast his way out by farting. (Following on from last year's choice, I can see humour involving bodily functions goes down very well in Bishop's Stortford!)
(
Lots more photos and kids' comics under the cut!
Collapse
)
Hey! You can read Issue 2 of online comics magazine Comical Animal now right here! It's jam-packed with fab family-friendly comics from top British creators!
Edited by DFC colleague
Jim Medway
.
Yesterday morning I met